The loss of Dion Lewis is a big part of the storyline this week as the Patriots prepare to take on the New York Giants on Sunday. Third-down backs like Lewis have been a staple of the offense under Tom Brady and the quarterback was asked some questions about what goes into the job.
His remarks on some of the characteristics of a good passing back as well as battling through injuries highlighted his Wednesday press conference.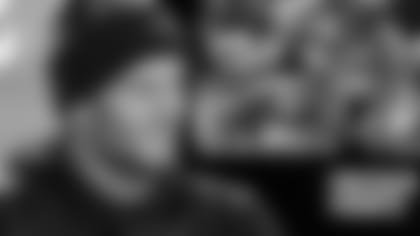 1. YOU CAN COUNT ON ME -When asked about the characteristics of all of the great third-down backs he's played with, Brady focused more on reliability than ability.
"I think it's dependability. There are a lot of things you ask those players to do, not just catch the ball but when you hand it to him what are you going to do, blitz pickup … there are a lot of things that happen back there. We have quite a few protections so when it comes down to it you have to have someone you have a lot of confidence in that can obviously be a playmaker with the ball but also be dependable to do the dirty work.
When the ball is getting thrown to [Rob] Gronk [Gronkowski] or Jules [Julian Edelman] or Danny [Amendola] or Jo [Brandon LaFell] you have somebody in the backfield that's picking up blitzers and helping clean up the pocket. Hopefully we can keep plugging away at it."
2. 'GAME OF ATTRITION' -Brady was asked about making himself available to the backups during practice and balancing the need to work with the front line players with keeping everyone up to speed. It's something Brady said is very important because injuries are such an inevitable part of the game.
"Everybody's role is really important. You could be second on the depth chart or third on the depth chart and really quickly become first on the depth chart. So, you have to work with everybody and have confidence in everybody. You can't just spend all your time with three or four guys. Whatever skills players we have those guys get a lot of reps. I've worked a lot with Brandon Bolden over the years. I've worked with James White since he got here. Brandon LaFell's been a starting receiver for a while now so he's gotten a lot of action."
"I'm still working with Keyshawn [Martin] and Mike Williams trying to get as many throws as you can because this game is a game of attrition and this is when you start to see what your team is all about. This is when you see the quality of the depth of the players, the mental toughness, all those thing play a factor. How well you've done in September and October and the improvements in areas so you can see yourself improve in November and December and that all comes with making deposits and doing it even when it may not be an issue before it's an issue. So when you get injuries you stay ahead of things and at least you've built up some reps with a lot of guys and hopefully there's not as much of a drop-off if you lose some players."
3. SIMPLIFYING OFFENSE -With so many injuries concentrated in one area, Brady was asked about the communication with the offensive line and whether or not the offense would have to be simplified.
"It's a lot of communication because we're all tied together. Whatever I do or call I make really impacts what they're trying to accomplish. Because I talk to the coordinator I'm the one that conveys that message to the rest of the group in the huddle and at the line of scrimmage you don't want to have three guys doing one thing and the other seven doing another. You have to have everybody always doing the right thing."
"So, it's just constant communication and having everyone on the same page. Even if we're wrong, we're doing it all wrong together so you can do it with some decisiveness. It's just about the more we're together and the more we can do it the more we can build confidence. That's part of the transition you have to make when new guys are playing different positions. I'd say we learned a lot last week in the second half about where we're at as an offense. That's par tof the challenging thing about football and I'm glad we came out ahead."