It is no simple task for Devin and Michelle McCourty to get their two small children into Boston before 9 a.m. on a weekend. It requires patience, preparation and, presumably, a lot of snacks.
As much of a hassle it can be, as any parent can relate, the McCourtys had a good reason for loading up the car and heading to Faneuil Hall on Jan. 19.
Devin and Jason were being honored by Project 351, a non-profit dedicated to raising the next generation of leaders from every city and town in Massachusetts, and while Jason was unable to attend, Devin accepted the honor for the both. Ahead of a day of service that brought all 351 eighth grade ambassadors to Boston, Devin was among an impressive class of 2019 Service Heroes, people who are role models on local, national and global levels.
As important as it is for his kids to see him on the football field, this was even more important.
"Because football is so big, any time they see football on the TV they yell, 'Daddy!' They know I do those things, but things like this, unless I bring them, they won't know ... They can just see so many different things, and I'm going to continue to do that because I think it is important. When you talk about service and servanthood, anyone can do that," he said. "I want them to have that understanding and belief and to be able to do it as soon as they're able to walk and be able to service other people, and it starts with each other. I think now they're learning when I'm on them about sharing and all those things, hopefully I can continue to teach them those lessons throughout their life."
Devin was among dozens of other Service Heroes honored for their work, be it in Massachusetts or for the global community, and when he had a chance to address the group of 351 ambassadors, volunteers and educators, he wanted to instill hope.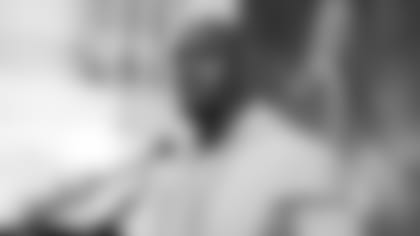 The day before the Project 351 event, Devin, Ben Watson and Terez Hall visited a young man who was recently released from prison. Devin and Jason met him last summer while he was serving his sentence and preparing to transition back to his life. The Patriots were able to present this young man with a check from their social justice fund to help him get back on his feet, to break the cycle and, most importantly, to give him hope.
"I hope all you guys know sitting in this room, you do a big thing for individuals, for families, but bigger than anything, you give the whole state of Massachusetts, the world, hope, and when you give people hope you enable them to do whatever it is that they dream about, whatever it is that they want to do," he said. "When you give them hope, you give them so much. I know you guys are young but keep that passion and keep giving hope to people and you'll start to see the world change. From the bottom of my heart, on behalf of me and my brother, we really appreciate it. We're so inspired by all of you young people that we take that back in the locker room and try to inspire our teammates."
Other than inspiring hope, the theme of the day centered around getting in "good trouble," an idea made famous by civil rights activist and Congressman John Lewis. The student ambassadors wore his words on the back of their t-shirts as they prepared for a day of service in Boston, and the idea of standing up for justice, equality and truth, even if it is an unpopular thing to do, is a message Devin was glad to see.
"He went against the grain," he said. "That's what these kids are doing. They're not doing the conventional things that eighth graders are doing. I thought that was a great message of something they can believe in and hope in for the rest of their lives, not just this year."