Georgia QB Matthew Stafford. AP Photo


INDIANAPOLIS – As Georgia's Matthew Stafford and USC's Mark Sanchez work to prove themselves worthy of early first-round picks in April's draft one of the questions the two underclassmen face is whether or not to throw this week at the Combine.
The two top prospects, who've become pretty good friends of late, have decided to answer the question differently. The strong-armed Stafford, who is slatted to go somewhere near the very top of the draft at this point is choosing not to throw. The highly energetic and competitive Sanchez has decided he simply has to showcase his skills for all the league's top decision makers to see in Indy.
"It's neither here or there to me whether he throws or not," said Sanchez of his decision. "That's just me. I gotta do it. I feel like I want to do it. I'm a competitive person. I want to win, and that's what I'm about. It would kill me not to throw. Too fun."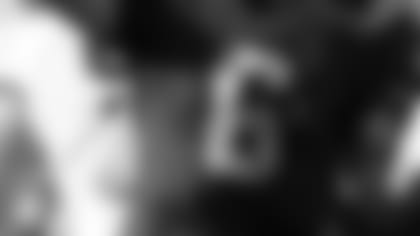 Stafford will wait until his March 19 pro day.
"It was a decision that I came up with, and I talked it over with my agent.
He thought it was a good idea," Stafford said. "[I'll] be able to throw 50, 55 balls and do kind of what everybody expects in a pro day workout, and I'll take care of it then."
Not surprisingly Sanchez thinks he's the best quarterback choice in the draft. He also interestingly revealed that he'd had lunch the day prior with Lions offensive coordinator Scott Linehan. Detroit holds the first overall pick as well as the 20th selection in the first round of April's draft.
"Absolutely," the impressive Sanchez responded when asked if he though he should be the top pick. "I'd better think that. And I think [Stafford] should think that too. That's what we've got to think. As a competitor, that's all I want to do is be the best that I can be, and the best you can do in this draft is No. 1."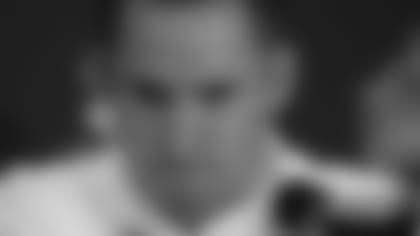 Cassel gets McDaniels' vote of confidence** How willMatt Casselperform withoutJosh McDaniels as his quarterbacks coach/offensive coordinator, whether he stays in New England or winds up with another NFL team?
Here's how McDaniels answered that pointed question Friday afternoon at the Combine.
"Matt Cassel is very athletic. He's got a strong, accurate arm. He has ... now ... a full season of experience under his belt. I think we all saw how much that helped him as the season progressed. He's a competitive player, and a great person.
"I was a small part of his success, and he was a big part of my success. Whatever challenge Matt Cassel has in front of him, whether that be in New England or somewhere else, I think he's going to respond to it the same way he always responds to it ... with a great attitude and an incredible work ethic.
"So, if that's what you're looking for in an NFL quarterback, he's got a good shot."
Sanchez's dirty trickIt's easy to forget that these young men at the Combine are just that … young. Stafford and Sanchez reminded us all of that on Friday.
While Stafford was conducting his standing-room-only interview with the assembled media, Sanchez snuck up behind a group of reporters situated near the back of the interview area. With a mischievous grin, he began snapping photos of Stafford on his camera phone. He then weaved his way up close to the podium, but Stafford apparently didn't see him in the crowd.
Finally, Sanchez, hiding behind a few tall reporters, yelled out, "Matthew, what do you think about Sanchez, the other QB in this draft? And what did you weigh in at, and how tall did you measure."
At that point, Stafford realized who it was asking the question and he cracked up. Stafford, who to that point had been very serious and composed, kiddingly chided Sanchez.
T.B. part II?As anyone who follows the Patriots knows, head coach Bill Belichick has a strong connection with Fresno State head man Pat Hill, a former Belichick assistant in Cleveland. Belichick has even drafted some of Hill's former Bulldogs (Logan Mankins, James Sanders) and they've been successful in the New England system.
This year, a Hill player that will get some attention in the draft as a potential late-round pick is quarterback Tom Brandstater(6-5, 216). He was asked about the Hill-Belichick relationship.
"He ran a tight ship, just like I imagine most NFL teams do," Brandstater said. "He learned from Belichick with the Patriots and you can't find a better coach than that. We got a lot of Belichick stories [from Coach Hill]."
When asked about his favorite quarterbacks in the NFL, Brandstater gave a nod to the local Indy guy, though he said the other Tom B. was his number one.
"There's a lot of good quarterbacks. Obviously, here in Indianapolis, there's Peyton Manning. But the guy I like the best is Tom Brady. I've watched a lot of film on him and just try to model myself after him. The things he does – the little things he does – make him a great quarterback. He basically came from behind and became an MVP of this league, so, it's a path I could see myself taking. It's a tribute to his attention to detail and doing the little things right."
Spreading the prospects
The spread formation and versions of the Wildcat helped a number of NFL teams, like Miami, throughout the course of 2008. But the popularity of the spread offense at the college level presents a challenge for NFL talent evaluators as they look to project players in a more pro-style system.
"It gets more difficult with the evolution of the spread offense. The things they're doing in college, most of it wont transfer to the NFL," Steelers Director of Football Operations Kevin Colbert said. "So you're really looking for physical characteristics, the footwork, the arm strength, some of the decision-making. You're trying to take some of the spread part out of it and maybe just take it to point where the QB is getting ready to throw the ball. You see certain things in what he can do from that point on that may indicate what he can do to transfer to a more conventional offense."
But it's not just about projecting quarterbacks from the spread to the pros, the growth of the system makes it a greater challenge to project almost all players on both sides of the ball.
"Tight end, fullbacks, offensive line techniques are going to be different," Colbert said. "If you flip it over, the defense isn't doing things that they're going to be doing against conventional offenses. It changes the whole evaluation process. It makes it more difficult, but the colleges have to worry about what they need to do to win games and we have to worry about making correct decisions based on that."
Hit me
For better or worse new Lions Head Coach Jim Schwartz owns the No. 1 overall pick in April's draft thanks to Detroit's 0-16 season last fall. The young coach is well aware of both the risk and the reward that can come with the top pick, a selection that gives a ton of a guaranteed money to a very much unproven college prospect.
"I think this is my 16th year in the NFL and it's my first exposure to it – and hopefully my last. It is a different animal," Schwartz said. "I've compared it a little bit to playing blackjack. You can go play blackjack in Vegas and play the $5 table and play for a couple of hours and make a lot of bad decisions and lose $100 and have some fun. If you go play at the $5,000 or $10,000 table, if you make bad decisions, you're walking home, you're not flying home. I think you've got to add that into the equation. Not only is it an opportunity to get a great player, but you need to make sure."
What a life
New Browns George Kokinis was asked what he remembered about working under Belichick during the new Cleveland GM's first tenure in the city back in the early '90s.
"Probably that I didn't see the light of day," Kokinis said. "Everybody asks, hey you get to come back to your old stomping grounds. I'm like, I don't remember that. It was a great experience. You talk about learning how to work in this league. I think that's what I learned the most from my 5 years (in Cleveland) previously -- it's a competitive league and everybody's working their tail off and if you're lagging behind you're not going to win."
Notes and quotesNortheastern tight end Brian Mandeville's height (6-6) may be an asset to him on the football field, especially as a red zone target, but has it ever been a detriment? "Not in this game. On the plane ride over here maybe," he said with a smile. … UConn tackle William Beatty is a prospect considered to have a high upside. His weight was a concern at the Senior Bowl when he came in at 291 pounds thanks to an illness. Back over 300 pounds, Beatty said there was no secret to the gain. "To really gain weight all you got to do is eat …The diet they had me on was basically eating chicken and salads. I don't know how much weight you gain eating chicken and salads but it worked." … One of the questions about Sanchez is a perceived lack of experience having started just 16 games for the Trojans. As much as he'll seriously work to alleviate teams of that concern he also joked that he could use Cassel as an argument in his own favor as well. "I have more starts than him, that's for sure," Sanchez joked before going on to praise his friend. "But I'm happy for him and what he's done. That speaks volumes for his perseverance and his make-up. He's a great guy and he's been very supportive in my decision. Saw him at the Super Bowl in Tampa, so I'm very happy for him." … Should he get the call from Detroit as the No. 1 overall pick Stafford's very much open to getting a deal done with the team swiftly to avoid missing any practice time. "Absolutely. That's what it's all about. It's really about football. When it comes down to it, my marketing guy, my agent, my financial people, they work for me, and if I want to get it done, we can get it done. It's important for me to get into camp, because I want to play football as soon as I possibly can." … Add Vikings coach Brad Childress to the list of guys not looking to discuss Cassel. Asked if some of the franchised passers success is attributed to the guys he worked with like Randy Moss and Wes Welker, Childress said, "You know what? I'd prefer just to stay away from that. Matt Cassel is the property of the New England Patriots. These guys know I don't do conjecture very well."