Here are the key developments from today's action on Day 3 of camp in Foxborough: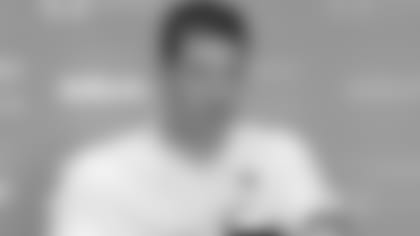 Pro Bowl right guard Brian Waters remains a no-show so far in camp. Director of Player Personnel Nick Caserio, speaking with reporters before practice, said he had no update on Waters' status. A reporter asked if Waters' absence was cause for fining the player, to which Caserio responded, "[A]t this point really no change from where we were the other day that Bill [Belichick] mentioned." Belichick had said that Waters' case was an excused absence during the spring, so the reporter followed up to find out if that remains the case, or if he's being fined for missing practice time. "I'm not going to get into the exact details of it," added Caserio. "Our stance and where we are hasn't changed from where we were the other day."
Rookie DB Alfonzo Dennard appeared to injure his right leg during Friday's practice. He appeared on the field Saturday, but only in shorts and a t-shirt.
Eight other players remain present for practice, but not in uniform. They include o-linemen Logan Mankins, Sebastian Vollmer, Nick McDonald, and rookie Markus Zusevics; rookie DB Nate Ebner; rookie wide receiver Jeremy Ebert; tight end Daniel Fells; defensive lineman Myron Pryor.
Tight end Jake Ballard is the only player who hasn't yet made an appearance in camp. He is on active/PUP recovering from a knee injury.
Safety James Ihedigbo and wide receiver Matthew Slater continue to wear their red (no-contact) jerseys as they continue practicing while recovering from injuries.
Wide receivers and DBs worked together on run-blocking and shedding run blocks, respectively. A member of the equipment staff, acting as QB, would toss the ball to a safety, who was serving as the running back. The physical aspect of the drill was just a prelude of what was to come.
For the third day of camp, all players were allowed to don full pads. Language in the new collective bargaining agreement dictates that the first couple of days of camp be in light or no padding. The energy level on the field – and among the capacity crowd of fans – amped up considerably as a result. The fiercest hitting came during o-line/d-line pass rush drills and running game drills featuring centers, guards, and tackles squaring off against defensive tackles, ends, and linebackers, with a QB handing off to a back. The collisions heard during those blocking encounters were intense, with coaches barking from both sides of the ball to encourage the game-like simulation of full-speed action.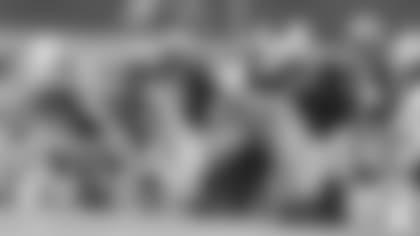 During the pass rush drill on the far end of the field furthest from the media tent's vantage point, the offensive line appeared to have the upper hand. At one point, on consecutive plays, defensive linemen Gerard "Big Money" Warren and Ron Brace were sent on penalty laps around the two practice fields for mistakes they made in the drill.
Wide receiver Julian Edelman looked like he cramped up during an individual drill. He went off to the sideline and got some help stretching from a trainer. However, he was able to pop back up immediately and rejoin the receivers. He took part fully in the rest of practice.
We've seen a significant number of 4-3 looks to start camp, but today, the defense was predominantly in its nickel packages during 7-on-7 and 11-on-11 full squad series. Devin McCourty, Ras-I Dowling, and Kyle Arrington typically work together from left to right in the formation.
In the first 7-on-7 series, QB Tom Brady made a great throw to Brandon Lloyd in the area between the right hash marks and numbers. Bearing down on Lloyd were cornerback Sterling Moore and safety Josh Barrett. Moore appeared to have the better position on the ball, but Lloyd jumped and reached over the corner's head for the ball and pulled it back to his body. He spun away from the on-coming Barrett and waltzed into the end zone, drawing a huge roar from the crowd.
Later in same drill, Brady again went to Lloyd over the middle, but this time the receiver ran smack into Barrett. Someone's ear pad popped out of its helmet as both players hit the deck simultaneously. They stayed down for a moment, both with their knees tucked up to their chests, before getting up. Lloyd still had the ball in his hands, which drew more big cheers from the fans.
With about an hour left in practice, All-Pro tight end Rob Gronkowski sprinted off during with a trainer after one particularly violent collision in 11-on-11. He appeared to be holding a hand to his face, but it was unclear exactly what was wrong. Some 20 minutes later, he jogged back on to the field with a big bandage on his chin. He took part again fully in the rest of practice.
Rookie DE Justin Francis, who was having himself a good spring and early summer, was carted off during positions drills. He appeared in a great deal of pain on the back of the motorized cart, lying down and bent over on his left side, clutching his left leg.
Linebacker Tracy White walked off with assistant strength coach Moses Cabrera right before 7-on-7 work late in practice. It's unclear why, but he didn't appear to be seriously injured.
During full-speed 11-on11 action, running back Stevan Ridley took a carry outside to his left. Waiting for him was Dowling, who laid a shoulder perfectly into Ridley. The ball carrier was knocked clean off his feet, which resulted in many loud "Ooohs" from the assembled audience of fans. On the very next play, Ridley took the ball to the right side, only this time he was met by safety Patrick Chung, who wrapped him with both arms, picked him up, and threw him to the ground. Chung was ordered to do a penalty lap for the take-down, apparently because the roughness was unnecessary.
Kickoff team was the main focus of special teams work today. The team worked on it on four occasions during the 2-and-a-half-hour practice. Stephen Gostkowski resumed the kickoff duties (first-year kicker Chris Koepplin had done it during the spring) and looked in mid-season form, easily booting his balls out of the end zone.
Gostkowski was also 6-for-7 on his end-of-practice field goal attempts. His lone miss was from 50 .
Practice is scheduled to resume Sunday from 1:30 to 4 p.m. As always, check patriots.com for any updates to that itinerary.