… Sunshine returned to New England, and so did the Patriots – decked in shells, sweats, and helmets – to their outdoor practice fields where they hold training camp..
… The linebacker corps finds itself in dire straits. Just a few days after rookie Jeff Tarpinian started against the Jets, he was missing from today's start to practice. We'll find out why around 4 p.m., when the injury report is released. Joining Tarpinian on the absentee list were the same three players that have missed the rest of the week thus far: cornerback Devin McCourty (right shoulder), Dane Fletcher (thumb) and Brandon Spikes (right knee).
… Brian Waters, an All-Pro guard during his many years with the Kansas City Chiefs, will face his former club Monday night when KC visits Foxborough. Waters isn't viewing this as a "revenge" game, however, as he left on good terms with the Chiefs. "I'm sure I'll see some people I know and be able to say, 'Hi,' but the biggest thing for me, like any other game, is getting focused. It's hard to say today … I'll definitely have some sort of feelings, but nothing negative." He added that he felt the former player-versus-former team aspect was one of the more overrated aspects of sports. "A little bit. I think it's overplayed. There's no revenge factor here. There's no anger. I have a great amount of respect for those guys and I love a lot of those guys personally … but I'm a Patriot now," he stressed. "I'm here to try and win football games. This [game] will be no different."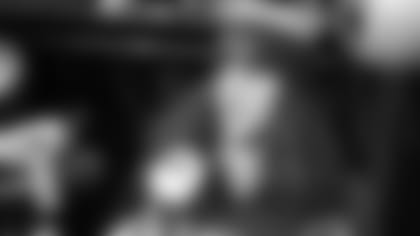 … Safety Ross Ventrone, he of the 21 transactions with the Patriots since joining the club in April 2010, addressed that topic with reporters at his locker today. "I don't get discouraged," he said of the moves, which are league-mandated formalities required for shuttling players from the active roster down to the practice squad. "I just keep working hard and everything. I know things work out the way they do sometimes, different positions [needed week-to-week], and I just hope they do bring me back. They have so far. I'm just working every day to get better and better and help the team as best as I can." He did admit to just a tinge of apprehension, though, whenever he finds himself temporarily unemployed."Every time, I never know what's going to happen. I just hope for the best and keep getting after it."
… Due to the fact that they're playing this Monday night, the Patriots will conduct a full practice on Saturday, rather than their typical weekend walkthrough.
… McCourty, Fletcher, and Spikes did not take part at all in practice Friday, nor did the rookie Tarpinian, who has an undisclosed illness. Meanwhile, the same 14 other Patriots who were limited Thursday had the same result in practice Friday: WR Wes Welker (knee), CB Kyle Arrington (foot), S Patrick Chung (right foot), C Dan Connolly (groin), DE Shaun Ellis (rib), RB Kevin Faulk (knee), RB BenJarvus Green-Ellis (toe), LB Gary Guyton (shoulder), S James Ihedigbo (shoulder), WR Taylor Price (hamstring), WR Matthew Slater (shoulder), rookie OT Nate Solder (concussion), OT Sebastian Vollmer (back), and RG Brian Waters (left knee).
… Meanwhile, in Kansas City, the Chiefs' secondary is still ailing. Starting CBs Brandon Flowers (back) and Brandon Carr (ankle) were both limited once again in Friday's practice, while starting S Jon McGraw (shoulder), who took part fully on Thursday, was down to just a limited role on Friday. Starting right defensive end Glenn Dorsey (knee) was also limited.