The 11-year veteran, an anchor at left tackle for the Patriots since his rookie year in 2001, officially announced his retirement this morning. Introduced by owner Robert Kraft and head coach Bill Belichick, both of whom gave humorous accounts of their relationship with the notorious jokester, Light, too, kept the mood relatively, well, light. There was one moment when he appeared to get emotional, while thanking the many individuals — some of whom were present — who have touched his life over the past 11 years.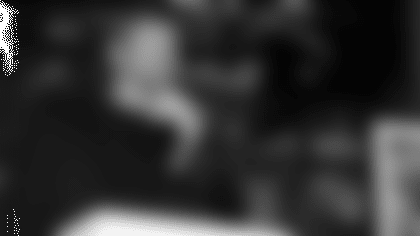 GOOD TALK — Matt Light shared a smile and several laughs with family, friends, members of the Patriots organization, media, and a few lucky fans at his retirement press conference Monday. (Photo by David Silverman)
Light said he knew, heading into last season, that 2011 would in fact be his last season in the NFL. Age and health issues were beginning to take more of a toll on him, plus he wanted to spend more time with his family and on his charitable foundation. He conveyed the news of his impending departure several months ago to a select few, including teammate Logan Mankins.

"It's a little weird. I've been with Matt for seven years," Mankins reminisced after today's event. "We played next to each other and it's been great. He's been a great teammate, great friend. It's a little surreal still. You don't believe he's leaving. It's hard to imagine going to practice or playing in a game and not having Matt sit behind me on the bus. We sat next to each other on the plane and he was a locker mate pretty close to me. It's going to be a little different this season, my first season without Matt."

In a video tribute to Light's career, QB Tom Brady said he was going to try to talk Light into staying on longer, but the soon-to-be-34-year-old insisted he was through with playing football. He didn't rule out, however, staying involved in the NFL in one form or another, possibly in a labor management role with the NFL Players Association.

Second-year man Nate Solder, drafted in the first round of the 2011 NFL Draft, is the odds-on favorite to succeed Light at left tackle. Solder is perhaps more prepared to take over that high-pressure position than Light was as a rookie in 2001. Solder gained valuable experience last season playing both right and left tackle, whereas Light had to experience a trial by fire.

"We have good, talented players, a good [position] coach [in Dante Scarnecchia], a good scheme," Mankins pointed out. "Matt will definitely be missed, but that happens in the NFL. Guys retire and you have to move on.

"Nate, he's done a great job for us. We were very impressed with Nate, and he's only going to get better this year… he better get better," Mankins stressed, "because that's what we expect of him."

One other interesting note from today's farewell ceremony involved Mankins himself. The Pro Bowl left guard recently underwent surgery to repair a torn anterior cruciate ligament in his left knee, but was walking around The Hall with no brace or medical device of any kind, nor was he displaying any noticeable limp. Seems he is enjoying a successful recovery.

How do you feel about the Patriots' offensive line without Matt Light? Let us know with a comment below.