INDIANAPOLIS -- Beyond discussions regarding the combined greatness of Bill Belichick and Tom Brady, it's not always easy to get Patriots fans and media alike to reach a consensus on anything.
But, that's exactly what's occurred early on this offseason as virtually everyone agrees that New England's greatest need heading into the 2011 NFL Draft is a productive pass rusher.
The good news is that another consensus has developed, this one at the Combine in Indy, where the common belief is that edge pass rushers, particularly those built for the 3-4 defense, is one of the stronger positional groups in this year's draft class.
"It's a really good draft group. Some of these guys are defensive ends in a 4-3 or they're outside linebackers in a 3-4. But this is a strong class," Chiefs GM Scott Piolisaid of the edge rushers. "Regardless of the defense, there are players that can help any defense in the National Football League at those positions."
"I would say that there's quite few guys that would fall into that group of hybrid outside linebacker or hybrid pass-rusher type. It's a good group," Dolphins GM Jeff Ireland said.
"The outside linebacker group is good. Again there's more available to us than has been in the past," Steelers director of football operations Kevin Colbert said. "Part of this evaluation will be the linebacker drills some of the defensive linemen will have to go through and we'll continue that throughout the spring to see if these guys can make the conversion. But I think it's a pretty good group."
Throw in the fact that the Patriots not only have three picks in the top 33 selections, but also the overall ammo to trade up just about as high as they might like, and all signs point to the possibility that Belichick's troops could strike early to fill their biggest need in the now Thursday night prime time action of the draft.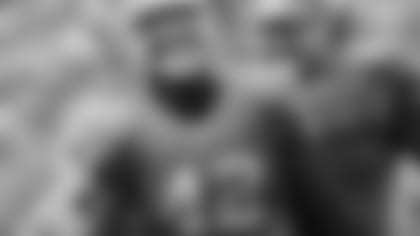 One of the more intriguing options, one who could end up near the top of many draft boards when the process concludes, is North Carolina defensive end Robert Quinn (6-4, 265). After a breakout sophomore season in 2009 in which he had 11 sacks, Quinn was suspended for all of last season by the NCAA for accepting jewelry in a agent scandal that rocked the Tar Heels roster.
"I made a selfish mistake," Quinn said of the suspension, shooting down rumors that he didn't care that he'd missed the season. "Me and my team and my coaches and family paid a price for it. I truly apologize for it, I tell them all the time. I just try to take the best out of it and move on."
Quinn actually faced much greater adversity than any suspension earlier in his life, when as a senior in high school he was diagnosed with a brain tumor after suffering headaches and a series of blackouts. He had surgery to remove most of the tumor and hasn't had the headache issues since, but admitted he'd just come from an MRI of his brain that would likely be passed around to all 32 NFL teams.
"I won't say it was scary. It was more heartbreaking that they told me I wouldn't be able to play sports anymore," Quinn said of the tumor diagnoses and surgery. "At one point they told me I should have been brain dead.
"It's just more heartbreaking. I remember, I guess it was kind of that Boobie Miles moment," Quinn continued, referencing a character in Friday Night Lights that suffers a major injury, "when I looked at my mom and they told me I wouldn't play sports again and I became that big ol' baby and busted out in tears. It was heartbreaking. But it didn't slow me down. Three or four years later I'm still going."
He says he's learned from both experiences, and that it should help him moving forward.
"The tumor really made me appreciate just the little things in life," Quinn said. "I don't take anything for granted. I live life to the fullest. The suspension made me mature and really watch the people who come around me and know if they are really in the best interests for me or maybe what I can do for them or what they want from me. So really to watch my surroundings and the people I bring around me."
Quinn said he's been talking to teams about playing both 4-3 end and 3-4 outside linebacker, the latter of which he would play in New England. People compare him to a pair of current NFL players who excel equally well in the two different roles.
"People always tell me I'll be the next Julius Peppers or DeMarcus Ware," Quinn said. "But I always tell them why do I have to be the second of somebody else, why can't I be the first Robert Quinn? That's just my mindset. But I guess being compared to those two ain't so bad."
Scouts will have to balance two impressive seasons as a young player at North Carolina with a year away from the field, as well as the drills Quinn performs at the Combine as they try to fill out his scouting report and figure out exactly how good a prospect he really is.
"There's obviously that added dynamic to it but there is film on him," Pioli said. "He has played and everyone's seen him in uniform., Everyone is going to get to spend time with him. It's not different than a player who's missed a season because of injury. It's obviously different but very similar. You don't have any updated knowledge of seeing of seeing the player play or how much he's matured as a player."
Although there are various opinions on his value at this point, NFL Network analyst Michael Lombardihas already said that Quinn could be the No. 1 overall pick in the draft. Quinn wouldn't disagree.
"That's what I strive for. I'm here to compete and hopefully if I compete well enough and perform well enough I can jump up that high," Quinn said. "But I'm just here to compete and have fun. I guess April 28 I'll let the drafters do their drafting."
If that happens, he'd likely be out of New England's range even if the team were inclined to trade up. But there are a number of other pretty impressive pass rushers that the team might be able to go after.
Texas A&M's Von Miller(6-2, 246) lacks the ideal size for the 3-4, but might just be the most natural pass rusher in the draft. His production dropped a bit last fall to 8.5 sacks thanks in part to an early season ankle injury after he led the nation with 17 in 2009. Like Quinn, Miller also thinks he can play in either scheme at the pro level.
"My God-given ability is speed off the edge, just rushing," Miller said. "I can drop back into coverage and do all that other stuff, too, but what God has blessed me with is pass rushing off the edge."
As impressive as his physical skill is, Miller also seems to have the right attitude for a guy who could also hear his name called in the top five picks of the draft.
"First and foremost, I'm going to be a great teammate," Miller said of what team would get by drafting him. "I'm a team guy. That's how I play football. That's how we were able to win the games that we won at Texas A&M. We didn't have all the talent in the world, but we had a great team. We had great chemistry in the locker room. I'll be a rookie, whatever those guys want me to do, I'll be happy to do it. Just find my way, find my role. Whatever it takes to get on the field, that's what I'll do."
If Miller and Quinn are two of the more pure pass rushers in the draft -- along with Clemson defensive end Da'Quan Bowers (6-4, 275) who's seen primarily as a 4-3 prospect - there are still plenty of other options. Two potential next-tier fits would include Missouri's Aldon Smith (6-4, 264) and Purdue's Ryan Kerrigan (6-3, 267).
Both players have pretty close to ideal 3-4 OLB size and are proven pass rushers. Kerrigan notched 25 sacks over his final two seasons with the Boilermakers to go along with an impressive 12 forced fumbles. The schools has a history of producing 4-3 ends that succeed as 3-4 linebackers in the NFL, including current Patriot Rob Ninkovich and former New England defender Rosevelt Colvin.
"I feel like I'm a good pass rusher. I can get after the passer. But I'm also athletic enough to drop into coverage and be able to cover tight ends and wide receivers," Kerrigan said. "I've been able to put together some college seasons back-to-back. I think my production overall and I was a captain. I think that will speak volumes for some of the scouts here."
Kerrigan also has a well-known, non-stop motor, something that Miller has noticed with the two working out together in the pre-draft process. He credits Kerrigan's influence for helping him add nearly 10 pounds for the Combine.
"I've been working out real hard. I've been working out with Ryan Kerrigan, so that had to come from somewhere." Miller said of the weight. "Ryan Kerrigan, he pushes us all."
Smith had an impressive 11.5 sacks as a redshirt freshman in 2009, but fell off to 5.5 last fall in part thanks to a broken leg that cost him three games. Still a maturing talent at this point, Smith's best years would appear to be ahead of him with the ability to be a solid two-way edge defender, something he thinks separates him from some of the other prospects.
"My versatility. Being able to drop, being athletic. Something a lot of people don't know about me is that I can stop the run," Smith said of his strengths. "I can help out in that area, too."
A few other names that Patriots fans may want to keep an eye on as pass rush prospects in the first couple rounds are UCLA's Akeem Ayers (6-4, 255), Georgia's Justin Houston (6-3, 258) and Arizona's Brooks Reed (6-3, 257).
All three players are step down from the more proven, productive elite pass rushers in the draft but still present intriguing skills. Ayers is seen as more of a well-rounded edge option with the ability to make plays all over the field in all areas. Houston has the luxury of having played in a 3-4 scheme last fall for the Bulldogs, tallying 10 sacks and 44 pressures. And though Reed comes from a more simplistic college scheme and might take longer to convert to playing on two feet in space, he might be an early second-day possibility.
But as we've seen in recent years most top pass rushers don't last long in the first round, with an impact rookie like late first rounder Clay Matthews more the exception than the rule. Generally elite talent on the edge comes off the board in the first half of the first round. That could happen once again with the likes of Quinn, Miller and others.
Everyone agrees that the Patriots need help in the pass rush area. Everyone agrees that there is some elite talent available in that area in this year's draft. Now the only question that remains is whether the Patriots will be willing to go after that talent before it's too late.