The work the Patriots put in on the field last season brought home a Lombardi trophy, but the work that many Patriots put in off the field impacted countless people in the greater Boston area.
And on Friday and Saturday at training camp, some of these people got to meet their heroes, the Patriots players who made financial contributions to their programs.
The NFL implemented social justice funds in 2018, where owners would donate $250,000 annually to go towards local, grassroots organizations working in their cities. Players were to match that amount through donations of their own, and they would select organizations to receive grants.
On Friday, about 30 people from UTEC, Inc., an organization dedicated to empowering troubled young adults who have been incarcerated by helping them transition out of jail, offering work skills training and emotional and logistical support. On Saturday, guests from iD Tech Camps, a summer technology camp, and Enjoy Life Education, a leadership academy for teens, visited training camp after the Patriots social justice grants sponsored teens to attend both.
After practice on Friday, Devin and Jason McCourty, Duron Harmon and Deatrich Wise made their way to the far corner of the field, and as they signed autographs and posed for pictures, pure joy radiated from the Patriots Foundation tent. It had been all day.
"All of them, it's their first time coming to camp," UTEC, Inc.'s Director of Workforce Development Will Vilasnovas said. "You can see how excited they are just by seeing Tom Brady and other players around. It's a very unique opportunity for them."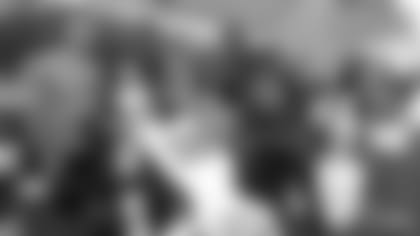 Saturday was no different.
Students from Boston's Citizen School who attended iD Tech Camp this summer through the donations made by Patriots players were in attendance, as well as young adults who are a part of the Boston Police Department's We Belong program, who attended Enjoy Life Education's academy.
They got a front row seat to practice, met James White, Rob Ninkovich and the 2019 Patriots Hall of Fame inductee Rodney Harrison and got a glimpse of Pro Football Hall of Famer Randy Moss.
"It's really exciting. I've never met anybody on the Patriots before, so it's really exciting to meet somebody," Jakai Daniles, 12, who attended iD Tech Camps said. "It means really a lot that they let us come here and let us have VIP seats and everything."
Nearly 20 Patriots financially contributed to the fund that made these grants possible, and Jason said the support from his teammates has been incredible to see.
"To know that guys care, everybody comes from different walks of life, and everybody doesn't have the same experiences as the next person. For somebody to look at their teammate and say, 'This maybe doesn't impact me or I don't know a lot about it, but you care about it, I'm going to care about it as well,' that shows a lot about our locker room," Jason said. "I think this year, we're going to keep working and trying to see if we can get more and more guys to give and try to raise money and really make a change."
That money raised directly impacted the lives of local kids and young adults. About 20 students were able to attend iD Tech Camps this summer because of the money raised by Patriots players.
"We want to invest in our kids for the future but being able to these are students who otherwise might not have the opportunity is really special," Vice President of Operations of iD Tech Camp Robby Little said. "It means a lot not only to us and our organization but these students. We're just happy to be a part of it."
Though the money allows these organizations to grow and expand their outreach, knowing that the Patriots are supporting their efforts means just as much, if not more, to the people they work with.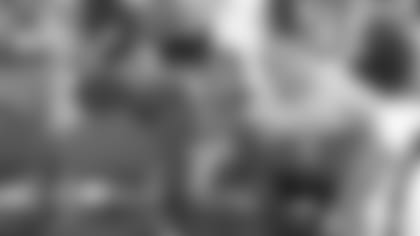 "My experience with young adults, it goes beyond the money," Will said. "A lot of young adults look up to Patriots players as role models and super stars, and a lot of them follow the Patriots. Knowing that the Patriots players are on our side and are fighting for the same causes that our young adults have been going through for their entire life, it's more than money. Someone said, 'I looked up to them as a player, and now, I look up to them as men, as well. I didn't know they support what we do here.' That's a huge difference."
This was echoed by Boston Police Officer Nicole Grant, who works with the We Belong Program to teach the city's kids leadership skills. Students from We Belong were able to attend Enjoy Life Education's leadership academy this summer because of this grant, and knowing the Patriots are invested in the future of local kids makes a world of difference.
"They don't see anything other than that they're football players and when they come and spend some time and talk to the kids one on one, give them their phone numbers, ask them about their day, ask them where they're struggling in school, what they want to do, that's huge," she said. "I think it's important to know that someone else besides the people in the room care about them. The people on the field care about them, as well."
Devin, Jason, Duron and Matthew Slater have been vocal in their efforts to impact social change. From lobbying for bills at the Massachusetts State House and moderating debates to speaking about the school-to-prison pipeline, they have spearheaded many of these efforts, using their platforms as NFL players to create positive change in New England.
Being able to come face to face with some of the people impacted by their advocacy is a great opportunity, Jason said.
"Whenever you you're able to get out in the community, there's a lot of guys who are passionate about making change in that area, so to be able last year to come together, raise money and to know that it's going to things that we want to see done better, not to complain about our country but just some things that can be done," Jason said. "I know there are organizations out there that are working and thriving every day to make those things happen. For them to come out to practice today and get a chance to come over, take pictures, laugh, it's just an awesome experience."