Apparently Johnny Manziel isn't the only highly-rated 2014 NFL Draft prospect at the quarterback position who'll be meeting with the Patriots on Wednesday.
Shortly after breaking news that the controversial Heisman-winner Manziel would be meeting with New England, NFL Network then reported that Louisville quarterback Teddy Bridgewater would also be in Foxborough on Wednesday to meet with the Patriots.
Teams are allowed to host 30 official pre-draft visits with prospects and Bill Belichick is apparently using at least two of those visits on highly-touted quarterbacks.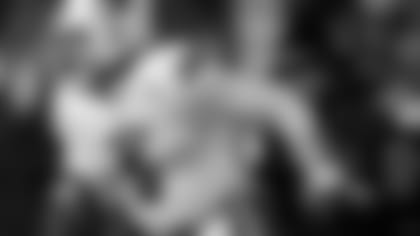 Not long ago Bridgewater had been considered a potential No. 1 overall pick, but a poor pro day workout has supposedly hurt his stock. Still, it's unlikely he'd be on the board when the Patriots are set to pick at No. 29 overall in the first round on May 8.
New England currently has two quarterbacks on the roster – Tom Brady and Ryan Mallett. Mallett is entering the final year of his rookie contract and has played very little in his first three seasons as a former third-round pick. Brady is in his late 30s and is likely entering the later stages of his historic run leading the New England offense, though he shows few signs of slowing down.
Hosting hyped quarterbacks who could go in the top five picks or who could slip in the hectic nature of the first round could be done for a number of reasons.
It could be that Belichick is simply getting to know a couple top prospects his team could face in the coming years. Could be he's getting to know two guys that could slip and might be options were he to consider making a move for Brady's future heir to the QB spot in New England, ala Aaron Rodgers in Green Bay. Could be he's getting a value on those guys in case they slip to late in the first round and other teams are looking to trade with New England to select a quarterback.
Could simply be due diligence.
Regardless, having both Manziel and Bridgewater in for pre-draft visits certainly adds some intrigue to the draft process that has a couple extra weeks of media mayhem thanks to the big day being pushed back a couple weeks.
What do you make of the Patriots hosting visits from Bridgewater and Manziel? Does it mean anything? Let us know with a comment below!