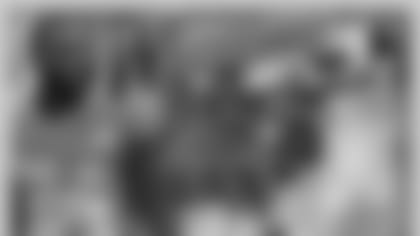 ](/node/47411)
All-Pro cornerback Darrelle Revis officially passed his physical, signed his contract and became a member of the Patriots on Monday.
The team finally sent out a press release to announce the signing of Revis – who reportedly inked a two-year, $32 million contract – and the former Jets and Bucs shutdown pass defender said in a conference call with local reporters that his decision to come to New England was a simple one.
"First off, I want to say I'm very excited to be a part of the New England Patriots," Revis said, answering a question about taking the short-term deal in Foxborough, while some 26 teams expressed interest in acquiring his services.. "It's basically about just winning, man. I weighed my options and I just wanted to win and I felt like this was the right place for me; to be a part of the Patriots organization."
Revis is obviously familiar with the Patriots from his time playing against them on a yearly basis as a member of the Jets. But he said the idea of getting to face his former Gang Green teammates twice annually had nothing to do with his decision.
"That was never the factor," Revis said. "My thing is all about winning. I want to win. What better organization – the New England Patriots – to be a part of that? If you look at their track record, New England has won year-in and year-out or been to the playoffs, had playoff berths. Right now in my career, I think this is great – to team up with Tom Brady and Coach [Bill] Belichick and the New England Patriots team and help them win games. That's what I'm here for. I'm here to win games and play hard-nosed football."
Revis did acknowledge that on some level the view he got of New England during dual training camp practices while a member of the Bucs last summer did give him an even greater insight as to what the operation was all about at Gillette Stadium.
"It was really exciting for me. I was rehabbing my knee but at the same time I got to see how New England really operates, how Coach Belichick runs the organization as a head coach," Revis said looking back on those practices. "I was very excited and you can kind of see, even during training camp when we were up here, those guys are very disciplined in what they do. They're a veteran team. They're a playoff caliber team. They're a very smart team. I did collect those things when I was up here. I really paid attention to those scenarios and really liked them."
He also got a chance to pick the brain of his good friend and former Patriots cornerback Ty Law, a fellow native of Aliquippa, Penn.
](/node/47411) BEST OF DARRELLE REVIS
Check out a selection of the best images of Patriots CB Darrelle Revis. VIEW
 

"Ty has been a mentor through my whole life," Revis said. "He's a very close friend to my family. We had a conversation. It is not about the situation I'm in at hand, but I talk to Ty all the time – about life and football. I can't get into details of even what me and him talk about. I'm just happy that he was there, he's on my side and if I can bounce questions off of him and ask him certain things because he has a lot of experience then that's what I can do. Ty's always there in my corner to help me whether it's football or life. I thank Ty for that. I'm sure he's not listening, he's not on the call but I'll tell him that later."
Maybe the best news for fans in regards to New England's new No. 1 cornerback was his admission that he wasn't nearly 100-percent in his Pro Bowl season last fall in Tampa Bay. Revis started all 16 games for the Bucs as he returned from a torn ACL, but clearly felt himself getting healthier as the season wore on.
He should only be that much better this coming fall in Foxborough, two years from the initial injury in his return to the AFC East.
"It was a long process. I did finish all 16 games. I was slow and maybe sluggish in the beginning of the season but week to week, I got stronger and stronger," Revis said, looking back. "Toward the end, I probably felt my best as a football player. That's a thing where it took some time and I thank [the] Tampa Bay Buccaneers for everything they did to help me with my rehab throughout the course of the year. It was a big process to get through that and fight through it but right now I feel great. I'm just ready to play ball."
Though Revis was once a member of the hated Jets, and even referred to Bill Belichick as a "jerk" in an appearances on ESPN's SportsCenter, the corner made it clear that he and his new head coach are on the same page with the same goals in mind.
"Me and Bill, we had a conversation about it and it's in the past," Revis said of the jerk comment. "We're both moving forward and we're excited about working together and trying to win games. I think that's the biggest goal here, is to win games."