New England tight end Rob Gronkowski, who rebounded from an injury-plagued 2013 season to lead all NFL tight ends in receiving yards in 2014, was selected as the 2014 NFL Comeback Player of the Year, chosen in voting conducted by the Professional Football Writers of America (PFWA).
Pittsburgh running back Le'Veon Bell, who was second in the NFL in rushing yards and led the league in receiving yards by a running back, was selected as the 2014 NFL Most Improved Player of the Year.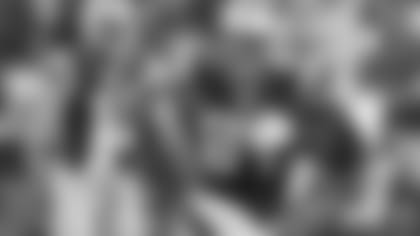 Gronkowski missed all of training camp and the first six games of the 2013 season with a back injury. He also suffered a knee injury in Week 15 and was placed on Reserve/Injured prior to the final game of the regular season. Gronkowski's 39 catches for 592 yards and four touchdowns in 2013 was the lowest output of his career. Back to full health in 2014, he caught 82 passes for 1,124 yards and 12 TDs in 15 games to earn All-Pro honors from the PFWA.
Gronkowski reached 1,000 receiving yards for the second time in his career. He led all NFL tight ends in receiving yards, receiving yards per game at 74.9 and tied for first with 12 TDs. He also paced all NFL TEs with 60 receiving first downs and 10 receptions of 25 yards or more. Gronkowski had three 100-yard receiving games, including a career-high-tying nine catches for a season-high 149 yards and tied a career high with three TDs against Chicago in a 51-23 victory in Week 8. The following week, he had nine receptions again for 105 yards in a 43-21 victory against Denver. He scored a receiving touchdown in 10 of his 15 games.
Gronkowski is the third member of the Patriots organization to receive Comeback Player of the Year honors joining wide receiver Randy Moss (2007) and quarterback Tom Brady (2009).
Bell had a solid rookie season in 2013 with 244 rushes for 860 yards (3.5 yards per carry) and eight touchdowns to go with 45 receptions for 399 yards out of the backfield for a total of 1,259 scrimmage yards, a Steelers rookie record. He hit his stride in 2014 as he finished second in the league in rushing yards with 1,361 on 290 carries (4.7 yards per rush) and eight TDs on the way to PFWA All-NFL honors. He also led the NFL in running back receiving yards as he more than doubled his output to 854 yards on 83 receptions (10.3 yards per catch) with three touchdowns. His 2,215 total scrimmage yards was a franchise record and second in the NFL, and he led the league in total first downs with 114.
Bell tied for first in the NFL with 13 games of 100 or more yards from scrimmage, and he tied a NFL mark with three straight games of 200 or more scrimmage yards held by Walter Payton in 1977. His top rushing game came in Week 11 at Tennessee with 204 yards on 33 carries in a 27-24 victory. His best receiving game was against New Orleans in Week 13, when he caught eight passes for 159 yards.
Bell is the second member of the Steelers' organization to receive Most Improved Player of the Year honors. Quarterback Kordell Stewart was selected in 2001.
PFWA COMEBACK PLAYER OF THE YEAR: 1992 – QB Randall Cunningham, Philadelphia Eagles; 1993 – RB Marcus Allen, Kansas City Chiefs; 1994 – QB Dan Marino, Miami Dolphins; 1995 – QB Jim Harbaugh, Indianapolis Colts; 1996 – RB Jerome Bettis, Pittsburgh Steelers; 1997 – WR Robert Brooks, Green Bay Packers; 1998 – QB Doug Flutie, Buffalo Bills; 1999 – DT Bryant Young, San Francisco 49ers; 2000 – DE Joe Johnson, New Orleans Saints; 2001 – RB Garrison Hearst, San Francisco 49ers; 2002 – QB Tommy Maddox, Pittsburgh Steelers; 2003 – QB Jon Kitna, Cincinnati Bengals; 2004 – RB Willis McGahee, Buffalo Bills; 2005 – WR Steve Smith, Carolina Panthers; 2006 – QB Chad Pennington, New York Jets; 2007 – WR Randy Moss, New England Patriots; 2008 – QB Chad Pennington, Miami Dolphins; 2009 – QB Tom Brady, New England Patriots; 2010 – QB Michael Vick, Philadelphia Eagles; 2011 – QB Matthew Stafford, Detroit Lions; 2012 – RB Adrian Peterson, Minnesota Vikings; 2013 – QB Philip Rivers, San Diego Chargers;2014 – TE Rob Gronkowski, New England Patriots.
PFWA MOST IMPROVED PLAYER OF THE YEAR: 2000 – QB Jeff Garcia, San Francisco 49ers; 2001 – QB Kordell Stewart, Pittsburgh Steelers; 2002 – QB Chad Pennington, New York Jets; 2003 – QB Jon Kitna, Cincinnati Bengals; 2004 – QB Drew Brees, San Diego Chargers; 2005 – DE Osi Umenyiora, New York Giants; 2006 – RB Frank Gore, San Francisco 49ers; 2007 – QB Derek Anderson, Cleveland Browns; 2008 – RB DeAngelo Williams, Carolina Panthers; 2009 – WR Miles Austin, Dallas Cowboys; 2010 – RB Arian Foster, Houston Texans; 2011 – WR Victor Cruz, New York Giants; 2012 – WR Dez Bryant, Dallas Cowboys; 2013 – WR Alshon Jeffery, Chicago Bears; 2014 – RB Le'Veon Bell, Pittsburgh Steelers.
ABOUT THE PFWA: The Professional Football Writers of America (PFWA) is the official voice of pro football writers, promoting and fighting for access to NFL personnel to best serve the public. The PFWA is made up of accredited writers who cover the NFL and the 32 teams on a daily basis. The Atlanta Journal-Constitution's D. Orlando Ledbetter, who covers the Atlanta Falcons, is the organization's president for 2013-15, while ESPN.com's Jeff Legwold, who covers the Denver Broncos, is the PFWA's first vice-president and long-time national writer Dan Pompei is the organization's second vice-president. Follow the PFWA at ProFootballWriters.org and on Twitter at @PFWAwriters.