Robert Kraft is used to fielding questions from the media, but at his former elementary school, Edward Devotion School in Brookline, Mass., he had some heavy hitting inquiries.
"Who do you think is the best player on the Patriots," one sixth grade student asked.
Without hesitation, Robert said, "You know who it is: T-E-A-M. This is a good lesson for life for all of you. There's no 'I' in T-E-A-M, and we have a saying that great players go to the Pro Bowl but great teams play in the Super Bowl."
The response yielded applause from the students and faculty that had been attentively asking questions in the school's library. With the students on the brink of summer vacation, Robert visited his alma mater to see it for the last time as it was when he attended. The school will be undergoing renovations, and the students will be attending a different school in town this fall.
Being able to return to Devotion School and see how things have changed was special, Robert said.
"It's unbelievable to come back, living in the same community and think I went here. It was kindergarten, so that would be nine years right through eighth grade," Robert said. "Those were great years and a great time, and it was a great treat to come back here and actually see the diversity in the school. It's a good reflection on how America has changed and to see how well everyone gets along and the sense of inclusion is very good. It makes me feel good for the future."
Robert was joined by two of his classmates, Steve Comen and Shirley McDonald, and they told the students how greatly their days at Devotion impacted them. All three said the friends they made during school are still some of their closest now, and Robert said keeping a strong inner circle is crucial.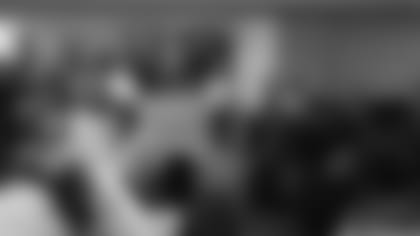 "The key to life, in my opinion, is to hang with good people, to have good people around you all the time because you're always going to have some people who will try and lead you in a certain place, and when the pressure comes on, you want real tough, solid people sitting next to you," he told the students.
In an echo of his graduation speech at Yeshiva University, Robert told the students it was important to dream big and spread kindness every day. He also answered the burning questions on the students' minds, like his favorite play (Adam Vinatieri's Super Bowl XXXVI field goal kick) and whether he prefers passing or running plays (both have their place).
And about drafting that 6th round pick back in 2000?
"It's the best decision our organization has ever made," he said.
But before this story – one of a dream realized, Super Bowls won and a legacy built – was the school that helped shape Robert's future, and he said he hoped the students he spoke to learn to chase their dreams, even if they are wild and seemingly impossible.
Above all, Robert said, the keys to success are simple.
"Hang out with good people, do good things and always put the team first," he said.
For pictures from the visit, check out the gallery below. 
Fun gallery
Robert Kraft returned to his alma mater, Edward Devotion School in Brookline, MA, this morning. He spoke to students and answered their questions.