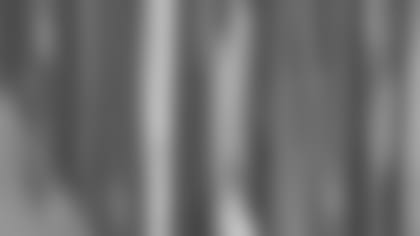 ]()
            Anytime a seventh round draft pick can contribute in his rookie season it is a bonus. But Patriots rookie wide receiver David Givens, the 253rd player taken in the 2002 draft out of Notre Dame, is already making an impression with the Super Bowl champions both in special teams play and with his first NFL touchdown last weekend against the Packers.  

Givens, who appropriately hails from Humble, Texas, earned his first significant playing time against Green Bay and took advantage of the opportunity. The rugged and athletic receiver totaled 3 catches for 22 yards, including both the first reception and first touchdown of his young career. And for a player whose initial goals simply revolved around making the roster and maybe contributing on special teams, reaching the end zone was a welcome bonus.
"It felt great," Givens said with a smile. "It was one of the high feelings for me in that game. We didn't play well, so I was disappointed that we didn't win, but I was happy that I was able to get in the end zone for the first time. It was a great feeling."
And according to Givens he wasn't the only one overjoyed by his first professional trip to the end zone. His two younger siblings, a six-year old brother named Jawan and 12-year old sister named Carina, were both as excited as he was when he talked to them on the phone after the game. The pair has been watching their big brother play football for most of their lives and seeing him have success on the highest level was a thrill.
The 6-0, 212-pound wide receiver was so thrilled to share his success with his supportive siblings that he sent them the touchdown ball earlier this week.
"I talked to them after the game and told them even though we lost that the ball was significant because they know how hard I've been working and it paid off and I finally got my first touchdown," Givens said. "They look up to me and I thought I'd give them something in return and keep the motivation going."
But as happy as Givens has been with the spot he has carved out on the Patriots roster, he knows that there is a lot of work to be done. Personal benchmarks and achieving his initial NFL goals has been exciting for the personable young receiver, but recent team struggles are what he is worried about right now.
"I would definitely like to help with our team winning more," Givens said. "So that is the main thing right now, whether it be blocking or catching more balls or on special teams, the main thing is to just contribute and help us start winning again."
And personally Givens just wants to continue to improve and strive for more success as he slowly works his way up his ladder of goals.
"Once you start getting in the games and start doing something, you do have to raise your level. My goals are higher now and that is just normal for every receiver or competitor. You don't want to be complacent, you want to get better each week."
If attitude, hard work and early returns on investment are any indication then David Givens may be one of those players that we look back on years from now and say, 'What a steal.' Either way, right now the young player is taking advantage of every chance he gets