Football is a game of repetition and with couple of weeks of practice and a preseason game in the books, the Patriots have been through their fair share of it thus far. Now it's time to see how the players respond when they no longer are learning what to do but rather reacting to what they already know.
This is especially true for the rookies, who are settling into professional life for the first time. On Monday Bill Belichick explained how the coming week, which included Tuesday's visit from the Tampa Bay Bucs, will be an important one for the youngsters.
"I think this will be a big couple of weeks for all of our rookies. Now that we've been through most of our installation, we've been through a game, they have a better idea of what to expect," Belichick explained. "There's not a lot of new installation. A lot of it is going back over things we've already put in. There a couple new things we have to deal with but probably 90 percent of it is some type of review or application of something we already know how to use.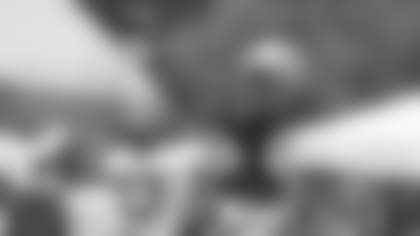 "We've been through a practice week, we've been through a game, so we'll see how the rookies do; how the young guys do with it. [If] they're able to take that experience and build on it or whether they can't, or how well they do it. I think these next couple of weeks are big evaluation times for them. The first week is always good to see but at the same time, we all learn the first time we do something, how to do it better the next time hopefully. We'll see if that's the case going forward here the next couple weeks with our younger guys, or guys who are in their first year in our system."
Some of the principals Belichick referenced were on display on Tuesday. Rookie linebacker Jamie Collins found himself thrust into a larger role when Brandon Spikes was unable to suit up for practice against the Bucs. (The reason for Spikes' absence is unknown). Collins manned the strong side spot while Dont'a Hightower slid from there to the middle to replace Spikes.
"It's not hard, you just put your mind to it and you can get it done," Collins said. "It's pretty good and I'm getting into the groove of things around here, especially going up against other teams and different looks."
Also, rookies Logan Ryan and Duron Harmon were in the mix. Harmon has seen increased action with the regulars of late and took part in a lot of the passing game work on Tuesday. With corners Ras-I Dowling and Alfonzo Dennard still limited due to injuries, Devin McCourty has worked at corner and thus opened up more opportunities for Harmon to work with Steve Gregory and Adrian Wilson in some nickel and dime packages.
"It's been exciting. Anytime you get go against guys of that stature it's exciting because you get to measure yourself," Harmon said of taking on the likes of Vincent Jackson and Mike Williams. "I'm getting there but I'm nowhere near close to where I want to be as far as a comfort level but I'm making progress."
Throughout the last week and during the preseason opener in Philadelphia it was clear that third-string quarterback Tim Tebow operates a different offense than the one Tom Brady and Ryan Mallett run. Tebow is often in the Pistol formation running read-option looks, something he's obviously comfortable with as a running quarterback.
Belichick spoke on Sports Radio WEEI on Monday about it and explained how he decides how much time to invest in such an endeavor.
"It's something that you have to look at with time management. The decisions that you make are important there; you don't want to waste a lot of time on something that doesn't benefit you," he said on the "Salk & Holley Show."
"At the same time, you want to try to be prepared for, and take advantage of, some of the players' skills that you have. I don't think it's uncommon. We've had those types of things in our offense before. This is a little bit different, but we're not trying to reinvent the game or anything. We're just trying to take advantage of a particular player's skill, and that's no different than something we would do with a tight end, or a receiver or running back who has a skill that we want to try to take advantage of."
Tebow ran an unconventional offense with great success in college at Florida, then led the Broncos to the AFC West title in 2011 by doing much of the same. His power running style differentiates him from the likes of Robert Griffin III or Colin Kaepernick, but clearly he's more comfortable with the ball in his hands than he is throwing it.
"Tim has had a lot of experience making those decisions -- whether to give the ball to the back or keep it, or pitch it, all those kinds of things. It's not really like we're trying to teach him those things. He's done it a lot. He has to refine the timing and so forth, but it creates just another thing to put pressure on the defense," Belichick said.
One of the factors involved in making the decision to use a different offense for one quarterback is preparation. In order to give Tebow a fair shot at succeeding, Belichick and his staff need to have the rest of the offense learn the various skills necessary to make it work.
Belichick was asked about the blocking specifically and explained that the differences between the schemes in terms of the linemen aren't all that significant.
"Every play has its own rules and adjustments. Some plays carry over; some plays are a little bit different," Belichick said. "I wouldn't say it's all exactly the same but there's certainly a lot of carryover. There are only so many blocking schemes you can have. We're not trying to revolutionize the game or anything."
As for whether this experiment will continue into the regular season, Belichick wasn't ready to address that just yet.
"That's not anything that we're ready to talk about right now," the coach said. "A lot of competition out there; we'll see how it all plays out."
Buy:** Jamie Collins – With Brandon Spikes not practicing the rookie second-round pick got a chance to run with the first unit at strong side linebacker. He was active at times, knocking down a couple of passes and nearly picking one off as he cut underneath a Bucs receiver near the goal line during a team period.
Sell: Kyle Arrington – The veteran corner is enjoying a solid camp overall but Tuesday was not his best practice. He was victimized by Vincent Jackson often, particularly on slants. Arrington seemed to have a tough time knocking the much bigger Jackson off his route and consequently allowed a handful of completions.
Play of the day – Rookie Kenbrell Thompkins didn't make a ton of catches against the Bucs but one may have been the best we've seen in camp. During some 1-on-1 drills in the red zone, Thompkins failed to generate much separation as he attempted to shake rookie corner Rashaan Melvin on a fade. Melvin maintained inside leverage and Tom Brady's throw was short, which appeared to give the corner a chance for the pick. Thompkins reached around Melvin and caught the pass with one hand behind the corner's back. Tremendous catch.
The Patriots signed tight end Evan Landi, according to his agent David Canter, who announced the move via Twitter. Landi was wearing No. 49 and was present at practice. He replaces rookie Brandon Ford, who was released on Monday.
Landi was originally with the Buc as an undrafted free agent out of South Florida but was waived in June. The 6-foot-3, 236-pounder had 72 career catches for 846 yards and three touchdowns in 46 career games with the Bulls.
With the move now official, Belichick acknowledged this morning that a transaction would be forthcoming at some point. Jason Vega, the defensive end out of Northeastern who spent time in the CFL, was not seen at practice and ended up being waived this afternoon.
Also not in uniform for practice were wide receiver Mark Harrison, tight end Rob Gronkowski, defensive end Jermaine Cunningham, defensive lineman Armond Armstead and Spikes. For the first time this summer Armstead was spotted on the field in sweats. Armstead is dealing with an infection that required surgery and remains on the non-football/illness list.
Dowling, Dennard, Marcus Cannon, Michael Jenkins, Tyronne Green, Kevin Haslam and Dan Connolly were in uniform but did not take part in any of the drills. McCourty continues to wear his red, non-contact jersey.
Four NFL officials were on hand to work the practice. The zebras tossed a handful of flags during the morning, including one for pass interference on Bucs cornerAnthony Gaitor, who unsuccessfully tried to slow down Matthew Slater after getting burned on a go route.
The Patriots and Bucs will go at it again on Wednesday with practice set to begin at 2 p.m. The workout is open to the public. The teams will practice together again on Thursday with that session representing the final one open to the public in Foxborough this summer.