Defensive line: Vince Wilfork, 9th year; Kyle Love, 3rd year; Jonathan Fanene, 8th year; Brandon Deaderick, 3rd year; Myron Pryor, 4th year; Gerard Warren, 12th year; Ron Brace, 4th year; Chandler Jones, rookie; Jake Bequette, rookie; Marcus Harrison, 4th year; Aaron Lavarias, 1st year; Alex Silvestro, 1st year; Marcus Forston, rookie; Justin Francis, rookie.
For years Bill Belichick has explained how specific alignments on defense are overrated and that having the ability to do different things with the same personnel is what's important. After an offseason with a heavy emphasis on defense, the coach should get his wish in 2012.
While many have focused on the team's preference for the 3-4 and the unique skill sets necessary to operate in such a scheme, Belichick insisted his units be multiple and desired players who could operate in either three- or four-man fronts regardless of scheme. It's still far too early to determine for sure how the many newcomers among the front seven will be employed, it seems clear that the coach will be able to mix and match as he sees fit.
The Patriots currently have 14 players listed as defensive linemen on the roster. It's possible that number could increase or decrease without any transactions being made. Players like rookie Chandler Jones and free agent newcomer Trevor Scott are very similar in size (both 6-5 with Jones 10 pounds heavier at 265) yet Jones is a defensive lineman and Scott is listed as a linebacker. Obviously that could change, and others could too, depending on how Belichick chooses to employ his new toys.
What we do know is Vince Wilfork is still a key cog up front. Whether it's as a tackle in a 4-3 or nose tackle in the 3-4 (or even end in a 3-4), the 9th-year veteran will remain the central figure in the starting defensive line. Kyle Love, known to some as Baby Vince, would fall under a similar description with the ability to play nose or tackle on early downs depending on the alignment. Both will see plenty of playing time.
Assuming Belichick goes with more four-man fronts, which seemed to be the set of choice during spring camps, newcomer Jonathan Fanene could factor into the starting lineup at end, or serve as a valuable sub package rusher from the inside. The latter is something the team has lacked greatly in recent seasons.Brandon Deaderick
is another versatile player who's seen time at end and tackle. He started eight games a year ago (including playoffs) and lined up as a 4-3 end, 3-4 end and a 4-3 tackle. Again, just the type of versatility Belichick likes.Myron Pryor
has shown the ability to get after the passer in sub situations but can't seem to shake the injury bug. He was limited to just two games in 2011 before going on injured reserve. If healthy, he'll have to fight for a roster spot as a reserve.
Two other veterans who will figure to be in for quite a battle are Ron Brace and Gerard Warren. Brace has yet to consistently show the ability that made him a second-round pick in 2009 while Warren is nearing the end of the line after a long career. One could stick to provide depth on the inside but it would be hard to imagine both keeping their jobs unless injuries become a concern.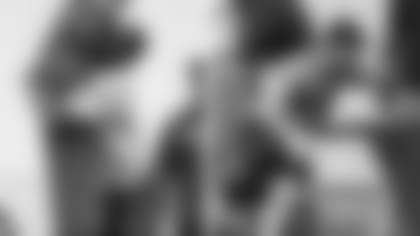 On the outside Jones and fellow rookie Jake Bequette provide a boost of athleticism to a position that needed it. Jones is a lanky, well-rounded player with the versatility to play standing up or as a down defensive end. Perhaps Belichick is limiting him to the latter in an effort to ease his transition before asking him to provide more traditional outside linebacker responsibilities, although Jones did drop into coverage occasionally during the spring. Look for Jones to see significant playing time early.
Bequette is more of a traditional pass rusher. The third-round pick enjoyed a productive career at Arkansas rushing against some of the better tackles to enter the draft in recent seasons, and envisioning him as a sub rusher on the outside immediately is not a stretch.
Elsewhere, Marcus Harrison has some experience in the league and even spent a day on the Patriots roster in 2011. He could surprise and provide depth on the inside with a strong camp. Aaron Lavarias and Alex Silvestrospent significant time on the practice squad last year and will look to provide more options for Belichick on the outside. Although Silvestro spent the spring working as an extra tight end, something he did a year ago as part of the scout team, Belichick said the possibility of him remaining on defense exists.
A pair of undrafted rookies round out the depth chart. Marcus Forston (6-3, 300) is a defensive tackle out of Miami while Rutgers' Justin Francis (6-4, 275) spent much of OTAs and mini-camp lined up at end with some of the front line players. Given the preponderance of bodies up front, both face long odds of sticking but undrafted defensive linemen (Love, Mike Wright to name a couple) have a history of making the cut.