INDIANAPOLIS – Depending on what an NFL team is looking for at the position, there is probably a running back model available to suit its needs in the 2009 draft. Finding the right prospect with the right fit for a specific system, that's where the rubber meets the road.
From a Patriots perspective the question remains as to whether the team will even look to add youthful depth to the running back mix. If there answer to that is yes, the next question is what type of running back that might be. A big-bodied bruiser? A smaller, speedy playmaker who might be a future replacement for current change-of-pace ace Kevin Faulk?
Right now the Patriots seemingly have two sure-things on the running back depth chart. Faulk is a 10-year veteran coming off his best season as a pro in which he averaged 6.1 yards a carry, caught a career-high 58 passes and scored a career-best six total touchdowns.
Sammy Morris led New England in rushing attack last fall with a career-high 727 yards and seven rushing scores. The hard-working veteran has proven himself a consistently productive option in his two seasons in New England when healthy. That's the problem, though, as Morris has missed 13 games over the last two years and has played a full 16-game schedule just once in the previous six seasons.
Beyond the soon-to-be 32-year-old Morris and Faulk, who'll be 33 to start the season, the rest of the running back roster is less certain. Heath Evans is a free agent but could very well bring his versatile services back to the team he most wants to play for. LaMont Jordan is another free agent who could very well test the market. And BenJarvus Green-Ellis is a second-year undrafted player who was a pleasant surprise as a practice squad call-up last fall.
The biggest question mark, though, is injury-prone and inconsistent former first-round pick Laurence Maroney. Having shown flashes of brilliance in his career Maroney enters his four season hoping to prove he can stay healthy and become a guy the team can count on to carry the ball each and every week. He played in just three games last fall before a shoulder injury cut his season short and he's yet to top 200 carries or 850 yards in any of his first three pro seasons. He has all the talent to be a force on the ground, but the time for him to live off his potential and flashes of success may be drawing to an end as he heads toward his fourth professional training camp.
So it certainly wouldn't be out of the question to think the Patriots might dip into the crop of draft prospects this spring, a class that could very well have as many as five backs (all juniors) go in the first round and, according to NFLDraftScout.com, could see two dozen or more ball carriers go over the seven rounds of draft weekend.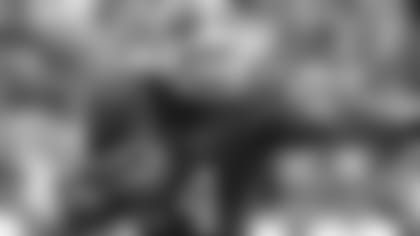 Atop the class, by most standards, is Georgia underclassman Knowshon Moreno (5-10, 217). The Bulldog is a good combination of elusiveness and power, maybe in part because he's tried to model some of his game after idol Walter Payton. Also an option to catch the ball both out of the backfield and in the slot, Moreno hopes to solidify his status as the draft's top back by running a solid 4.4 40 at the Combine.
"It is a job interview, but at the same time is competition. When you see a guy out there running you want to get out there and do the same thing," Moreno said. "I'm not trying to go against the clock here. I'm just out here competing for the GMs and coaches and let them know what kind of person that I am."
After Moreno the next back in line is Ohio State junior Chris "Beanie" Wells (6-1, 235). Wells is a bigger back drawing comparisons to Larry Johnson who must overcome durability concerns. His most recent issue was a foot problem, but he's also dealt with wrist, toe, hamstring and ankle issues over the years. Beyond proving he's healthy, Wells wants to show he's not only a big back but a playmaker as well by taking part in all the workouts this week.
"I want to do everything here just to prove to everybody I'm a competitor. I can go out there, 235 and I can run with the little guys, I can run with the best of them," Wells said. "I want to be that back who can take it the distance like a scat-back or a back who can get the tough yards like a hard-nosed short-yardage back."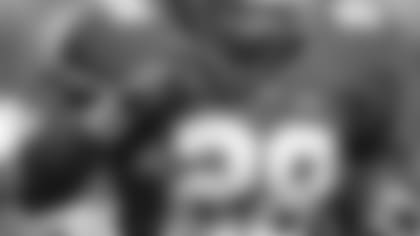 Beyond the top two, the three others looking to make noise in the first round are Pittsburgh's LeSean McCoy(5-11, 210), Iowa's Shonn Greene(5-10, 227) and UConn's Donald Brown (5-10, 210).
All three bring varying resumes and questions to the process as they try to prove themselves this week. Brown put up 2,083 yards and 18 touchdowns last fall but doesn't have any measurables or attributes that jump off the charts.
"I feel that's one of my assets," Brown said of his versatile playing style. "I'm not really playing it up. The film speaks for itself. It's one of my attributes."
Greene eclipsed the 100-yard mark in all 13 games last fall returning to the school after sitting out for academic reasons and is seen somewhat as a one-year wonder. He also faces questions about his pass protection and ability to catch the football.
"They might, but then again, I don't," the 24-year-old Greene responded when asked if teams might label him as a one-year wonder. "I feel I can (do it) anytime. I had to play the same guys some of the other guys played, like Beanie Wells, because we were in the Big 10. I don't see it as a problem.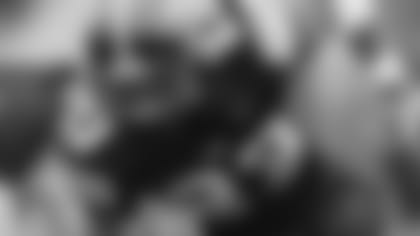 "I don't feel disrespected. People will say what they will say. But myself, I go off the numbers. I had 100 yards every game. But that's why we are here, to prove we are the best we can be."
McCoy made the most of his two seasons at Pittsburgh, rushing for over 2,800 yards with 35 touchdowns while also catching 65 passes. He has an elusive, at times electric running style and maybe the biggest question he faced at the Combine was his health. He came down with flu-like symptoms earlier in the week, actually vomited on the plane ride to Indy and lost more than 10 pounds when he weighed in at 197. He plans on doing all the workouts aside from the bench press. Considering his illness his results might not be up to his normal efforts, but his decision to compete in a weakened state may actually serve to impress NFL teams.
"I just don't want to blow everything off. When I was flying out here I kind of vomited on the plane. (It was) an embarrassing moment, but something that happened. That's life sometimes. I just don't want to back off. I think it would be a cowardly move," McCoy said. "I'm a competitor, man. I see these other guys working and training and, you know, going out and performing. A guy like me gets an itch and I want to go out and do the same thing."
A varying group of backs might be had in the middle of the draft as well. Liberty's Rashad Jennings (6-1, 234), Michigan State's Javon Ringer (5-9, 205), Oregon's Jeremiah Johnson(5-9, 198) North Carolina State's Andre Brown (6-0, 224) Clemson's James Davis (5-11, 207) and Virginia's Cedric Peerman (5-9, 216) could all go in the middle rounds.
Ringer was considered the top senior back in the draft before the slew of juniors entered the mix. He got a ton of carries (800-plus) over his career at Michigan State and that wear could be a concern, especially considering his multiple knee injuries the most recent resulting in surgery barely more than a month ago. Ringer is planning on running the 40, but his status and how teams view him seems very much up in the air at this point.
"Me personally, I like to kind of make sure I don't become a one-dimensional running back," said Ringer, who said he models himself after Steelers undersized workhorse Willie Parker. "I know with my size, a lot of people might think I'm like a slasher, a make-you-miss guy, which I can do that. But I also like to lower my shoulder and get the tough yards, too. I like contact. So I like to mix it up."
Peerman doesn't have the huge collegiate numbers of some of the other backs but hopes the versatility he showed in Al Groh's pro-style offense and overall program will help his draft stock. Peerman returned kickoffs for the Cavaliers but has missed time over the last two seasons with a Lisfranc surgery and a bruised knee.
"Just being under coach Groh, special teams was really a focus," said Peerman, who recalls interviewing with the Patriots at the Senior Bowl. "You needed to play special teams if you were going to be a part of the offense and defense. Then as far as being a running back being able to pass protect, that's really big in our offense. Coach Groh says you have to be able to do more than just one thing. So I definitely was able to hone in on pass catching skills and pass blocking as well."
As is the case with most Virginia players, Peerman feels his time with Groh would make him a nice fit in New England.
"Just being under coach Groh, right there you have it. Two similar coaching styles, I think," said Peerman, considered a high-effort player. "I know coach Groh always talks to coach [Bill] Belichick very often. Often times he'll be in our team meetings and he'll be like, 'Yeah, I talked to coach Belichick today. Here's what he had to say, this and that.' They are really close friends so definitely I think I could make the transition if that team were to pick me somewhere down the line."
The late part of the draft is where the specific and varied skills of the different backs could really endear them to certain teams and schemes. Some of the prospects projected to go later on day two include guys with very much differing builds such as Wyoming's Devin Moore(5-9, 191), Wisconsin's P.J. Hill (5-11, 222), TCU's Aaron Brown (6-1, 196), Texas A&M's Mike Goodson (6-0, 198), Boise State's Ian Johnson (5-11, 204) and Purdue's Kory Sheets (5-11, 203).
One real late sleeper to keep an eye on is Nebraska's Marlon Lucky(5-11, 212). Lucky considered leaving the Huskers as a junior and was even given an early third-round grade by the advisory committee when he was making his decision last year. He returned to Nebraska for what ended up a disappointing senior season and could now drop as far as to go undrafted.
"I think I have the right tools. I can block. I can catch. I'm a good runner. I just have to showcase my talents," said Lucky, who listed the Patriots first among teams he's talked to. "I've dropped off a little bit and I just have to put myself back on the map again. A lot of teams have me with slow times right now. I have to show them what I have."
Much the same can be said, to some degree, of all the running backs competing to be drafted.
As is the case with so many other positions in New England, especially on offense, at the very least the Patriots have productive talent in place at this point on the roster at running back. But given the aging core in the backfield and the uncertain future for the ever-confident and enticing Maroney, the possibility that the team might look to the running backs in the draft can't be ruled out. That look might even come with a first-day selection to grab one of the more talented players on a relatively deep and diverse draft board.