The official start to free agency is still nearly a month away (March 11) but teams can begin using the franchise tag much sooner. Starting on Monday (Feb. 17) teams have two weeks (until March 3) to decide whether or not to use the designation (or the transition tag as well).
For the Patriots, there seems to be just one realistic possibility for the tags and that is cornerback Aqib Talib. It would cost a significant amount, estimates have the number for corners to be around $11.5 million, but Talib's ability to serve as the No. 1 cover guy has impacted the defense.
Julian Edelman is coming off a terrific season and is also a free agent, but it would be a stretch to use the tag on a receiver after the Patriots just gave Danny Amendola a $31 million contract a year ago. The rest of the team's potential free agents don't really factor into the mix as possibilities either.
So, our question comes down to Talib. The Samsonite Make Your Case question is a simple one – Should the Patriots use the franchise tag on Aqib Talib?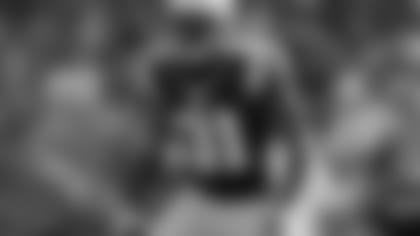 Retaining Talib is clearly the first and most important priority of the Patriots offseason. He's a true No. 1 cornerback in a league that lacks such players. Other than his unfortunate injuries, Talib has been a perfect fit on and off the field since he landed in New England at the trading deadline in 2012. We've all seen how much more impressive and productive the Patriots defense is when he's on the field. He can take away an opponent's top target and the value of that skill can't be overstated.
I understand that creating the cap space to pay him nearly $12 million isn't ideal. Clearly the best case scenario is to work out a longer term deal with more palatable cap numbers. But the franchise tag is an insurance policy in this case, keeping Talib from finding some crazy offer on the open market and jumping ship.
I know he loves New England, but what if a team with stupid money to spend under the cap like the Raiders throws insane dollars at Talib? It's a scary thought. We saw last year with Wes Welker's negotiations that sometimes things just get out of control and run amok. The tag would keep that from happening with Talib.
Yes, the tag is a big chunk of cap dollars. But compare that to how a big a hole would be left in the New England secondary if Talib were allowed to leave. Can't happen. Tag Talib!
--AH PFW's Paul Perillo says ...
No
I'll start by saying I'd love to have Talib back but I don't believe that is going to happen. I believe the price of the franchise tag is too much, and I can't see him agreeing to another short-term or low-money deal to stay. I believe Talib's performance early last season opened eyes around the league and that somebody will be willing to pay him big bucks.
If that's the case I fear that Talib will go. The Patriots can't risk franchising him because they may get stuck having to pay that hefty price. And I don't think they'll be able to save much on a long-term deal either.
Either way, it's a risk I'm not willing to take, especially considering his health. Talib has been injured constantly during his season and a half in New England, and his hip problem in particular makes me reluctant to give him big bucks to stay.
The Patriots would be better off trying to negotiate with him without the tag, which could prove to irritate his camp in the first place. Try to get a deal, and if the contract was team-friendly, I'd be all for it. But I think Talib is going to cash in, and the franchise tag is too rich for my blood if a deal can't be reached.
--PP
Now it's the fans turn to cast their vote in this week's Samsonite Make Your Case poll question.
http://polldaddy.com/poll/7800471/