INDIANAPOLIS – Defense finally took center stage on Day 3 of the NFL Scouting Combine as linebackers and defensive linemen made their way into the Faegre Baker Daniels Club inside Lucas Oil Stadium. An interesting group of defensive ends, many of whom could project as outside linebackers depending on the scheme they enter, met the media on Saturday.
The obvious top prospect at that spot is South Carolina'sJadeveon Clowney (6-5, 274) but he's not alone. Clowney should go quite early, but Missouri's Kony Ealy (6-5, 275) and Auburn'sDee Ford (6-2, 243) also have first-round grades according to NFLDraftScout.com.
Then there's the most famous member of the entire 2014 draft class, at least the most famous since his huge announcement a couple of weeks ago. Missouri'sMichael Sam (6-2, 260) made international news when he announced that he was gay and he's looking to become the first openly gay player in the National Football League.
His gathering rivaled – likely exceeded – those of Johnny Manziel and Clowney, and he repeatedly expressed his desire to talk about football rather than his lifestyle.
"I wish you were all here asking me about football," he said while graciously answering numerous questions on a variety of football and non-football topics. "I would love it if you were asking me about Michael Sam the football player and not Michael Sam the gay football player."
Rest assured that's what the 32 teams talking to him are asking, and Sam indicated as much when he informed the throng how questions about his size and ability to play linebacker have dominated his interviews with individual clubs thus far. His size would seem prohibitive to remain at defensive end, but many scouts don't believe he has the speed and athleticism to successfully transition to outside linebacker.
For those reasons some feel he will be a Day 3 pick despite joining Alabama linebacker C.J. Mosely as SEC co-Defensive Player of the Year.
While he may not be the ideal candidate to excel at the next level, it would seem any team would be lucky to have a man of his character. He was asked several questions about fitting in with his teammates in the locker room and handled them quite impressively.
"If someone wants to call me a name, I will have a conversation with that guy, and hopefully it won't lead to nothing else," Sam said. "I've been in locker room that all kinds of slurs have been said, and I don't think anyone means it."
As for Clowney, a less-than-stellar final season with the Gamecocks has led some, including his coach Steve Spurrier, to question his work ethic. He took exception to those thoughts.
"I believe I did work hard," Clowney said. "You pull out any practice tape from last year, you'll see that. That's what I told them. I'll tell everybody that. I will always be working hard. No matter where I end up I am going to work hard and give a team everything I've got."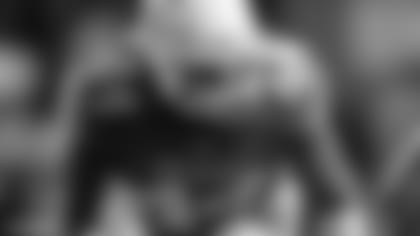 While the likes of Clowney and the other top prospects will likely be gone before the Patriots pick at 29, a talented pass rusher should be available if and when they decide to pursue one. An interesting name to consider is Texas' Jackson Jeffcoat (6-4, 250).
His father, Jim, was a standout defensive lineman for the Cowboys (1983-94) and Bills (1995-97) and has served as the defensive line coach at the University of Houston. The younger Jeffcoat says his father wanted him to wait before starting his football career while developing his athletic skills in other ways.
"He wanted me to learn a lot of stuff on my own, and I had to beg him to start playing when I was in the sixth grade," said Jeffcoat, who was a consensus All-American andTed Hendricks Award winner. "He didn't think my body needed to take the physical pounding and that I could start playing later."
Jeffcoat is a classic 'tweener who projects as a second-rounder and said teams have talked to him about playing both spots in the NFL. While he didn't say how the Patriots might view him, he did indicate that he met with a member of scouting department earlier this week.
The same could be said of Boise State's Demarcus Lawrence (6-3, 245), who ripped up the Mountain West Conference during his two seasons with the Broncos after transferring from Butler Community College in Kansas and projects as a mid-round pick.
"I feel like I'm versatile enough to play either spot," Lawrence said, before revealing his favorite player is Dallas' DeMarcus Ware, whose versatility he's trying to emulate. "I hope teams, when they see me on the field, take away how versatile I am. Whatever they want me to do, I can do it, either play linebacker or D end."
Stanford'sTrent Murphy (6-6, 252), Oregon State'sScott Crichton (6-3, 265), Louisville's Marcus Smith (604, 258) and Arkansas' Chris Smith (6-1, 266) also fall into the 'tweener category of potential second/third-round picks.
Chris Smith's lack of size could be a problem, especially for a team like the Patriots that covets height on the edge, but he has long arms and said he's met with the team both at the Senior Bowl and here at the Combine. North Carolina's Kareem Martin (6-6, 272) also could draw some interest from New England with his exceptionally long arms.
Moving further down, UCLA'sCassius Marsh (6-4, 254) is a high-motor type whose brother, Curtis, is a cornerback with Philadelphia.
"A lot of teams like me as both [a defensive end and outside linebacker]," Marsh said. "I just want the opportunity to show teams how much this means to me. I think they'll learn how much I love the game."
If he can get after the passer consistently, there may be plenty of teams looking to find that out.
Every year when a team wins the Super Bowl there seems to be a lot of offseason talk about trying to emulate the style of the champs. In Seattle's case, the big, physical cornerbacks have caught the attention of many who watchedRichard Sherman & Co. shut down the Broncos historic offense.
Seattle head coach Pete Carroll has a message for those folks who would like to use the Seahawks blueprint: go ahead and try.
Carroll has long been a proponent of big, physical corners who like to play the bump-and-run style, but the former Patriots boss says such players aren't easy to find. When asked if he thought teams would try to copy the Seahawks style, Carroll shot it down in a hurry.
"No, because they don't exist," he said. "Big, fast guys are the fewest people around. Everybody would like to get longer, taller guys who run 4.4 but there just aren't very many humans like that in the world. The perfect guys aren't there because there are no exceedingly tall, fast guys other than [Lions wideout] Calvin[Johnson] and a handful of others, so you have to make those guys come to life through your coaching and how you adapt their style and ability to fit it.
"We've been doing it for a long time because we've had such a commitment to bump-and-run, press corners. This goes back 20 years so it's not new for us. But it's rare that you can find them. When we had Brandon[Browner] and Richard playing, you can't get any longer than that. OK, let's go do that. Well, there are no players like that. Look at this draft, there are only a couple of guys over 6-1.
"So, I'd love for people to try to copy that. Get a bunch of tall players out there."
Listening to Carroll talk about his history of looking for tall, fast corners immediately brought to mind Tebucky Jones. Carroll and personnel director Bobby Grier used a first-round pick on Jones in 1998, hoping the 6-2, 220-pound safety out of Syracuse could make the transition to corner.
Despite some obvious physical gifts, Jones never materialized as a corner and eventually had a few productive seasons at safety with the Patriots before moving on to New Orleans and Miami to close out an eight-year career.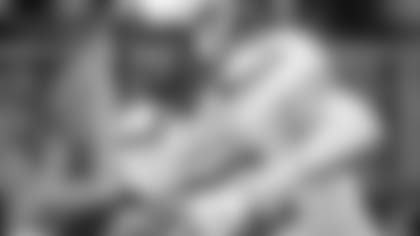 Given a clear need at the position, the Patriots are likely closely studying the top tight end prospects in this year's draft. Somewhat interestingly, one of those very top prospects has also spent plenty of time studying New England.
Texas Tech pass-catching playmaker Jace Amaro (6-5, 265) is expected be one of the top three tight ends to be selected in May's draft, probably in the first round. He caught more than 100 balls for 1,300-plus yards last year for the Red Raiders.
His coach at Tech was one-time Patriots draft pick at quarterback Kliff Kingsbury. Though Kingsbury spent limited time in New England working behind Brady, the rising star coach still used the team as one of his teaching tools working with his young tight end.
"My coaches did a great job at Texas Tech breaking down Rob Gronkowski's film, Jimmy Graham, players like that," Amaro said. "Kingsbury played with the Patriots so he knows their system, he knows what they're doing. He helped me become a much more polished receiver and a better receiving tight end too."
The athletic aerial threat certainly wouldn't mind beginning his career in New England, a possibility that's been posed by many mock drafts at this early point in the process.
"I think that starting with maybe one of the greatest quarterbacks to ever play the game would be a great start for me especially in a system like that," Amaro said. "Yeah, I've taken notice of teams like that. I think that would be an ideal place for me."
And apparently the Patriots have taken quite a bit of notice of Amaro. The tight end revealed that he met with the team on his first night in Indy and that it seemed to go quite well.
"I had an interview or a meeting with them [Wednesday] night. It was good. They broke my tape down," Amaro said. "They look like they like me a lot. They said I fit their system very well so I guess we'll see how it goes."
Polian: Jets made Pats say 'uncle'
Former Colts GM and current ESPN analyst Bill Polian has never been one to mince words. When ESPNNewYork's Rich Cimini caught up with him at the Combine to offer his thoughts on the Jets, Polian as usual was interesting.
"The good news is that Rex[Ryan] is always going to have a defense that's not only competitive, but pretty damn good -- if not dominant, pretty damn good. I thought they made tremendous improvement on the offensive line. Some of that was personnel, but I think the scheme fit them pretty well. The fact that they went 8-8, with as few quality receivers as they had, speaks to how good the defense was and how good the running game was.
"They wanted to come out and bludgeon you, like they did to the Patriots in New England (Week 3). They made the Patriots say, 'Uncle,' and that was before all the [New England] injuries. The quarterback [Geno Smith] goes and throws it away. That's what rookie quarterbacks do; they break your heart. But they did the same thing to the Dolphins with all the money on the line in Miami."
"Overall, the Jets are a very competitive, if not dominant team on defense and they run the ball well. If the quarterback can play efficiently ... part of that is giving him some weapons he can count on. If they can do that, I think they can jump to the next level."
Of course the Patriots have been hearing that from their rivals to the south for years now.
Dimitroff still minds Patriots Way
Thomas Dimitroff** has been on his own running the show with the Falcons since 2008. So he's now been in Atlanta longer than the seven seasons he spent in New England working as national scout (2002) and director of college scouting (2003-07).
But Dimitroff still takes plenty from his days in Foxborough with him as he prepares for yet another draft in Atlanta, a team that picks sixth overall after a surprisingly disappointing 2013 campaign.
For example, the Atlanta GM was asked at his Combine press conference about how he evaluates quarterback prospects late in the draft.
"Quarterback obviously is a very interesting position," Dimitroff said. "It's one of the more difficult positions to evaluate. There is so much involved. I had the good fortune of being around Tom Brady in New England and nowMatt Ryan to get a real good feel for what we're looking for in a quarterback, the leadership aspects of quarterback.
"It's much more than a strong arm and 6-5 height. It's about the entire package. That's very important for us. I've seen it before and I think you can continue to develop a guy who's going to be a legitimate deuce (backup) and more to parlay him into trade opportunities, which obviously New England has done in the past, to use as an example. The later picks, being creative with the latter picks and holding on to those guys is an important part of the scouting process."
Dimitroff was obviously referencing New England's drafting and development of USC backup Matt Cassel, later trading him to the Chiefs for a second-round pick.
Another New England-related topic came up when Dimitroff was asked about the work that former Patriots V.P. of Player Personnel Scott Pioli has done since joining the Falcons front office earlier this winter.
"Scott Pioli has a world of knowledge and experience," Dimitroff said. "Again, not only as a winner and winning many Super Bowls and many, many championships and many games with coach[Bill] Belichick as a fantastic tandem. He also comes to the table with incredible insight as far as the challenges that you'll face building football teams and managing. So what Scott is going to do for us not only from a personnel standpoint, that's going to be very good and it has been already. We've already dug in as a staff with Scott right there at the table with a lot of very good insight. Not only that, It's going to be what he's going to add to the organization from other aspects of the organization, i.e. from a salary cap standpoint, policy making to approaches of building a championship football team."
O'Brien talks Belichick, Brady
Bill O'Brien** made a name for himself in the NFL as the offensive coordinator who helped guide Brady and a high-flying passing attack to the Super Bowl.
After two years leading the program revival at Penn State, O'Brien is back in the league as the head coach in Houston. Making his first Scouting Combine appearance as the Texans boss, O'Brien was once again asked what he learned from Belichick in his time in Foxborough.
"I think it's been pretty well documented," O'Brien said. "I've learned a lot from him, between how to get ready for a game, prepare a team for a game, evaluating your roster, getting ready for the draft. He and I have a good relationship. I've seen him here. It's been good to see him. I think all of us that coached there for Bill learned a lot from him. I think I've said that a bunch in the past."
With his team holding the No. 1 overall pick, O'Brien will be evaluating the top prospects in the class, including a number of different quarterback options with a wide variety to skill sets. As a guy who worked with one of the greatest passes of all time in New England, does O'Brien compare the guys he's evaluating these days to the ideals of No. 12?
"You can't … in my opinion, you can't compare guys to Tom Brady," O'Brien said after a slight chuckle. "Guys like Tom Brady really don't come along very often. He's a great player and has had tremendous success in New England. So you have to look at each player for what he is individually and how he fits your team, whether it's a quarterbacks or any other position. What do we do scheme-wise on both sides of the ball and how does this player and skill set and his personality and all the things that go into being a good teammate, how does he fit your team. That's what we're in the process or doing."
And O'Brien's chances of landing a guy with Brady's ability, even picking first, are pretty slim.
There was a Boston Globe report on Friday that suggested former Bucs coach Greg Schiano was seen with Belichick at the Combine and that perhaps that would lead to him joining the staff as linebackers coach. Belichick said on Thursday that the staff was pretty much set at this point, and several other media outlets shot down that story. The two were also together watching the Combine workouts, so it's possible that something is in the works. … The media portion of the Combine wraps up on Sunday with cornerbacks and safeties set to hit the podium.