FOXBOROUGH – The eighth practice of training camp brought a unique twist Saturday morning as Bill Belichick's team split into separate blue and white squads for a scrimmage, although there was no hitting as the workout took place in helmets, shells and shorts rather than the full pads the team has been in for most of camp.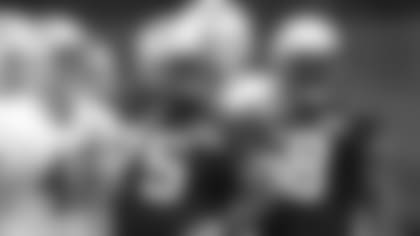 ](/node/46221)Tom Brady and the bulk of the first offense and mostly second-team defenders made up the white squad, while New England's first defense and a Tim Tebow-led group of backup offensive players comprised the blue team.
Brady – who celebrated his 36th birthday -- took the first series of the day and drove his team to a touchdown. He then retreated to the sideline for the rest of practice as Ryan Mallett took over for the white team. The way the workout unfolded it seemed like it could very well have been a dry run precursor to much of what we'll see next Friday night for the preseason opener in Philly against the Eagles.
The format allowed for a lot of extra reps for many players, and a few who seemed to take advantage on offense included Tebow, Zach Sudfeld and Quentin Sims.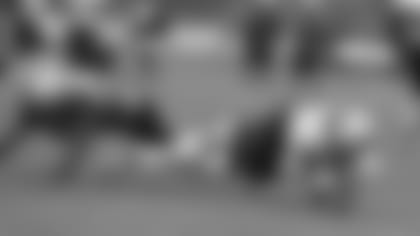 ](/node/46221)Here are one man's observations from the cloudy, cool practice fields behind Gillette Stadium:
--The list of players not practicing continued to grow on Saturday as Michael Jenkins (left leg), Lavasier Tuinei, Tavon Wilson, Nate Ebner and Jake Ballard all missed their first practices of the summer.
Ebner limped off the practice field on Thursday. He was on the field in uniform on Friday, but went to the bikes after stretching and did not take part in the practice. He was not seen on Saturday.
The rest of the 12-man list of practice absentees included previously injured players Kevin Haslam, Mark Harrison (foot), Ras-I Dowling, Marcus Cannon, Rob Gronkowski (PUP, arm/back), Jermaine Cunningham and Armond Armstead (NFI, infection).
Dan Connolly (shoulder) was once again in full pads but not participating in the practice. Same for Brandon Bolden, who's been running on his own of late rather than taking part in practice. He had a reported ankle injury this spring. Elvis Fisher was also again in full pads but did little more than ride the bike. Tyronne Green was also in full pads but did not take part in the session after sitting out the end of action on Friday.
Devin McCourty practiced in a normal blue jersey for the first time, ditching the red, non-contact jersey he'd worn to open camp while working back from offseason shoulder surgery.
Harrison and Gronkowski were both on the field in shorts.
--A pair of key young players did not seem to take part in the scrimmage despite being on the field in uniform. For the second straight day Alfonzo Dennard did little more than stretch with the team and was an observer for the team scrimmage activities. Running back Shane Vereen also appeared to be anything but a full participant.
-Josh McDaniels served as the "head coach" of the white squad that was built around his first-unit offense. Matt Patricia led the blue team and his top defensive players.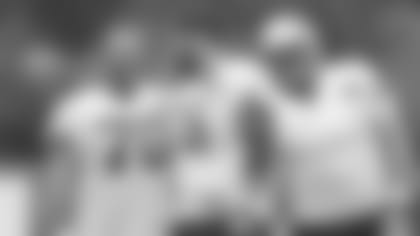 --With Connolly, Cannon and Green all out of action, second-year Iowa player Markus Zusevics is taking the first-unit reps at right guard next to Sebastian Vollmer.
--With the teams going both directions during the scrimmage, a temporary digital play clock was set up on the far end of the practice field nearest the fan bleachers.
--Just to paint the picture, the hash marks on both practice fields were freshly painted.
--The separate Patriots "teams" took the scrimmage seriously as they warmed up and stretched on separate fields as two distinct groups.
--Pepper Johnson wore a "Happy 40th Birthday Tom" shirt on the field to celebrate what was actually No. 12's 36th birthday. Johnson joked with reporters afterwards that he was the only "fool" to wear it as apparently every member of the team had one. Sounds like that was an inside prank by one of Brady's teammates. Any guesses on the mastermind?
--Not only does Brian Daboll (who seems to be limping pretty badly with a left knee injury) work with Tebow nearly all the time on the field, the two actually walked step for step onto the practice field together on Saturday.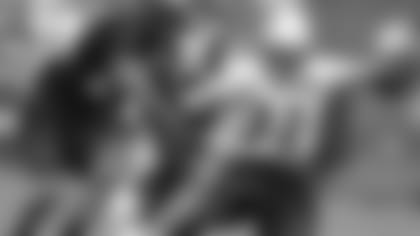 --Julian Edelman was in uniform and a full participant in the workout, despite seemingly limping around late in practice a day earlier.
--Tebow once again worked as a personal protector in pre-practice punt work. Jerod Mayo also took reps at the spot.
--Prior to getting the scrimmage underway it seemed that Vince Wilfork was given a chance to hit a short field goal to earn possession to open the action for the blue team. He missed and Brady's white squad got things started.
--The first drive for the white side seemed to stall and the unit attempted a short field goal that Steven Gostkowski hit. But Bill Belichick threw his visor in the air on the kick to call a penalty on the blue team. With the drive extended Brady went on to score a touchdown.
--Brady actually found Danny Amendola for consecutive touchdowns to end the drive. Apparently the script didn't call for him to score on the first play, so the duo connected a second time with a beautiful throw into the right corner of the end zone to beat Kyle Arrington. Afterwards Brady and Amendola hugged and celebrated as they might in a real game.
--While the divide between the teams and the first and second units on both sides of the ball was clear for the most part, there were a few players who didn't fall exactly as the depth chart might expect. Adrian Wilson and McCourty manned the safety spot for the blue defense, while 2012 starter Steve Gregory was relegated to working with the white team.
Amendola, Edelman and Kenbrell Thompkins were the top receivers with Brady and Ryan Mallett for the white squad, while rookies Aaron Dobson and Josh Boyce donned blue jerseys with Tebow.
And maybe most interestingly, veteran tight ends Daniel Fells and Michael Hoomanawanui worked for the blue team while Zach Sudfeld was one of the more consistent weapons for the white side.
--During one punt return rep, both Edelman and Leon Washington were back to receive. Edelman was the deep man while Washington was staggered closer to the line of scrimmage. We've seen this look in the past from the Patriots with guys like Edelman, Wes Welker, Kevin Faulk and Troy Brown pairing up to give an extra set of hands in certain key situations.
--Sudfeld made the most of his time working with the top two quarterbacks. He caught a nice play down the left side on one of Brady's first throws of the day. Later he seemed to connect almost endlessly with Mallett, including a number of would-be touchdowns. It was easily the rookie free agent's best practice of the summer and looked reminiscent of the consistent positive performances he was putting forth during spring practice.
--Aqib Talib and Arrington worked as the top corners for the blue defense. With Dowling not dressed and Dennard seemingly not available, rookie Logan Ryan got some run at right cornerback when the group went to its nickel package.
--Showing his always entertaining style and competitive nature, Brandon Spikes did a little incompletion signal dance after breaking up a Brady pass toward Sudfeld in the end zone on No. 12's opening scoring drive. Brady hit pay dirt on the throws to Amendola on the following two plays.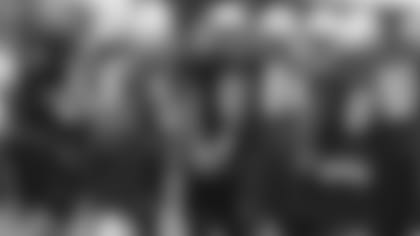 --Tebow's first drive for the blue team ended with a Gostkowski field goal, at least in part due to a badly underthrown ball intended for Dobson down the right side.
--Thompkins had a solid day catching the ball – and fighting for some other throws that ended up being broken up – in his work for the white team. Also a good sign that he wasn't wearing the tape job on the back of his right leg that he had been sporting earlier in camp. If he can stay healthy, No. 85 certainly looks like he can very much compete physically. Both he and Dobson have not problem going after and fighting for the football.
--Not sure we've noted this yet, but Harrison has massive arms. He is one yoked-up receiver. Be good to see him get on the field and see what he has to offer as an oversized pass catcher. His arms almost rival those of Hulk's – Adrian Wilson.
--The second offensive line, working for the blue team, from left to right, consisted of Will Svitek, Chris McDonald, Josh Kline, Luke Patterson and R.J. Mattes. Like Zusevics and Cannon, Mattes is another guy who's taken reps at both guard and tackle this summer.
--Jason Vega got some backup reps at defensive tackle for the blue squad. Though built more like an edge player at 6-4, 255 he's one of a number of undersized guys who've gotten a chance working on the inside.
--Connolly spent some time at the far end of the field in the usual offensive line area doing some technique work with a large hanging bag dummy.
--Tebow also had his best practice of the summer. He ran primarily more traditional Patriots plays, rather than the Pistol and option work he took part in on Friday, although he did run at least one designed QB draw that likely would never be called with either Brady or Mallett under center. Though he still had a few ugly throws mixed throughout, Tebow had a number of nice completions down the field. He particularly succeeded in that area connecting with Quentin Sims. Tebow has a nice knack for throwing the ball to a spot on deep fades. He also had a nice completion down the right side throwing to a spot for Boyce, who ran past Justin Green for the reception.
--Green really seemed to struggle throughout in coverage. He was on the wrong end of many of Tebow's long completions.
--Though coverage remains a concern for Adrian Wilson, he did have a pass defense on the much younger Sudfeld at one point.
--Building on his extensive reps on Friday, Duron Harmon made a nice play for an interception Saturday when he cut in front of Fells to steal a Tebow toss.
--The scrimmage even included a short halftime with the players staying with their respective groups, resting and going over a few things.
--Zoltan Mesko – who for the rare time on the practice field wore a blue jersey – spent a lot of time by himself on the far field working on his craft. Ryan Allen has looked solid to date in camp and it could be that the veteran feels like he's in a very legitimate battle for the punting job. But he's always been a very hard worker and seems to always be either kicking, working on his footwork or practicing his drops.
--Gostkowski came on to kick a field goal late for the white team. Based on the way Brady and his teammates celebrated it seemed it may have been the scrimmage-winning kick.
--The entire team ran conditioning sprints following the workout.
--In post-practice action Mallett ran a pass route with Tebow in coverage. Tebow fell badly for an inside move and Mallett easily caught the pass near the right sideline.
--Sudfeld, Tyronne Green, Spikes, McCourty, Arrington, Amendola, Marcus Benard and others met with the media after practice.
--The Patriots will not have practice on Sunday. The team will return to the practice field at 10 a.m. on Monday for what will likely be a walk through before New England will get on a plane that afternoon to head to Philadelphia for a couple days of joint practice with the Eagles prior to Friday night's preseason opener.