Q: **After spending some time in free agency, what led you back to the Patriots?
SV:Overall, I'm just happy to be here; this is the place I wanted to be. Secondly, I'm still here and I think 'thankful' would describe it most. I'm just really thankful for Mr. [Robert] Kraft and his family and Coach [Bill Belichick] and whoever else was involved to let me be a part of this and to give me an opportunity so I can continue to prove myself. Excited and happy to be here, I guess.
Q:Did you take any other visits before re-signing with the Patriots?
SV:Again, I'm just happy to be here now. I don't think anything else really matters. I think it was known that I wanted to be here and that's just that.
Q:Going forward, what about the opportunity to bring the entire offensive line back as a group next year? How important is that to continuity and consistency?
SV:I certainly like it, obviously. When you play next to a guy for a few years and you practice next to a guy, you just get certain things down. You kind of know how the other guys play certain situations and you just get a feel for each other. I think that is important. Although, injuries do happen and whatnot and that's why we practice with different combinations. I think we're just happy to have the starting five now intact and everything else, we'll cross the bridge then. Definitely I think it helps and I think that's a good thing.
Q:How are you feeling physically and where would you assess your progress at this point?
SV:I feel really good. I just left the weight room and working out and whatnot. I feel really good and [I'm] actually going to take a trip to Germany pretty soon. My sister is getting married so I'm excited about that. Things are really good right now.
Q: **You dealt with a back issue last offseason and it took you some time to get ready for the 2012 season. Was it more frustrating to have the knee problem that hampered you at the end of the season?
SV:You kind of deal with injuries the way they come and you do what's necessary for you to play with treatment and rehab and whatever else goes with it. I think the offseason program is a big part of that and trying to get yourself in shape. We're in the process of doing that. It officially starts next month. You don't know what's going to happen to you and this is a contact sport so things happen to you. Again, I feel really good now and I'm really looking forward to this upcoming season.
Q:What is the impact of Dante Scarnecchia on your career as a whole?
SV:He's been a tremendous influence on me. Just coming from a smaller program and coming to a program like the Patriots and being with Dante and just learning the game under his tutelage and really focusing on technique and schemes and whatever else goes with it. I'm really grateful for having him as a coach and continuing to have him as a coach. All the praise goes to him. I'm just really happy to have a coach like him who makes me better.
Q:You signed an interesting contract where a lot of money is dependent on your playing time and health. Is that exciting knowing how much you could earn and banking on yourself or is it nerve-racking?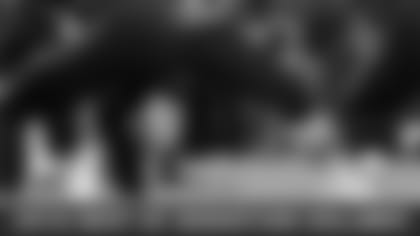 ](/node/45926)SV: **I'm not going to go into details about what the contract is. I think I'm just happy to be here. Obviously you go into a season, you're trying to be healthy. You do everything you can. Sometimes you can't help it; other things you can prevent with certain preparation. Obviously, as players, we do everything we can to stay healthy and prepare ourselves for the contact and physicality of the sport. Obviously, I've continued to do that.
Q:You mentioned a couple times that you are happy to be here. What is it that makes you happy to be here?
SV:Well, I think it's a lot of things. First, just being drafted here out of Houston four years ago – certainly I haven't forgotten that. And just the whole tradition of winning and the coaches that are here, the players you are here with, you kind of know what you have here. I do appreciate the program and the leadership from Mr. Kraft and Coach Belichick and the players we have. I really enjoy being a part of this and want to continue to be a part of it.
Q:You mentioned how the team had drafted you. What do you remember about that process in terms of their specific interest in terms of how it was different from other teams' interest?
SV:I think when you come out in the draft, with me, I wasn't really sure what was going to happen. You put your best foot forward, you work out… I didn't get involved to the Combine, but you prepare yourself as best as you can and you kind of hope for the best. And again, going into draft day you don't really know what's going to happen and just when I got the phone call, you know, I was obviously very excited.
Q:Are there any words of wisdom you would pass along to players who are coming out of college now and are in a similar situation to the one you were in with not being invited to the NFL Scouting Combine and sort of flying under the radar?
SV:I'm not sure in this day and age that there's really 'under the radar'. I think teams are so good at scouting, looking at people and working them out, and all that stuff. I guess it sounds very cliché, but kind of you know, be yourself, because you put in all the effort and all your game film is out there. You can't change that and people see it. Then just kind of go through the whole process with the interview and whatever else you can do. Most of your work is done already with what you did in college. I think people are going to find you and just keep progressing. It doesn't matter how you get into the League as long as you get there and then you gotta outwork certain people.
Q:You mentioned the fact that the entire offensive line is returning but one guy who is not is Wes Welker. What are your thoughts on losing him as a teammate?
SV:You know, I don't know what happened and I'm not willing to talk for him or for anyone else. But obviously he's a great football player and I really enjoyed playing with him and over the years, just seeing what he can do and I wish him all the best.