Inside linebacker is one of a number of positions marked by youth, inexperience, and uncertainty as the Patriots embark on the 2010 season. Despite those significant question marks, there appears to be legitimate cause for optimism that playmakers –or, at the very least, solid contributors – could emerge from the current crop of contenders.
Of course, one of the two full-time jobs in the middle of New England's base 3-4 defense belongs to third-year starter Jerod Mayo. Voted the NFL's Defensive Rookie of the Year in 2008 and elected co-captain of the Patriots last season, Mayo has quickly cemented his role as a leader of the New England defense.
If he is to elevate his game, however, he understands that he must do so by becoming more than just an accumulator of tackles, which he has been in his first two seasons. Mayo has said on numerous occasions that his goal is to add sacks, forced fumbles, interceptions and other game-changing plays to his repertoire.
If he is not yet a playmaker, he is certainly the play-caller. The green dot on his helmet is emblematic of Mayo's firmly entrenched status as the senior inside linebacker on the Patriots roster. Who lines up next to him on opening day, though, remains unclear.
During the first week of training camp, it seemed Mayo's best friend on the team, fellow third-year man Gary Guyton, had the inside track. During most drills and team periods, Mayo and Guyton were the duo getting the majority of reps. Coming off a 16-start season in '09, the former undrafted rookie free agent from Georgia Tech has done quite a bit in a short time to earn the respect of head coach Bill Belichick. Not the least of which is the ability to play both inside and outside linebacker in the Patriots 3-4 scheme.
"Gary is a pretty versatile player," Belichick observed. "I think he can do a lot of different things. He's smart. He's big. He's athletic. He runs very well. He has had a variety of roles for us on regular defense and our sub defenses. He's made a lot of progress over the last two years. I think this camp he started at a higher level than he finished last year, [thanks to] a good offseason, more confidence, a better understanding of the defense and offensive play recognition, those kinds of things."
Guyton's quick start was slowed, perhaps only briefly, by an apparent leg injury caused when he tried to plant to change direction while dropping back in pass coverage. The ailment, suffered during the first week of camp, forced him to miss several practices. If and when he returns, Guyton could compete once again for playing time inside or out, as Belichick indicated.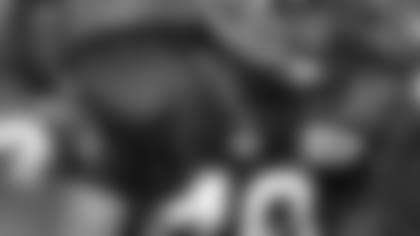 ]()The silver lining in his absence has been the opportunity for more practice reps for newer faces, particularly Brandon Spikes, one of this year's second-round choices, and Tyrone McKenzie, an '09 third-round selection. Undrafted players Thomas Williams, a Patriots practice squad member last season, and rookie Dane Fletcher, along with veteran Eric Alexander, have also seen their share of opportunities increase. And nearly all seem to be taking full advantage of the windfall, however long it lasts.
"I think all of them have done well," Belichick continued. "A big part of that evaluation will be in the kicking game, as well as on defense. Some of those linebackers are a little more first- and second-down [players], some of them are a little more third-down. Some of them are probably a little more of the kicking game. Some might have a combination of all three.
"So I think players have different values and probably different strengths [in] what they can bring to the team. But [they're] all competitive in their respective areas. And then just how it all fits together and how, of course, they perform when we get into the preseason games and continue to evaluate here through these practices. But I think it's a pretty solid unit, good depth and they bring a number of different skills to the position."
The player who seems to have emerged first is Spikes, the rookie from the University of Florida. The new Number 55 has been spending more and more time next to Mayo when the defense lines up as a unit. The skills he seems to bring to the Patriots defense are his vision and football intelligence. According to Belichick, Spikes often diagnoses a play completely differently than defenders are taught to do in New England's system. Yet, he still makes the play more often than not.
Furthermore, Spikes is switching from a 4-3 middle linebacker position, in which he played at Florida, to the 3-4, the main difference being that in a 4-3, the inside backer typically has a defensive lineman in front of him for support. In the 3-4, Spikes lines up with no one between him and the guard. Which means his responsibilities require a different approach.
"He sees some things that I'm not sure everybody sees," Belichick remarked. "He's an instinctive player and I don't know if they are exactly the textbook way you would read the plays, but he reads them. It's interesting to kind of work him into our system. It's just a little bit different, but he does things well. It's a transition, but a good one."
McKenzie, like Spikes, was a heralded draft pick last year, but his season came to an abrupt end a week after he was drafted. He blew out a knee in rookie mini-camp and spent the rest of the year on injured reserve. That misfortune, piled onto a youth defined by adversity, may be fueling McKenzie's determined style of play. He made perhaps the most memorable tackle in recent summers when he stonewalled Laurence Maroneyshort of the goal line on the second day of camp. Yet, McKenzie also has smarts on his side.
"Tyrone is a smart kid. He really understands the defense. He's good with the calls and the communication and adjustments and really understands what we're doing," said Belichick. "He just needs the practice repetitions of actually doing it, taking on blockers, reading keys. These practices have been good for him."
Weather: Overcast, breezy, thunderstorm, low 80s**
*Who's Hot: Julian Edelman
*Now working with the running backs as well as the wide receivers, the second-year players is adding to his already impressive repertoire.
*Who's Not: Leigh Bodden
*Injured during a pass rushing drill in the morning, the cornerback was limping noticeably while holding his left hip and was not at practice in the afternoon.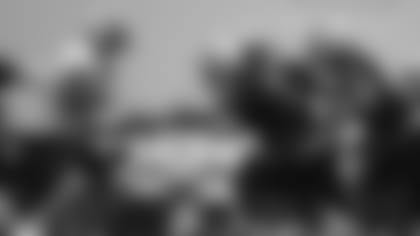 ]()Play of the Day: Coaching staff moving practice indoors*
Just before thunderstorms rolled in, the football ops staff called an audible and made the players, who were a half-hour into their outdoor practice, move inside the Dana-Farber Field House for the remainder of the session.
Thursday's afternoon workout was a glorified walkthrough, with players in practice jerseys and running half-speed through most drills and team periods.
The list of absent/rehabbing players continues to grow. Six players who were in shorts and t-shirts during the morning session were back in the same garb in the afternoon: cornerback Jonathan Wilhite, running back Thomas Clayton, cornerback Terrence Johnson, and defensive linemen Myron Pryor, Ron Brace, and Mike Wright. Eight others were not on the field at all: wide receiver Matthew Slater, cornerback Leigh Bodden, defensive back Bret Lockett, linebacker Gary Guyton, o-linemen Mark LeVoir, Logan Mankins, and Nick Kaczur, and defensive lineman Ty Warren.
During pre-practice warm-ups outside, kicker Stephen Gostkowskitook some field goal snaps from Jake Ingram, with holder Zoltan Meskolooking on. Gostkowski appeared to be pointing out instructions to Mesko on exactly how he'd like the ball to be positioned during placekicks.
The passing game was the focus of the offensive work, both in the open field and in the red zone.
While the team offense and defense were working, Ingram was on the sideline running sprints under the watchful eyes of strength and conditioning coaches Mike Woicikand Harold Nash.
Special teams got some attention as well, with the onside kick team making its first appearance of this training camp. A couple of different personnel groupings were rotated in and out to try to find the right hands-team combinations.
While backup QB Brian Hoyerled the offense versus the defense, quarterback Tom Bradyhad another private chat with rookie TE Aaron Hernandez. It appeared as if, based on his body language, Hernandez was looking for advice on proper pass protection technique or strategy. This is the latest example of the veteran and his new pass-catching target forming a chemistry on and off the field.
Two-a-days are scheduled to resume Friday morning at 9:30.