FOXBOROUGH, Mass. – The red, white and blue that adorn the nation's flag are more than colors, they are symbols. Red symbolizes bravery and valor. White is a symbol of purity and innocence. Blue signifies vigilance, perseverance and justice. Red, white and blue were chosen to represent the qualities and ideals that America would represent and be founded upon, and still today as a flag waves along with a crisp autumn breeze, the red, white and blue evoke a spirit of patriotism.
As patriots of this country, we work tirelessly to honor those that bravely serve to protect our freedoms. Last Friday, a large contingent of Patriots alumni, cheerleaders and Pat Patriot took an almost two hour trip up to Portsmouth, NH, to join a spectacular group of individuals with an even more spectacular cause in supporting our troops. This patriotic group of people call themselves the "Pease Greeters," and they welcome men and women in the Armed Forces who pass through Pease International Airport either on their way home or their way to areas of conflict. Incredibly, they have greeted over 600 flights and welcomed over 170,000 troops since their formation in 2005.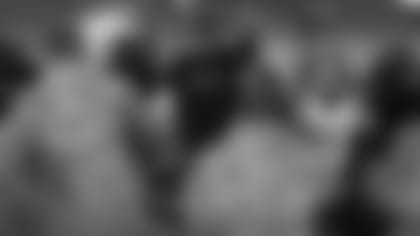 The contingent of Patriots joined the Pease Greeters to welcome a group of deploying soldiers, who had no idea what was in store for them. As the wheels of the plane carrying the soldiers touched down on the runway, the group of Pease Greeters, Patriots alumni, cheerleaders and Pat Patriot cheered wildly and waved flags through the air. The roar of the jet engines died down and as the soldiers disembarked one-by-one, they were told there was a special surprise waiting for them.
"We got off the gate and they said, 'hey go around to the left there, you are going to get a little surprise,'" said Flight OIC (Officer In Charge) Allen Evans. "Then we encountered the Patriots and the cheerleaders and then we come down the Hall of Heroes and it was just – I have never seen anything like this. I have deployed numerous times and have never had a welcoming like this. It was off the chart."
Pom poms sparkled as they waved and applause filled the air as the soldiers met the welcoming party. Soldiers were offered refreshments and an opportunity to call their loved ones before they made the next leg of their journey. There were some tears, but mostly smiles as the soldiers were surrounded by people who are truly appreciative of their sacrifice.
Malcolm Kennedy, retired Air Force and a member of the Pease Greeters since their inaugural year, is one of those people who understand the personal sacrifice required for members of the Armed Forces.
"The sacrifice that these [soldiers] make today with constant redeployments and the sacrifices that their families face, their kids and parents, I've never seen anything like that," Kennedy said, with admiration in his voice. "I'm just one of many, many people [who do this]. Americans treat Americans this way. I've got a family that can sleep at night because of what [the soldiers] do. That's why I'm devoted to it."
Former Patriots linebacker Eric Alexander feels the same way about military appreciation and the impact their visit had.
"[Military appreciation] means showing people that go out and protect this great country that you love them and appreciate everything they're doing – their selfless acts and their bravery and their courage that they put forth every day to protect this country.
"This is the last chance for somebody in the states to thank them for their service and their duties before they go off to wherever they are stationed."
The evening concluded with a presentation of the Nation's Colors accompanied by the singing of the National Anthem, and a small gift presented to the soldiers passing through – every man and woman who passes through Pease International Airport is given a star from a retired flag, and the commanding officer is presented with "the shirt off our back," a signed Pease Greeters sweatshirt.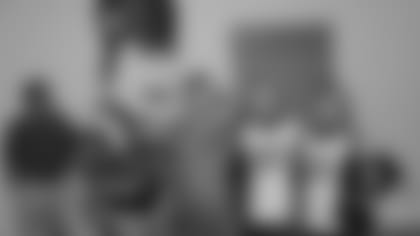 As the soldiers filed out of the airport and on to their next assignment, they were given a piece of the Patriots to take with them in the form of a Patriots hat, so they will always remember they have people back home who are thankful for their dedication.
Flight OIC Evans left the Patriots and Pease Greeters with a lasting gift as well.
"For us, it is motivating. Things like this sustain us. It's your reason for going on; this is why we do it. To have an outpouring like this from the community is awesome."
There are many jets that pass through Pease International airport carrying many soldiers back from conflict or onward to it. The faces aboard the jets change, but there is one constant that waves high above the runway, offering solace to those who see it. It holds the hopes of every American who has a dream of being something greater. It is fabric and cloth that bears three distinct colors, colors that stand for everything our country is meant to offer and our soldiers courageously protect. It is the red, white and blue.
Friday's visit to Pease International Airport was part of the Patriots Charitable Foundation's ongoing Celebrate Volunteerism initiative, which recognizes deserving volunteers and encourages Patriots fans to give back in their communities. For more information about Celebrate Volunteerism and for a complete list of future initiatives, go to www.patriots.com/community.