Our second viewing into Patriots organized team activities is scheduled for Tuesday at Gillette Stadium, a prime opportunity to reaffirm first impressions.
After only taking in one spring practice session last week, it would've been irresponsible to make grand proclamations about the team's direction in 2023. However, we are getting closer to a clearer picture with one practice in the books and a three-day mandatory minicamp next week.
The top storyline that remains is the installation of new offensive coordinator Bill O'Brien's system 2.0 in New England. Although nothing is definitive, the thinking is that O'Brien will morph aspects of the traditional Patriots offense with the system he ran at Alabama over the last two seasons. 
At its foundation, one would expect the Patriots to marry their run game with under-center play action, exploit matchups in a quick, efficient passing game from the gun and empty formations, and maybe most importantly, get back to dominating between the numbers. 
Offseason additions JuJu Smith-Schuster and Mike Gesicki, the former of which wasn't at last week's sessions, and the latter, working primarily with the receivers in last Wednesday's OTA, fit that style of play.
Furthermore, the other theory is that O'Brien will modernize those still very sound elements with things like motion at the snap and run-pass options. 
Last season, the Patriots ranked 28th in the NFL in motion at the snap, which includes jet or orbit (end around) motion, per ESPN. That should increase under O'Brien, who created challenges for defenses in various ways by bringing players in motion. The hope is that O'Brien will also bring Alabama's highly-regarded RPO package to New England.
Morphing two familiar schemes had Patriots quarterback Mac Jones at ease in his first open practice and press conference of the spring. It suits Jones to utilize his sharp mental processing, accuracy, and timing by creating wider passing lanes with play action, motion, and run-pass conflicts.
The Pats third-year quarterback is at his best when he's a step ahead of the defense by being in control pre-snap at the line of scrimmage and moving defenders with schemes that allow Mac to distribute the football quickly. In theory, O'Brien's added flavor will let him do just that.
Along with adding to our thoughts on the Patriots offense, here are six things to watch in Tuesday's second open organized team activity:
1. First-Rounder Christian Gonzalez to Make His Open Practice Debut?
One bummer about last week's session was that Gonzalez wasn't present for an undisclosed reason. However, the hope is that Gonzalez will participate on Tuesday. Gonzalez has an athletic profile that suggests he should jump off the practice field as a "different" sort of athlete. The rookie's fluidity will be apparent in shorts and a T-Shirt, as it was in a five-second clip shared to social media from the first week of OTAs, which also signals that Gonzalez has been participating even though he wasn't at the one practice open to the media.
Secondly, it'll be interesting to see the trickle-down effect that Gonzalez has on the Pats secondary. Last week, with second-year CB Marcus Jones limited, Jack Jones joined Jonathan Jones as New England's primary outside corners. Does Gonzalez step right into a featured role, or are they easing him into being a starting boundary corner? Where does everyone else fill in around Gonzalez? With the Pats holding an open tryout to replace Devin McCourty at deep safety, the puzzle pieces only start fitting together once everyone is out there.
2. Patriots Trying Out Several Players in Roles to Replace Devin McCourty
As mentioned above, the competition to earn playing time in Devin McCourty's old role is wide open, while McCourty can't completely quit football as he was a spectator at last week's practice. As you'd expect with filling the shoes of a franchise legend, the Patriots will likely replace McCourty by committee rather than relying on one player this season. The Pats had pretty much every potential option on their 90-man roster log snaps at deep safety in the first open practice of the spring, highlighted by former corner Jalen Mills's transition to safety. Mills, Kyle Dugger, Adrian Phillips, Jabrill Peppers, Joshuah Bledsoe, and Myles Bryant all took turns playing in the deep part of the field. Once the secondary is at full strength, it wouldn't be surprising to see Jonathan and Marcus Jones rep back there. Eventually, head coach Bill Belichick will settle in on a rotation. But early indications are that the Pats will mix and match, relying more on unpredictability than McCourty's steadiness.
3. Day-Two Draft Selections Making a Strong Early Impression
Rookie edge rusher Keion White and linebacker Marte Mapu are making strong first impressions. The two were heavily involved in last week's open OTA, with White rushing from a few different stances and Mapu playing at the second level. Although evaluating defensive players without pads is premature, these early steps in the spring are about mental reps. The fact that the coaching staff is willing to give the day-two picks these early reps suggests they'll be year-one factors, with White potentially in a key rotational role in the front and Mapu as a sub-package coverage linebacker. White's pro-ready frame and Mapu's fluidity to sift through routes in coverage stood out initially. You can see how both rookies can elevate the front seven.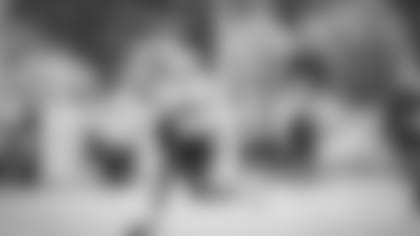 4. Can Second-Year WR Tyquan Thornton Make the Leap, Continue Strong Spring?
Another promising development from the first open OTA session was Thornton's heavy involvement in the passing game. Assessing actual production is more of an August through January thing, but it was great to see a snapshot into the plan that O'Brien has to unlock Thornton's 4.28-speed in this offense. Thornton is by far the most dynamic playmaker on New England's roster, and he should be fed until he fully proves he isn't up for the task. When the Patriots brought O'Brien back, my mind immediately went to two leaner burners who thrived in his system: Jameson Williams (Alabama) and Will Fuller (Texans). Thornton will hopefully get similar opportunities to stretch the field off play-action, in the slot, and out of bunch or stack alignments that will keep him away from press coverage. Furthermore, the second-year wideout should be a primary option as the player in motion. As we've said, the offense only hits its ceiling if Thornton starts playing like the 50th overall pick in the 2022 draft, and O'Brien has a track record of turning speedsters into difference-makers.
5. Unsettled Starting Depth at Offensive Tackle Remains a Question Mark
My biggest roster concern at the moment with the Patriots is at offensive tackle. There's enough roster talent to believe that the other areas, with O'Brien directing, should at least get this group back to its 2021 form. But reliable starting tackles, especially for the 17-plus games, are an unknown right now. Last season, Mac was one of the league's least efficient passers under pressure and against the blitz. A lot goes into that, from pre-snap direction at the line of scrimmage, programmed answers to immediate or surprise pressure (hot routes), the offensive line being on the same page, and the quarterback's poise under duress. But, at the end of the day, football becomes a one-on-one sport eventually.
With Trent Brown absent, the Pats were rotating veteran newcomers Riley Reiff and Calvin Anderson with holdover Conor McDermott last week. As reports indicated after the draft, fourth-rounder Sidy Sow is also getting a look at tackle. It's safe to assume that Brown will remain a starter at one tackle spot, but even he was up and down last season, while there are a lot of eggs in the Anderson/Reiff basket and even more eggs in new offensive line coach Adrian Klemm elevating the talent on the roster. The idea that the whole is greater than the sum of its parts only works if Klemm and O'Brien get this group to play on a string.
6. Spell Back, Pass-Catching RB Roles Behind Rhamondre Stevenson Up for Grabs
Lastly, the Patriots opting to re-sign Damien Harris this offseason has left things wide-open behind lead back Rhamondre Stevenson. Several running backs caught passes in last week's practice as everyone gets an opportunity to step into a larger role as RB2 and potentially a primary receiving back. After an injury derailed a promising summer a year ago, Ty Montgomery continues to look the most comfortable as a James White-type. Montgomery isn't necessarily explosive, but he has enough juice to threaten linebackers out of the backfield and gets to the right spots to be a safety blanket for the quarterback. In theory, second-year back Pierre Strong is a bigger play threat, but we are still waiting to see that consistently. Fellow 2022 draft pick Kevin Harris has slimmed down a bit, while James Robinson is getting his feet wet in this offense. We'll need to wait for pads to assess their abilities as runners, but managing Stevenson's workload better than last season is a priority.
DISCLAIMER: The views and thoughts expressed in this article are those of the writer and don't necessarily reflect those of the organization. Read Full Disclaimer