FOXBORO - Musings, observations and the occasional insight as the 2017 NFL season finally kicked off with that banner-hanging reality check at Gillette Stadium, a stunning 42-27 upset win for Kansas City over the defending Super Bowl champion Patriots on Thursday night/Friday morning….
So it looks like Kansas City is going to survive cutting Jeremy Maclin after all. How silly does all that angst over the Chiefs' unexpected June release of their most experienced receiver look now? And what was that sub-plot about about game manager quarterback Alex Smith, and how he was just marking time until first-round rookie quarterback Patrick Mahomes was ready to take his job?
Make no mistake, the beatdown the Chiefs put on the Patriots was no fluke. They landed roundhouse punch after roundhouse punch on the champs in the form of a bevy of big plays, with Smith, rookie running back Kareem Hunt and second-year receiver Tyreek Hill all taking turns making the New England defense look dreadfully overmatched.
Hunt flashed his game-breaking speed and exposed the Patriots with three touchdowns and 246 yards from scrimmage, more than any player in his NFL debut since the 1970 merger. Hill was his usual productive self, rolling up seven catches for 133 yards, including a breath-taking 75-yard scoring bomb early in the third quarter.
But the night, and this game, truly belonged to Smith, the former 2005 first overall pick in the draft (by the 49ers) who has been labeled and categorized more than a piece of warehouse inventory over the years. Smith isn't going to the Hall of Fame like his opposing quarterback on Thursday night is, but he can take this game to his own personal hall of honor, after throwing for four touchdowns and more than 300 yards for the first time in his 13-year pro career.
Smith finished a blazing 28 of 35 for 368 yards, with four touchdowns, no interceptions and two of those scores connecting from 75 yards or more — becoming the first Chiefs passer to accomplish that long ball trick since Len Dawson accomplished in November 1968 against the then-Boston Patriots.
So much for the Checkdown Charlie tag that Smith has dealt with (and earned to some degree) for most of his NFL tenure. The Patriots defense was horrible at restricting the big play, but Kansas City's 42 points and 537 yards was the most allowed by the Patriots in the Bill Belichick era, and it's hard to even remember that New England once held a 17-7 lead in this game, and was up 27-21 entering the fourth quarter. New England never gave up more than 31 points in any game last season.
Mahomes time will no doubt come soon enough in Kansas City. But this night belonged to Smith, and he resoundingly announced the Chiefs are very much still his team.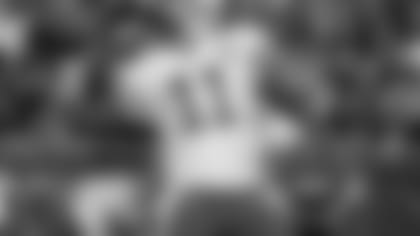 Yep, a page definitely got turned in New England with this one. The joyride of the 2016 season was put to bed for good with this galling result for the Patriots. The pre-game celebration of last year's fifth Super Bowl title was in typical grand fashion, but by the game's surprising end the one final victory bow felt woefully out of place.
Naturally all the chatter about whether the Patriots can take another serious crack at a perfect season died the most laughable of deaths with the Week 1 loss on national television. It made for a delicious storyline from April through August, but it didn't even survive until the September calendar had reached double digits.
Stuff happens in football, that was the lesson re-learned Thursday night. And it's stuff that for some reason we never learn to anticipate when we make our offseason calculations. But this is the NFL. It always gives us something new to chew on when we least expect it.
The Patriots occasionally have suffered other eye-opening losses in the past, even against Kansas City. Who can forget that 41-14 pasting the Chiefs put on New England on a Monday night in October 2014, the same season the Patriots won the Super Bowl? But you could certainly hear the disgust in Tom Brady's voice in the post-game, and he made a strong point of calling out his team's deficient "attitude'' against Kansas City.
"I just think we need to have more urgency and go out there and perform a lot better,'' Brady said. "There's a winning attitude and a championship attitude that you need to bring every day. We had it handed to us on our own field. It's a terrible feeling, and the only people who can do something about it are in that locker room. We have to dig a lot deeper than we did tonight. We didn't dig very deep tonight.''
It's not going to be a comfortable 10 days before the Patriots get to take the field again in Week 2, in New Orleans. And it's not an overreaction to think a sense of urgency is very much called for in this case.
I can't decide which statistic produced by this New England loss was more astounding: The Patriots snapping their streak of 87 home wins in a row when leading at halftime, dating to December 2000, in Belichick's first season; or New England having been 51-1 at home versus AFC teams since 2007 before Thursday, with Brady throwing for 121 touchdowns and just 17 picks in those 52 games?
Any way you slice and dice the numbers, the Chiefs showed the rest of the NFL some historic grit in coming into Gillette and slapping the vaunted Patriots around, especially in the fourth quarter, which they dominated 21-0. Message sent, Kansas City. Message sent.
"This win was huge,'' Chiefs linebacker and elder statesmen Derrick Johnson said. "I was telling the young guys, you don't come here to New England and win. We did that today; the best thing we did is that we didn't blink. It was awesome to get a win.''
If you're of the mindset that the physical toll that football takes on players is harder all the time to accept in the name of entertainment, this game was Exhibit A.
The Chiefs lost star safety Eric Berry with an Achilles injury, and Hill briefly left the game with cramps, heading to the locker room, perhaps for fluids. But at least Kansas City could console itself with getting the road win.
The Patriots might have been dealt a couple major blows, with receiver Danny Amendola forced out with a head injury in the second half, and linebacker Dont'a Hightower leaving earlier with a knee injury that looked potentially serious.
With Julian Edelman and Malcolm Mitchell already on injured reserve, the Patriots toward the end of the game were painfully thin at receiver, with newcomers Brandin Cooks and Phillip Dorsett being joined by holdover Chris Hogan in the lineup. If Amendola is hurt for any amount of time, the Patriots once-feared passing game is suddenly considerably less intimidating.
Have to admit it was beyond puzzling to see the Patriots fail on those key 4th and 1's against the Chiefs stout defensive front, without ever seeing them go to their tried and true quarterback sneak by Brady. Instead they ran into the strength of the Chiefs defense with running back Mike Gillislee, in essence producing what amounted to two turnovers with their failed drives. It wasn't the difference in the game in the end, but those plays might have helped the Patriots build a bigger lead and withstand the Chiefs' furious second-half rally.
Is that the one part of Brady's game that is in an understandable decline at age 40, that he can't sneak it so well any more? No. 12 has been almost unstoppable on those plays over the course of his career, so I find it hard to fathom he lost that particular skill overnight.
That settles it for me. Andy Reid's sterling record after bye weeks is so legit it even translates to when he's had seven months to prepare his team for an opponent.
Reid's team was the more resilient, the more imaginative (Alex Smith throwing deep was only the half of it), and the one that exerted its will on its opponents in the fourth quarter. Those are supposed to be New England's calling cards under Bill Belichick.
But the Chiefs were the club that played as if it knew it would win Thursday night, no matter how long the game went, or how many twists and turns it included. Kansas City hasn't traditionally been considered a tough-minded team, but you could've fooled me, a crowd of about 64,000, and a national TV audience in this case.
I realize this may not be the most popular take for the Patriots team website, but dare I say it's time to move on and let go of the Roger Goodell Revenge-fest, football fans? The Patriots won the best possible retribution last February with that history-making Super Bowl comeback, and so did the New England fans. Nothing could top that. It was a knockout by straight karma.
Thursday night's Commissioner-centric focus in the pre-game, while relatively mild, felt like overkill that didn't accomplish anything. If you don't start letting it go a bit, you might just inadvertently turn Goodell into something of a sympathetic character in the eyes of football fans outside New England, and you don't want that.
It's just my two cents, but I would have loved to see Goodell lean into his harsh welcome at Gillette, waving his arms in the bring-it-on defiance and humor that he used the day he was booed heavily by the third-day outdoor crowd at the NFL Draft in Chicago in 2015. If you're going to play the villain, at least try to act like you enjoy the part. Don't pretend the hate isn't there, confront it and make it look like it doesn't bother you. Because as long as it does bother you, and people know it, it's likely to continue.
I'm guessing some day very, very soon, the Bills organization will institute a new internal edict: If the Patriots show even a scintilla of interest in signing one of Buffalo's free agents, the Bills must move heaven and earth to keep said player. No questions asked. New England batting eyes at a Bill should set off a DEFCON 1 situation in Old Orchard Park.
Ex-Bills running back Mike Gillislee punched in a pair of 2-yard first-half touchdown runs to account for most of the Patriots' 17-14 lead at the break, then added a career-best third scoring carry in the third quarter to boost New England back into a 24-21 lead. His 45 yards on 15 carries led the way for New England in his debut. Gillislee is at the moment the NFL's leading rushing touchdown scorer, just like the guy he's replacing, LeGarrette Blount, was last season for the Patriots (with 18).
After letting versatile receiver Chris Hogan escape to New England in 2016, with productive results for last season's Super Bowl champs, you'd think the Bills could not have undervalued their own play-makers once again. But alas, they did. Even if the verdict is still out to a degree on the Stephon Gilmore signing by New England.
Question: Is the entire AFC East tanking this season? First the Jets, then the Bills, and now the Patriots start a very unaccustomed 0-1? I'm going to keep an eye on this topical trend and see how Miami plays in when the Dolphins open their season in Week 2.
Not surprising that after the troubling story of Michael Bennett's incident with the Las Vegas police emerged this week that another NFL player decided to register a protest by sitting during the national anthem. Chiefs cornerback Marcus Peters was the only player who took that course of action Thursday night, staying seated for the anthem on a Kansas City trainers table on the sideline.
Frankly I thought there might be more players making that choice. But let's see what Sunday and Monday night bring on that front. If the NFL ever thought this particular story/statement was going away if Colin Kaepernick remained unemployed, it thought very, very wrong.