CANTON, OHIO - Musings, observations and the occasional insight as the lengthy enshrinement ceremony for the seven-man 2017 class of the Pro Football Hall of Fame unfolded Saturday night at Tom Benson Hall of Fame Stadium….
Denver running back Terrell Davis might have sparked the most heated debate among this year's Hall of Fame class, on whether his injury-shortened career of just seven seasons lasted long enough to merit enshrinement, and if his induction lowered the bar in terms of Hall standards?
I'm not a Hall voter, but I come down on the side of any player elected should have been among the game's elite at his position for a period of time, and by that standard, Davis squeaks in. He was the game's premier rusher from 1996-98, capped by his 2,000-yard season of 1998, and he's the best postseason runner in league history, averaging 143 yards rushing in eight games, with a whopping 12 touchdowns and a 5.6-yard per carry average.
Without a doubt, it was Davis's stellar postseason performances that got him over the line and into the Hall, and I'm okay with that counting for a little more than regular-season excellence and longevity. The first four seasons of Davis's career were special, but his playoff feats were otherworldly.
If you've never seen the clip of Davis selling out to level a 49ers kick returner in an August 1995 preseason game in Tokyo — 22 years ago on Sunday — do yourself a favor and find it. It showed Davis's level of desire as a sixth-round rookie special team gunner, who was more than willing to hand out punishment and not just absorb it.
"That was my first NFL play,'' Davis said from the podium Saturday night. "Now 22 years later, I'm standing here with these Hall of Famers, wearing this gold jacket. It's so surreal.''
It was partly that all-out playing style that contributed to Davis being able to appear in just 17 games over the course of his final three injury-plagued seasons in the NFL. But Davis left nothing in the tank when he was on the field for Denver, even if it meant chasing down a kick returner, or a defender who intercepted a Broncos quarterback.
Jerry Jones has become a larger than life figure in NFL history, and his tentacles reach in a lot of directions as a power broker in the league. But he's certainly not in the Hall of Fame today because of his team's overwhelming run of success, even if Dallas did win three Super Bowls in a four-year span in first half of the '90s.
Consider this: Dallas last won a Super Bowl title in the 1995 season, 22 years ago, and the Cowboys haven't advanced past the divisional round playoffs since winning their most recent ring. They own just two playoff wins from 1997 on.
Jones made it to Canton probably because you can't tell the story of the NFL these past 28 years without him being a sizable part of the narrative. He has been the NFL's ultimate salesman, and it's that role he has excelled at. Not necessarily solely as an owner or a general manager.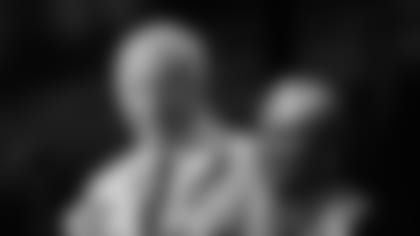 Long overdue, but it was great to hear Jones salute ex-Cowboys head coach Jimmy Johnson for his role in creating the Dallas dynasty of the early '90s. Without Johnson's coaching and personnel acumen, the Cowboys wouldn't have been the launching pad for Jones' Hall of Fame career, no matter how big he dreamed and smooth he talked all these years. Without J.J.'s brilliance, the other J.J. wouldn't have been on that stage in Canton on this night.
And Jones even admitted as much in his 36-minute speech, when he slipped in the self-deprecating line of the night late in his speech: "After Jimmy screwed up and we parted ways,…..'' Jones said, letting the joke slowly dawn on the crowd in referencing their infamous break-up in the spring of 1994.
Well played, Jerry. Well played.
These Hall of Fame ceremonies can seem never-ending and the induction speeches aren't always memorable. But there were some pretty powerful moments crafted by the two running backs in the Hall of Fame class. LaDainian Tomlinson used part of his podium time to appeal to the political and racial division in America, asking his fellow citizens to unite and "choose to be for one another.'' Tomlinson's eloquent call was for more teamwork by Americans, and a more open-minded approach to those who are different.
Terrell Davis had his own poignant story to tell, describing how when he was 14 and grief-stricken at the death of his father, he found himself one night "staring down the barrel of a shotgun.'' It was the wake-up call he needed in life, and "thank God someone talked the guy out of pulling the trigger,'' Davis said.
The game of football clearly benefitted from Davis's turnaround.
If you knew anything about Morten Andersen, you knew he'd offer up the most entertaining induction speech of the night. And the Denmark native and kicking great didn't disappoint. The NFL's all-time leading scorer (2,544 points) lasted 25 seasons and played for five different teams, multiple times in the case of Atlanta. But it was his colorful description of his first experience with kicking an American football 40 years ago that added some needed levity to the ceremony.
"I learned that the process of kicking a football is quite involved," Andersen said. "Players from everywhere proceeded to line up in front of me. I was confused. What are they doing? Is that necessary? The guys are really big. They block my view of those funny-looking posts sticking up in the air.
"A smaller guy approached me and asked me if I was ready. He was licking his fingers. Should I do that too, I asked him? He looked at me confused and proceeded to kneel on the ground. 'Red, set.' It startled me. Up in front of us was not a pretty view either. There was a line of big derrieres and they were facing me.''
Andersen said his coach eventually instructed him to "Just kick the (crap) out of it. And if you don't, I'm sending you back on the boat. Message received. The ball flew high and through those white things, and I looked over at my teammates and I think they liked what they saw.''
Thank goodness Andersen never had to go back on the boat. He was always one of the true originals in the NFL, and it's about time the Hall of Fame got some company for fellow kicking legend Jan Stenerud, who was inducted into the Hall in 1991. Here's hoping longtime NFL kicker Gary Anderson is next to be honored.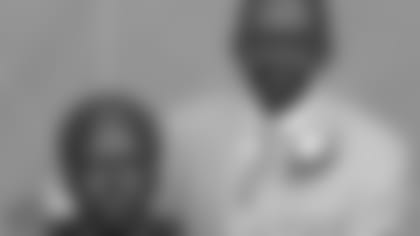 Before the Legion of Boom was ever dreamed up as a moniker for Seattle's tenacious and talented secondary, enshrinee Kenny Easley was delivering that kind of high-impact defense every week for the Seahawks in the '80s. He was an intimidator at strong safety for just seven seasons before kidney issues forced him from the game, but five Pro Bowl berths and his place on the NFL's All-Decade team in the '80s spoke for his candidacy.
Easley waited an interminable 25 years for the Hall's call, and he made the cut this time as the choice of the recently formed Seniors committee. But the man dubbed "The Enforcer'' deserved this honor, and his 89-game career was packed with impact.
Loved Easley bringing up the decades-long debate about his rivalry with ex-USC and 49ers safety and fellow Hall of Famer Ronnie Lott, who was drafted in 1981, just like he was, out of UCLA. The argument of who was better, Easley or Lott, has been a running topic among fans and media members ever since.
"He was the best,'' Easley said of Lott, graciously. "There. It's settled. Because I said so.''
Later, Lott rebutted that notion on ESPN: "It's not settled,'' Lott said. "It's not settled at all. He means so much to football. He set the tone. He set the tone back in UCLA. He set the tone in Seattle. He was just an incredible, incredible football player.''
Quote of the Night: From Easley, whose long acceptance speech went well past the suggested 11-minute limit for incoming Hall of Famers: "Blah, blah, blah, blah, blah, blah. My teleprompter just went off. I have to cut it short.''
Nobody made it look easier or smoother than Jason Taylor, who was one of most graceful athletes the NFL has ever known. The shame of it is, I can't remember too many great moments in Taylor's career, because his Dolphins were so often a mediocre or losing team in his 13 seasons in Miami. The Dolphins won just three playoff games when Taylor wore their uniform, and his lack of much postseason experience robbed us of seeing one of the league's best when it mattered most. But what a reliable playmaker he was as an elite pass rusher.
I give Taylor credit for honesty (brutal at times) during his speech. He admitted he wanted to quit the NFL and head home after just five days of his rookie training camp in 1997, in part because how much Dolphins head coach Jimmy Johnson pushed his players. But he called his mom and she quickly told him to get to bed and then get back to practice the next day. The rest is history.
Taylor also admitted his one season in Washington, in 2008, his 3.5-sack production was considerably less than his usual standards. Taylor saluted Washington owner Daniel Snyder, noting "I stole a lot of money from you. I appreciate it.''
Don't sweat it, Jason. Snyder, with his long track record of big-money free-agent busts, is pretty used to it by now.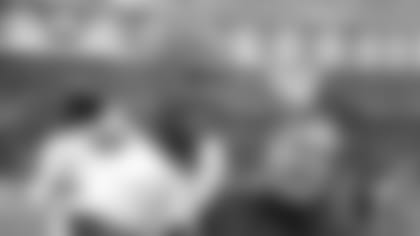 Patriots fans got a little love thrown their heroes' way by Taylor. He gave shout outs to both Tom Brady and Peyton Manning for making him a better player as opposing quarterbacks, and even Bill Belichick got a tip of the cap.
"Bill Belichick, I never had the pleasure of playing for him, but I had the pleasure of facing his teams for twice a year for more than a decade,'' Taylor said. "Bill, you put a target on my back, my front, my sides, and as a result of that, I never felt more respected.''
Nice touch by Tomlinson, having his former Chargers head coach Marty Schottenheimer stand for acknowledgment during L.T.'s speech. Tomlinson played his best football for Schottenheimer's running back-led offense in San Diego (Marty Ball!), and it's not too often these days that a coach builds his team around the special talents of a runner.
I also admired Kurt Warner saluting his former teammate and fellow Rams quarterback Trent Green, who was invited here by Warner. It was Green, of course, who suffered a late preseason knee injury in 1999, opening the door for Warner to get his starting shot in St. Louis. You know the rest of the story. Green handled the situation with class and selflessness, sharing his knowledge with Warner and helping his replacement prosper.
Those are the kind of thank you's that were years in the making, but remembered with perfect timing.
Strange question perhaps, but do you think of Warner first and foremost as a Ram or a Cardinal? He went to two Super Bowl and won one with St. Louis, and picked up both of his league MVP honors as a Rams quarterback for six seasons (1998-2003). But there's no way he's in the Hall of Fame tonight without the prolific late-career success in Arizona (2005-2009), having led the Cardinals to the Super Bowl in 2008.
I think of Warner's Arizona tenure first, perhaps because it's more recent in memory. He was at the height of his prime in St. Louis, but it's easy to forget he eventually lost his job to Marc Bulger with the Rams, and later was replaced by rookie Eli Manning in November 2005, in his lone season with the Giants. Without the Cardinals chapter in his career, our last and most lingering memories of the world's most famous former grocery store shelf stocker might have centered on his mid-career slump/failures.
Terrell Owens has to be here next year, right? One of the headliners in the 2018 Hall class. Granted, he was a piece of work and a pain in the butt for many of his coaches and teammates. But T.O. could really play, and he almost always produced. If the credibility of the Hall and its voting process is to be maintained, Canton has to make room for Owens. Pronto.
This Hall of Fame ceremony gets bigger, with more fanfare every year. Of course, nobody does a big, flashy, over-the-top spectacle like the NFL. If you took what the Hall of Fames in baseball, basketball and hockey do for their honorees, combined them and multiplied by 10, you might have something approaching the extravaganza that is the Pro Football Hall of Fame weekend.
And it's over for yet another year, with seven new inductees now part of the Hall's legacy and honor roll.