Musings, observations and the occasional insight in a rather lackluster Week 10 in the NFL, which featured a dearth of close, competitive games…..
* You can search through the rubble if you'd like, but there was nothing fluky or questionable about the Titans' domination of New England on Sunday in Nashville. It was a thorough and impressive butt-kicking and Tennessee was better in every phase of the game from start to finish in the 34-10 rout, and that goes for the players, coaches and probably even the support staff.
There's nothing the Patriots can look back on and say, 'If only'' in relation to this game. The Titans had their way with New England all day, and the score was very indicative of the effort and execution of both teams. Playing on a short week, after a Monday-night road win in Dallas, the Titans looked rested and ready to roll. By comparison New England looked tired and vaguely disinterested as it now limps into its bye week. The Patriots appeared whipped in the course of getting whipped.
Is it mere coincidence New England's two worst performances this season came against teams coached by Matt Patricia and Mike Vrabel, coaches with defensive backgrounds who well know what the Patriots offense is all about? (And let's not forget Titans defensive coordinator Dean Pees, the ex-Patriots defensive coordinator). New England at least had success against Houston's Bill O'Brien-coached club in Week 1, but Bill Belichick and his players are probably happy to have the reunion game portion of the schedule behind them.
As if to underline their ability to out-Patriot the Patriots on this day, the Titans even ran the end-around wide receiver pass to the quarterback play better than the Patriots ran it just a few minutes earlier. Tennessee got a nice completion to Marcus Mariota that got the job done in superior fashion compared to a reception by Tom Brady, who lost his footing in the open field and fell just shy of the first down marker. As snapshots go, those two plays told the story of the game as well as anything could have.
Make no mistake, this was a bigger test for Tennessee than it was for New England, with Vrabel and all the many ex-Patriots on the scene in Nashville. It was a statement game on the status of the Titans program under their rookie head coach, and the message came through loud and clear. When everything clicks, this is a dangerous Tennessee club. Mariota looks fully healthy again, and the Titans defense is the real deal.
At 5-4, Tennessee has won two in a row on the heels of a three-game losing streak, staying just a game behind first-place Houston (6-3), which is on its bye this week. This could be the pivotal game of the Titans' season, and the kind of hope-inspiring win that lifts their sights and launches them toward bigger and better things. Tennessee faces back-to-back division road games at Indianapolis and Houston in the coming two weeks, but after knocking off the defending AFC champion Patriots, all things suddenly seem possible for these Titans.
As for New England (7-3), this was a loss that could certainly prove costly in its bid to run down Kansas City (9-1) for the top seed in the AFC playoffs. Though the Patriots hold the tiebreaker via their defeat of visiting Kansas City in Week 6, that win might not now come into play with New England trailing the Chiefs by two games with six remaining. If nothing else, the Patriots most likely learned they want no part of a rematch with Tennessee in the playoffs, with the Titans posing a threat that doesn't figure to dissipate simply because the game would be held in Gillette Stadium.
Tennessee hadn't beaten the Patriots since 2002, with New England outscoring the Titans by an average margin of 20.9 points per game over the course of a seven-game winning streak. But none of that mattered Sunday at Nissan Stadium. The Titans won big this time, and beat the Patriots to the punch in every way possible. To be sure, the outcome registered as a surprise, but if you watched the game, you know there was nothing lucky about Tennessee's well-earned advantage.
* When Todd Bowles inevitably loses his job as the Jets head coach this coming offseason, he may look back on Week 10 as the day he knew the jig was up. New York dropped into sole possession of last place in the AFC East at 3-7, getting embarrassed at home 41-10 by a Buffalo team that came into the game with the NFL's lowest-scoring offense and was starting its fourth different quarterback of the season.
But lo and behold, Matt Barkley played like Joe Montana for the Bills, who led 31-0 late in the first half, despite not having topped 27 points in any previous game this season. This Jets season, which started with such promise in that 48-17 blowout road win at Detroit on the Monday night of Week 1, has reached the death spiral stage. At 3-7 they've lost four in a row, scoring 17 or fewer points in all seven of their losses.
Bowles' best season was the first of his four years on the job, when the upstart Jets went 10-6 and only missed the playoffs due to a Week 17 loss at the 8-8 Buffalo Bills. But two 5-11 seasons followed and now this year is clearly lost, with another defeat at the hands of the Bills providing the denouement. With a 23-35 record and no improvement on the horizon even with first-round franchise quarterback Sam Darnold on hand, the Bowles era in New York feels over.
* Barkley's big day for Buffalo tells all you need to know about Nathan Peterman. Barkley signed off the street not long ago and still put up winning numbers against the shell-shocked Jets defense, throwing for 232 yards and a pair of touchdowns on 15 of 25 passing, with no interceptions.
Rookie Josh Allen is nearing being healthy enough to play again, but if the Bills go the cautious route for another week or so, at least they have a decent starting option in Barkley and don't have to subject their fans to the turnover machine that is Peterman, or the aging Derek Anderson. At this point, we're not even sure why Peterman gets to take up a roster spot in Buffalo?
The Bills were so good offensively against New York that even LeSean McCoy was a threat again. The man they call "Shady'' looked like his old, dangerous self, gaining 113 yards and scoring twice on 26 carries, as part of Buffalo's 212-yard rushing day. It was easily McCoy's biggest game of the season, and ended a three-game stretch in which he had gained — and I'm not making this up — 24 yards on 24 carries.
The Bills were on fire in the Meadowlands and even threw a 7-yard touchdown pass to Dion Dawkins on a tackle-eligible play in the second quarter. It was the first scoring catch of his NFL career, of course, but it also doubled as the first touchdown pass thrown by Barkley since December 2016 with the Bears. For a team that couldn't find a reliable passing option all season, Week 10 flipped the script in the most dramatic way possible.
* What a savage beating the Saints laid on the Bengals, drubbing them 51-14 at Paul Brown Stadium. So much for those trap-game worries that New Orleans might be a bit flat after handing the Rams their first loss of the season last week at the Superdome. Cincinnati was at home, rested from its bye, and sitting two games above .500 at 5-3, and it didn't matter a bit to the Saints, who scored at will and reeled off 44 unanswered points at between the first and fourth quarters.
And to think the Saints think they need another play-making weapon in their receiving game, thus the Dez Bryant (and soon to be Brandon Marshall) signing.
Cincinnati's defense is atrocious, but this was more about New Orleans offense and how ridiculously versatile and productive it is these days. The Saints ran for 244 yards and threw for 265, with Drew Brees barely letting the ball hit the turf in a 22 of 25, three-touchdown passing game. New Orleans scored on its first nine possessions and even got the chance to get backup quarterback Teddy Bridgewater some playing time.
That's eight wins in a row for the Saints (8-1) and they have to be everybody's No. 1 team in the NFL power rankings, and yes, that includes Kansas City (9-1). Come to think of it, what a Super Bowl that would be: Saints-Chiefs in a dome setting in Atlanta. The scoring would be fast and furious, and most likely record-setting.
At the moment, the Bengals (5-4) are still in line to make the playoffs as the AFC's No. 6 seed, via a tiebreaker over Tennessee (5-4). But if anybody can envision that Cincinnati defense performing well enough to finally win a playoff game for coach Marvin Lewis, they've got a more creative imagination than me.
* Well now I really don't know what to make of the Falcons, who looked overmatched in an eye-opening 28-16 loss at Cleveland. The Browns were clearly superior and took it to Atlanta on almost every front. Cleveland (3-6-1) had lost four in a row and were supposedly reeling, while the Falcons (4-5) had won three straight and were thought to be a dangerous team just starting to round into playoff-contention form.
But so much for that. Cleveland earned its first win under interim head coach Gregg Williams, who no doubt fielded multiple job offers after the game. Even in the rare instances the Browns win, they never do it easily, but this game bucked that trend. Turns out the Falcons weren't dangerous, but Cleveland rookies Baker Mayfield and Nick Chubb were.
"When I woke up this morning, I was feeling pretty dangerous,'' said Mayfield, who had his best NFL game by far with 216 yards and three touchdowns on 17 of 20 passing, with a 151.3 rating and 20 yards rushing. "Real dangerous.''
Chubb was just as lethal, with the running back gaining 176 yards on 20 carries, including a team-record 92-yard scoring run that put the game away in the fourth quarter. Who can even remember the last time the Browns got a couple of huge performances from their key offensive stars in the same game? If you're Browns fan hoping you saw your club's future today, it was a pretty picture.
* Another long-suffering fan base got a boost in Chicago on Sunday as well. It's a pretty good sign to see the Bears buckling down and taking care of business in games they should win, like in their 34-22 conquest of the visiting Lions. The score makes it seem closer than the game actually was. Chicago dominated in the first half, taking a 26-0 lead before losing a little of their edge with such a massive advantage.
Second-year quarterback Mitchell Trubisky won his first game against a division opponent after starting his career 0-6 in that department. Like Mayfield in Cleveland, he was at his best as well, throwing for 355 yards and three touchdowns, while running for a fourth score. He had a sizzling 148.6 passer rating and threw just seven incompletions in 30 attempts. The Bears are 6-3, already besting last season's win total (5-11), and haven't lost since the Patriots beat them in Soldier Field three weeks ago.
Detroit dropped to 3-6 overall and 1-4 on the road and the wheels seem to be at least close to coming off in Motown. The Lions have lost three in a row after scratching their way to .500 at 3-3, and now face a daunting three-game home-stand that includes Carolina in Week 11, a rematch with the Bears on Thanksgiving Day, and a visit from the powerful Rams in Week 13.
That could turn Detroit into a 3-9 team pretty quickly, and that's not the direction the Lions thought they were going this season after firing coach Jim Caldwell for finishing 9-7 two years in a row. If the pressure's not on rookie coach Matt Patricia in Detroit, perhaps it should be. And remember kids, posture, posture, posture.
* If that was a virtual elimination game for the loser, I guess we have to say goodbye to Jacksonville until 2019, at least in terms of the playoff race. What a disappointment the Jaguars have been this season. From a near-miss in the AFC title game in January to sole possession of last place in the AFC South and a five-game losing streak in mid-November. On the bright side, we probably won't have too many full-length magazine profiles of Jalen Ramsey to contend with for the foreseeable future. To the winners go the spoils, and all that.
Indianapolis held off Jacksonville 29-26 at Lucas Oil Stadium, and quite fitting a late turnover that was upheld on replay review ended the Jaguars' comeback bid. Turnovers always seem to be part of the problem in Jacksonville losses, but I still can't get over how far, how fast the Jaguars defense has fallen. If you would have told me after Jacksonville beat New England in Week 2 that its defense had already peaked for the season, I would have questioned your judgment and sanity.
But the Colts have to feel good about their progress under first-year coach Frank Reich. At 4-5, with three wins in a row, they're probably not going to the playoffs, but they are relevant and playing entertaining football again. I mean, you can not stop Eric Ebron, you can only hope to contain him at this point.
The ex-Lions tight end and 2014 top-10 draft pick scored three more touchdowns for the Colts — all in the first half — giving him 10 touchdowns in his nine games in Indianapolis, after scoring just 12 times in four years with the Lions. Eric Ebron is a weapon. And the rest of the NFL has to get used to it.
* Patrick Mahomes broke the Chiefs team record for touchdown passes in a season in the first half of Kansas City's 10th game. Let that sink in for a moment. Hall of Famer Len Dawson needed 14 games to toss 30 touchdowns in 1964, the Chiefs second season in Kansas City. But Mahomes just broke that record with 31 touchdown passes in less than nine and a half games, keying the Chiefs' 26-14 win over visiting Arizona (2-7).
Mahomes' consistency has been remarkable in this, his first season as the Chiefs starter. He brings his "A'' game almost every week, and has yet to have a true stinker. He's 10-1 in his 11 NFL starts, losing only at New England in that 43-40 Week 6 instant classic and the 9-1 Chiefs continue to set the pace in the AFC race for home-field advantage.
I thought 2018 would hold some bad and some good for Mahomes, but I thought wrong. He hasn't endured the struggles common to young quarterbacks, at least as far as we can see. He's the league's MVP through 10 weeks, and you get the feeling the best is yet to come.
* All credit to a banged-up Washington team for gutting out a much-needed 16-3 road win in Tampa, but boy did the wasteful and painfully sloppy Bucs help out. Five times Tampa Bay drove inside the red zone, and all that produced was a mere three points, to go with three turnovers and a missed field goal attempt.
Bucs quarterback Ryan Fitzpatrick played so out of control at times on Sunday it was almost comical. Throwing a forward pass 15 yards past the line of scrimmage. Running sideways instead of straight ahead when a key first down was there for the taking. Failing to secure the ball again and again even as the Washington pass rush surrounded him. Forcing passes into tight coverage. It was all hide-your-eyes bad.
I know Jameis Winston isn't the answer at quarterback in Tampa Bay, but Fitzpatrick is an absolute calamity to watch. Whatever his early season magic was about, it has evaporated in the downward cycle of defeat and disappointment in Bucs-land.
Washington gave up 501 yards of offense, including 398 passing yards, and somehow still won by 13 points. Playing with a makeshift offensive line, Jay Gruden's club forced four turnovers and gladly thanked the Bucs for missing two field goals, all of which helped Washington improve to 6-3 and defend its rather improbable grip on first place in the NFC East. It's not a formula that could possibly work for long, or in the playoffs, but with a huge assist from Tampa Bay, Washington got the job done in Week 10.
Now if Gruden's team could play as well at home as it does on the road. Washington is 3-1 away from FedEx Field, and 3-2 in front of its fans.
* The stage is now set for the game of the year in Week 11, the 9-1 Chiefs against the 9-1 Rams on Monday Night Football from Mexico City. The NFL has never had an international game matchup remotely this enticing or meaningful.
In a doubly difficult week for everyone in the Los Angeles area, the Rams did their part to infuse next week's game with maximum buzz, holding on to defeat visiting Seattle 36-31 in the Coliseum. While we know the Rams can score with anybody in the NFL, the concern has to be with their defense and how bending and breaking it's doing these days.
In its past three games, Los Angeles has given up a whopping 103 points, or more than 34 per game. Sunday marked the fourth time this season an opponent has scored at least 31 points against the Rams, and fifth time (half their games) L.A. has allowed at least 27 points. Seattle (4-5) gouged the Rams run defense for an alarming 273 yards on 34 carries, and Los Angeles also survived three Russell Wilson touchdown passes.
At this rate, Patrick Mahomes and the Chiefs high-octane offense might set some records against the Rams in the thin air of Mexico City. Which I'm guessing the NFL wouldn't mind in the least. As for the Seahawks, their NFC wild-card hopes are in trouble, but a home game against Green Bay on Thursday night and a road trip to Carolina in Week 12 offer opportunities for them to quickly vault back into contention.
* The Chargers keep doing their thing, winning their sixth in a row for the first time since 2009, and improving to 7-2 for the first time since 2006. But sorry, a 20-6 road win over the hapless Raiders doesn't tell us much of anything new about Anthony Lynn's team, except that encouragingly it doesn't stub its toes against inferior opponents like Oakland (1-8)
December is the month we'll find out who these Carson Chargers really are. The Bolts will play at Pittsburgh (Week 13) and at Kansas City (Week 15, Thursday night), and both of those teams are headed for the playoffs and currently rank ahead of the Chargers in the AFC playoff seeding bracket. Win one or both of those and Los Angeles will take on the look of a legit Super Bowl contender.
That said, a hat tip to Los Angeles is deserved given its long road traveled in recent weeks. The Chargers haven't played at home in Carson since a Week 5 win over Oakland. They've had road games at Cleveland, Seattle and Oakland in that span, plus a "home'' game against Tennessee in London — and a bye week for good measure. Now the schedule flips, with Los Angeles staying home in four of it next six games, with only one of those coming against a team that currently has a winning record (Cincinnati).
* The Packers kept the season alive with a 31-12 putdown of the punchless and injury-depleted Dolphins in Lambeau Field on Sunday, but the win won't really amount to much in the grand scheme of things if Green Bay (4-4-1) doesn't follow it up with a win at Seattle on Thursday night. A loss to the Seahawks (4-5) and the Packers are right back under .500, with two more weeks of the regular season gone.
Running back Aaron Jones basically put the team on his back and carried the Packers to victory against Miami. Jones ran for 145 yards on just 15 carries, and enjoyed the first two-touchdown game of his NFL career. Jones reached the 100 yard mark in the first half on just eight carries, thanks to a 67-yard touchdown burst, becoming the first Green Bay rusher to crack triple digits this season. Keep giving him the ball, and the Packers might finally have identified a true lead rusher.
The Dolphins slid back to .500 at 5-5 with the 19-point loss and have now been outscored by a whopping 57 points this season, the worst total for any team with a break even or better record. Miami's injury situation worsened considerably, with receivers Jakeem Grant (leg) and DeVante Parker (shoulder) and top cornerback Bobby McClain (concussion) all being forced from the game.
* The Steelers' 52-21 destruction of the red-hot and rolling Carolina Panthers Thursday night was the kind of win that makes it hard to fathom Pittsburgh was ever flailing along at 1-2-1 in September. It's a good reminder that it's a long season in the NFL, and early narratives ("the Steelers are a team in chaos and Mike Tomlin has lost control of his club!!'' ) sometimes look ridiculous come November. Then again, it seems like every year Pittsburgh puts together a stretch of offensive dominance at some point, leading many to label the Steelers "unstoppable.'' Until they're stopped, of course.
At 6-2-1, with five wins in a row, Pittsburgh is in great shape to win the AFC North for the third consecutive season and fourth time in five years. It would be the Steelers' fifth straight postseason berth, a streak unmatched by anyone in the league other than New England, which is on its way to a likely 10th consecutive playoff trip. Those back-to-back 8-8 seasons of 2012-13 probably feel like eons ago in Pittsburgh.
And yet, the Steelers have some very tough games remaining and their recent habit of struggling in December and January leaves us a long way from passing judgment on Tomlin's work in 2018. Let's see if Pittsburgh can stay hot in a second half that includes a trip to Jacksonville (the Jaguars did beat the Steelers twice last season), home games against the Chargers and Patriots in December, and a tough Week 16 road game in New Orleans.
Thursday night had to be fun to be a Steelers fan, and Big Ben and the offense truly were machine-like. But what really counts is where Pittsburgh stands two months from now and if it can conjure up a performance anywhere near the one it put on against Carolina when it matters most.
* If the Panthers use their humiliation in Pittsburgh as motivation down the stretch, maybe there was a silver lining in the prime-time meltdown. But the reality is the loss by Carolina (6-3) leaves the Panthers with some work to do in order to make sure those two remaining games against the Saints (8-1) in Weeks 15 and 17 are as meaningful as possible.
There's no need for Carolina to panic. The Panthers have three more road games in the next month, but they're all against last-place teams at the moment: Detroit, Tampa Bay and Cleveland. If Carolina can take care of business against those losing clubs and win its one home game in Week 12 against Seattle, the Panthers will all have but have clinched a playoff spot with 10 wins.
Then again, Carolina is just 1-3 on the road this season, compared to 5-0 at home, and its lone victory was that miraculous 17-point fourth-quarter comeback at Philadelphia. So Ron Rivera's team can't afford to take anything for granted in the aftermath of the beatdown in Pittsburgh. The only positive in Week 10 for the Panthers was the Atlanta (4-5) upset loss at Cleveland, which ended the Falcons' three-game winning streak and blunted their attempt to climb back into the thick of the NFC wild-card chase.
* While Ron Rivera admitted it was a penalty, he didn't think safety Eric Reid's hit on a sliding Ben Roethlisberger was worthy of the ejection he received Thursday night. But he has to be in the distinct minority on that one. Fox Sports rules analyst Mike Pereira summed it up correctly on the telecast, saying Reid's shoulder-to-the helmet hit might not have warranted an ejection last year under then-NFL rules, but this year it does given the changes the league has made in an effort to further protect quarterbacks.
It's a whole new world on that front. Like it or loath it, anything that looks as late and as violent as Reid's hit is going to be a candidate for ejection and that's just the reality of today's NFL environment. Reid saying he didn't even know a game ejection from a illegal hit was possible was a head-slapper. I know he was unsigned and out of the league all offseason and well into the regular season, but you would have thought that hot-button topic made his radar screen at some point.
* For a minute there veteran receiver Dez Bryant looked brilliant, and fortunate, for not signing anywhere until the Saints snapped him up off the free-agent market last week. It seemed the perfect spot for him in New Orleans. He could be a complementary piece added to the Saints offensive juggernaut and just maybe he had climbed aboard a team on its way to the Super Bowl, which would provide him with the mother of all last laughs at the Cowboys' expense.
But Bryant tore his Achilles tendon at the end of his second day of practice with the Saints, and now he's not only done for 2018, his 2019 season is greatly impacted as well. What a nightmare scenario for a player who just turned 30 last Sunday. Now Bryant's misfortune might make for a stroke of good luck for Brandon Marshall, the ex-Seahawks receiver who has never appeared in a playoff game despite making his NFL debut in 2006. Marshall, 34, worked out for the Saints last week and according to ESPN New Orleans is likely to try to sign him in the coming days.
Ridiculously Cool Football Card of the Week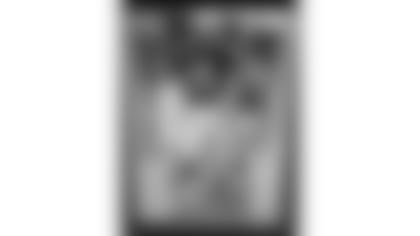 On this Veteran's Day weekend, what better time to pay tribute again to onetime Arizona Cardinals safety Pat Tillman, who would have turned 42 last Tuesday, on Election Day. In the wake of the 9/11 attacks, Tillman selflessly turned down a three-year, $3.6 million contract offer from the Cardinals in the spring of 2002 in order to join the U.S. Army, along with his younger brother, Kevin. Tillman served in both Iraq and Afghanistan and was killed by friendly fire in the mountains of Afghanistan in April 2004, becoming the first pro football player to die in combat since Bills offensive lineman Bob Kalsu in the Vietnam War in July 1970. Tillman was just 27 at the time, and his legacy of putting country before his own interests has inspired many, a tale that is superbly told in all its many complications and uncomfortable realities in the book, "Where Men Win Glory,'' by author Jon Krakauer. If you've never given it a read, I can whole-heartedly recommend it. Here's Tillman pictured on his 2001 Upper Deck card.