Musings, observations and the occasional insight as we take stock of an eventful Week 13 that was chock full of confounding outcomes and plot twists…..
* Packers team president and CEO Mark Murphy said the other day he wasn't ready to give up on Green Bay's season, despite the team's putrid 4-6-1 record as December dawned.
But now he is. The Packers reached a new low Sunday, losing at home to Arizona Cardinals 20-17, despite being favored by 13.5 points against a team that featured the lowest-scoring offense in the league and had won just two games previously (both against the two-win 49ers). Murphy responded by immediately firing 13-year head coach Mike McCarthy, replacing him with offensive coordinator Joe Philbin on an interim basis.
And why not? The writing has been on the wall in Green Bay for a while now this season, and no one gave McCarthy much of a chance to turn things around for a Packers team that was suffering from serious dysfunction. Murphy might as well get a head start on his club's fresh start, and making the well-respected but clearly out-of-answers McCarthy hang around for another month of coaching-hot-seat coverage wasn't the way to go.
The Packers (4-7-1) are a team that does absolutely nothing well these days and from the looks of it has — excuse the pun — packed in it for the season. If McCarthy didn't think he was already toast before Sunday's debacle, he no doubt quickly came to grips with the inevitable upon reaching this new nadir. Even Aaron Rodgers has been powerless to stop the Packers' slide into mediocrity, and when a club as feeble as the Cardinals (3-9) underlines the problems in Green Bay, the status quo can not be maintained.
There was a point not all that long ago that a galling loss like Green Bay's to Arizona at Lambeau Field would have been inconceivable. But no longer. It's the sign of a team that has hit the wall, and an organization that is in desperate need of change and a coaching re-boot. Green Bay can definitely lose to anybody in the league right now, even at home where they were once invincible.
According to ESPN, it was the Packers' third-largest upset loss in the Super Bowl era, and the biggest since losing to Minnesota as 20-point favorites in 1967, the final year of the Vince Lombardi era. Those are the kind of stats that scream coaching change in today's NFL, and even McCarthy's Super Bowl win in 2010 and eight straight playoff trips from 2009-2016 could not insulate him from jeopardy in the win-now NFL.
The Packers were right to move on from McCarthy now, starting the process of what comes next in Green Bay a full month before Black Monday arrives. At the end there was no debate to be had. The on-field results, or lack thereof, made the case for change as clearly as anyone possibly could.
* It should be clear to everyone by now these aren't your typical Houston Texans, and maybe it's time we start taking Bill O'Brien's red-hot club as a serious threat to do some real damage in the AFC playoffs for a change. The Texans won their franchise-best ninth in a row Sunday, out-classing the visiting Cleveland Browns 29-13, and none of the four teams they have left to play in the regular season owns a winning record. Could Houston's 9-3 mark turn into a franchise-record 13-3 mark heading into the postseason? It feels possible.
The Texans will be favored at home next week against the Colts, and at the Jets in Week 15. Let's see where the Eagles are by the time Houston's Week 16 trip to Philadelphia rolls around, but then the Texans return home to play Jacksonville in Week 17. With the AFC South all but locked up (a three-game lead with four weeks remaining), Houston can rightfully set its sights higher, and take aim at trying to overtake either Kansas City or New England for one of the AFC's top two seeds and a first-round bye.
Houston doesn't overwhelm you. It just beats you. Sometimes soundly. The Browns have played well of late, but could do little against the Texans when the game was within reach. Houston won the turnover battle with a plus-four showing against Cleveland, and the ground game again produced, with Lamar Miller and Alfred Blue churning out a combined 187 yards on 39 carries. Deshaun Watson added 224 yards passing and a touchdown throw, and didn't give the ball away, helping Houston to a 23-0 lead that was more than enough against the Browns.
* So Sean McVay has already accomplished something that Dick Vermeil and Mike Martz never managed, even though those two successful Rams head coaches took the franchise to the playoffs five times in the six-year span of 1999-2004, including a pair of Super Bowl trips. The Rams on Sunday in Detroit clinched their second consecutive NFC West title, a feat they hadn't achieved since winning seven division crowns in a row from 1973-79.
The Rams looked a bit lethargic coming off their bye week, but they turned it on late to dispatch the Lions 30-16, improving to a league-best 11-1 in the process. Beating Detroit (4-8) delivered a playoff berth and the division, but the Rams can't relax whatsoever, with only a one game lead over New Orleans (10-2) in the battle for the NFC's top seed. I'm already looking forward to seeing the Rams' "A'' game next in Chicago, when one of the NFL's best offenses collides with one of its premier defenses.
With their eighth loss of the season, the Lions clinched a non-winning record this season, and that's significant because rookie coach Matt Patricia's first year on the job won't go down as a success. Detroit fired coach Jim Caldwell after last season, despite the Lions going 9-7 in back to back years. Patricia definitely didn't raise the bar in Motown in year one.
* There was not a more surprising outcome Sunday than the Colts' 6-0 loss at Jacksonville. Indianapolis had won five in a row and had looked almost unstoppable, while Jacksonville hadn't won since September, losing seven in a row as the wheels came came off for Doug Marrone's club.
Add in that the Jaguars played without suspended lead running back Leonard Fournette after last week's fight in Buffalo, started the unheralded Cody Kessler at quarterback for the benched Blake Bortles, and had to adapt to new offensive coordinator and play-caller Scott Milanovich after Nathaniel Hackett was fired last week.
But no matter. The Colts were dismal offensively and failed on three different fourth downs, including one near the Jaguars goal line in the first quarter that wound up proving to be pivotal. Indianapolis entered Week 13 averaging nearly 30 points per game, but finished with a paltry 265 yards, and allowed three sacks of Andrew Luck, a true rarity of late.
If the Colts wind up missing the playoffs by a game, this is the loss that will linger and sting well into the offseason. Indianapolis is now 6-6, and with Baltimore's win at Atlanta, the Ravens improved to 7-5 and tightened their grip on the AFC's No. 6 playoff seed. In addition, both Miami and Denver won on Sunday, climbing to 6-6 and giving the Colts even that much more competition for the only AFC playoff berth that realistically remains open.
Jacksonville's intimidating defense finally reappeared and that's why the Jaguars (4-8) remembered how to win again. Kessler only threw for 150 yards in his first start, and Jacksonville offense only totaled 211 yards, but two Josh Lambo field goals are all you need when your defense pitches a shutout.
* It seems over for the Panthers (6-6) this season. They're in utter free fall, losing 24-17 at Tampa Bay to drop their fourth in a row. Carolina's division record fell to 1-2 and its NFC mark is 4-5, both troubling indicators with four games left in this once-promising season. It sure seems like that 52-21 butt-kicking the Panthers took in Pittsburgh in Week 10 was the turning point, because ever since that galling loss, head coach Ron Rivera can't get the bleeding stopped. Their 6-2 record in early November already feels like eons ago.
Carolina's road woes continued against the Bucs, with the Panthers dropping to 1-5 away from home, the inverse of their 5-1 home mark. With road games still remaining at Cleveland next week, and in New Orleans in Week 17, it's getting harder all the time to envision Carolina being able to find a path to playoffs.
Though he claims to be playing his best ball ever, Cam Newton was a bit of a calamity against Tampa Bay, throwing four interceptions for the first time since his 2011 rookie season. The Bucs entered played with just three picks all season as a team, but safety Andrew Adams matched that total all by himself, intercepting Newton three times. The Bucs also added four sacks of Newton, who started the game with just seven interceptions in the season's first 11 games.
Is this the kind of ghastly second-half swoon that could cost Carolina head coach Ron Rivera his job? Maybe, but I don't think it's likely, given how richly new team owner David Tepper praised Rivera upon taking control of the organization earlier this year. Rivera looks in jeopardy of still not recording consecutive winning seasons in his Panthers tenure, but Carolina did reach the postseason in four of the past five years, and that's not to be overlooked.
Going a month without winning in the NFL creates pressures of all sorts, and now the Panthers have lost one of their most reliable receiving targets in tight end Greg Olsen, who said he ruptured the plantar fascia in his right foot against the Bucs, ending his season.
* Well, now, Tampa Bay has to be cautiously optimistic about what they're seeing from Jameis Winston the past two weeks. The Bucs have won two in a row, both at home, since Winston has been re-installed in the starting lineup, and he's suddenly taking care of the football. Turnovers have been Winston's undoing in the past, but he once again had no interceptions or fumbles, throwing for 249 yards and a pair of touchdowns against the Panthers.
The Bucs face three difficult tests the next three weeks — home against New Orleans, at Baltimore and at Dallas — so it's still too early to make any judgment as to whether Winston has secured his future in Tampa Bay beyond 2018. But he's giving the Bucs something to think about, and perhaps helping save coach Dirk Koetter's job in the process.
* The Ravens never win pretty, so don't even try to factor that sort of template into their current situation. With coach John Harbaugh's job on the line, all that matters in Baltimore (7-5) is the winning, and the Ravens did that again, going into Atlanta (4-8) and finding a way to get past the Falcons 26-16.
Which is why rookie Lamar Jackson is going to remain at quarterback for Harbaugh, no matter if veteran Joe Flacco's hip is healthy or not. You can count on that. Baltimore is 3-0 since Jackson took over as the team's starter, and Harbaugh's not about to turn away from the hot hand, even if Jackson's statistics aren't dazzling by conventional standards.
Jackson threw for only 125 yards and rushed for 75, and was briefly sidelined in favor of Robert Griffin III in order to go through the league's concussion protocol. But Baltimore churned out another 207 yards on the ground, and that's the ball-control formula that keeps working for the Ravens, who field the league's best defense and held Atlanta to a measly 131 yards of offense.
Defense, the running game, and Jackson's dual-threat skills are getting it done in Baltimore, and he's not going anywhere in the foreseeable future — other than to the playoffs.
* The Bears had a little bit of that Miracle in the Meadowlands vibe going late Sunday in East Rutherford, N.J., forcing overtime against the Giants with a remarkable 10-point comeback in the game's final 1:13 of regulation. But it still goes down as a missed opportunity for Chicago, because New York won 30-27 in the most entertaining game of the day.
The Bears-Giants had a little bit of everything in a wild, can't-look-away sense. Bears defensive lineman Akiem Hicks, at 332 pounds, went all Refrigerator Perry and scored on a 1-yard fourth-down touchdown plunge while playing fullback. Odell Beckham Jr. threw a touchdown pass for New York and caught one, too. And Chicago tied the game at 27-27 in the final dramatic seconds of regulation, after recovering an onside kick that Beckham didn't exactly sell out for, with running back throwing the overtime-forcing razzle-dazzle touchdown pass to receiver Anthony Miller.
Chicago (8-3) had its five-game winning streak snapped and it's apparent the Bears won't be able to beat the high-flying Rams (11-1) at home next week if they don't have starting quarterback Mitchell Trubisky healthy and back under center. Trubisky has missed the past two games with a shoulder injury suffered in the win over Minnesota, and Chicago needs him to return and send backup Chase Daniel back to the bench. Daniel won his first start at Detroit, but the more he plays, the more he reveals why he has been a career backup.
Daniel threw for 285 yards, but he tossed two interceptions, including a pick-6, and was sacked four times. He also fumble four times, but didn't lose any of them. Cohen was the clear-cut star for the Bears, catching 12 passes for 156 yards, rushing for 30 yards and throwing the touchdown pass to Miller to force overtime.
* The Giants have won three of four since their bye and continue to put forth strong efforts for first-year coach Pat Shurmur, in ways they never did last year under soon-to-be-ex-coach Ben McAdoo. Linebacker Alec Olgetree had the 8-yard pick-6 of Daniel early in the game and also intercepted a second pass. He has four interceptions on the season, returning two for touchdowns.
Some dismissed the Giants' recent wins at San Francisco and home against Tampa Bay as coming against inferior opponents, but the upset of the Bears was an impressive showing and dismisses any notion that New York will be tanking late this season in order to improve its draft standing.
* I don't think the Broncos are playoff-bound, but I'm still impressed with Denver's first three-game winning streak since 2015, their most recent Super Bowl season. The Broncos are back at .500 for the first time since they were 2-2 at the close of September, and Sunday's 24-10 win in Cincinnati at least means there will be meaningful December football played in Denver this year.
The loss of Pro Bowl cornerback Chris Harris Jr. to a reported fractured fibula is a huge blow suffered against the Bengals, but Denver is starting to put something together as a team and Vance Joseph is yet another coach who appears to be in the process of saving a job that once appeared to be all but lost.
At 6-6, the Broncos are a game behind Baltimore (7-5) in the race for the AFC's final wild-card slot, and the Ravens own the head-to-head tiebreaker over Denver by virtue of their Week 3 home win. But at least the Broncos are in the fight, along with fellow 6-6 clubs Miami and Indianapolis. Six wins is progress for Denver, which finished 5-11 and in last place of the AFC West a year ago, in Joseph's first season.
Broncos undrafted rookie running back Phillip Lindsay is the real deal, running for a career-best 157 yards and two scores against the outmanned Bengals, including a 65-yard scoring jaunt. He's got a burst that works very well once he gets any daylight, and he just ran away from the Bengals defenders on his long touchdown run.
* Cincinnati's lost season continued its downward spiral, with leading receiver A.J. Green leaving the field on a cart after injuring his foot in the second quarter. With quarterback Andy Dalton already lost to torn ligaments in his hand, and lightly experienced Jeff Driskel in the lineup, the offseason can't come soon enough for the Bengals (5-7). Will Cincinnati owner Mike Brown once again ignore the obvious need for change and keep coach Marvin Lewis around for a 17th season?
* Turns out there was more reason to watch the Bills at Dolphins game Sunday than the sweet Throwback uniforms both teams wore (the Bills in their classic standing buffalo helmets and Miami with the old shade of aqua and that retro Flipper jumps logo). The Dolphins scratched their way back to .500 at 6-6 with the 21-17 escape job against visiting Buffalo, but once again Bills rookie quarterback Josh Allen had an interesting day.
Allen passed for 231 yards and ran for a team-record 135 yards (breaking his 99-yard mark of last week), and nearly led the Bills to a late-game go-ahead touchdown. But his fourth-down bomb to tight end Charles Clay was short and low, and Clay didn't come up with it, sealing Buffalo's eighth loss in 12 games.
Miami somehow won despite being dominated in terms of yardage, 415 to 175. Allen earned praise from Dolphins defenders for his resourcefulness and ability to keep plays alive with his legs and his arm. The more experience Buffalo can get him in the season's final month, the better off the Bills will be in 2019. Allen is raw, but he's an intriguing talent who could carry a team on his back perhaps a lot sooner than we all expect.
* That's 6-0 at home for the Patriots this season and one big step closer to earning a first-round playoff bye for a record ninth consecutive year. Those are the biggest points to focus on in the wake of New England's 24-10 defeat of Minnesota at Gillette Stadium, a win that didn't feel too comfortable but wound up featuring a two-touchdown margin.
Holding serve in December is a huge part of setting a team up for success in January, and nobody knows that or does it better than the Patriots. When Houston won at home against Cleveland on Sunday, the Texans put the pressure on New England to match their victory, otherwise the Patriots would have slipped to the No. 3 seed in the AFC.
But New England answered, and now at 9-3 is assured of its 18th consecutive winning season, trailing only the 1966-85 Cowboys, who logged 20 in a row. Winning seasons, however, aren't what it's about in Foxboro. The Patriots have been so-so on the road this season, but they still know how to take care of business at home. Especially late in the season. Thanks to New England's latest win, home remains likely where they'll be for most of January.
The Vikings were dealing with some injuries and their loss wasn't a surprise, but with the Bears, Panthers and Saints all losing in Week 13, Minnesota could have capitalized in the NFC postseason races. Instead it slipped to the No. 7 seed for the time being, at 6-5-1. If Washington loses at Philadelphia Monday night, Minnesota would be back in the No. 6 slot. But with a Monday night game at surging Seattle in Week 14, the Vikings don't have too much more ground to give before they lose control of their playoff-race fate.
* I'm not really worried about the Chiefs offense suffering mightily without lead running back Kareem Hunt, who was summarily released Friday night by the team after a video surfaced of him being violent with a woman in a Cleveland hotel last February. Kansas City has an abundance of offensive playmakers, and they were on full display in the Chiefs' 40-33 road conquest of Oakland.
But about that Kansas City defense. Giving up 33 points and 442 yards to the Raiders, who entered Week 13 as the second-lowest scoring offense in the AFC, does not inspire confidence. Oakland (2-10) recorded 28 first downs and was a sterling 9 of 12 on third downs against the porous Chiefs defense.
The loss of Hunt is something the Chiefs (10-2) can absorb, while continuing to thrive. But if there's a downfall coming to this special season in Kansas City, it still feels like the weakness of the defense will be the culprit and cause.
* The Titans are still alive in the AFC wild-card race, but just barely. Rallying from a 16-point deficit at home against the Jets, Tennessee prevailed 26-22, on a Marcus Mariota to Corey Davis 11-yard touchdown pass with 36 seconds remaining. But why is it so hard for the Titans (6-6) to beat a bad team like the Jets (3-9), playing with its backup quarterback in Josh McCown, when we know Tennessee is capable of playing at the level it did when it embarrassed New England three weeks ago?
Mariota's up and down play seems to mirror his team's maddening inconsistency, and the only reason the Titans were even in position to rally against New York is that the Jets offense sputtered and settled for five Jason Myers field goals. For now, Tennessee remains on the fringes of the AFC wild-card race, but Baltimore, Indianapolis and maybe even Denver seem to be playing better ball than the Titans these days.
* The Seahawks blew out the feeble 49ers 43-16 and now hold the NFC's No. 5 playoff seed, at least pending the outcome of the Washington (6-5) at Philadelphia (5-6) game Monday night. Seattle is gaining confidence by the week and if the Seahawks' first-round playoff fate was a trip to No. 4 Dallas, Pete Carroll's club wouldn't blink. With the ground game rolling, the defense improving and Russell Wilson in peak form (four touchdown passes against San Francisco), Seattle (7-5) is playing its best football at the perfect time of the year.
Though the Rams have the NFC West locked up, Seattle will look to further its march to the playoffs for the first time since 2016 next week at home against Minnesota on Monday night. The Seahawks gave the Rams two very tough games this year and aren't going to be one of those happy-to-be-there wild-card qualifiers. Seattle will be a tough out in January.
* The headline story in the NFC this season largely has been about the powerful offenses both New Orleans and Los Angeles have put on display every week, but that Dallas defense commanded our attention in the Cowboys' 13-10 upset of visiting New Orleans Thursday night. What an impressive showing by the athletic and aggressive Dallas defenders, who didn't crack even when it looked like the high-octane Saints were finally about to turn the game their way in the second half.
The Cowboys offense did the bare minimum to win, but it was the likes of linebackers Leighton Vander Esch and Jaylon Smith (a combined 19 tackles) who led the way to victory for Dallas, helping limit New Orleans to just 176 yards of offense, it's lowest total since Week 17 of 2001. The Cowboys consistently pressured Drew Brees from the middle of their defensive line and were in his face all game long, making the NFL's probable 2018 MVP look positively mortal. The Saints totaled just 14 first downs and never once got comfortable against Dallas.
The Cowboys at 7-5 have control of the NFC East but still face tough games at home against Philadelphia and at Indianapolis in the coming two weeks. But with a four-game winning streak that is the second longest active run in the NFC, behind only Chicago's five-gamer, Dallas and its embattled coach, Jason Garrett, have dramatically flipped the script on a season that is under-achieving no more.
* Now it's time to see how the Saints respond to their first dose of adversity in almost three months. New Orleans defense more than did its part, sacking Dak Prescott seven times and holding Dallas to a mere 13 points Thursday night. But the Saints' vaunted offense disappeared and never remotely matched the Cowboys defensive intensity, and that should drive Brees and coach Sean Payton back to the drawing board in an effort to recapture their momentum as December arrives.
New Orleans (10-2) still can get where it wants to go as long as it earns one of the NFC's top two seeds and receives a first-round bye, but the notion of making everyone in the conference go through the Superdome in January was a pretty scary proposition, and that is no longer the reality of the situation for the No. 2-seeded Saints. And New Orleans still has plenty of work to do this month to set up its playoff run. The Saints play at Tampa Bay in Week 14 — the Bucs did beat them in New Orleans in Week 1 — and then still face a road game against Carolina on Monday night in Week 15, a home date against the Steelers in Week 16, and another home game with the Panthers in Week 17. At 8-4, the No. 3 Bears could conceivably still put pressure New Orleans if the Saints don't rebound quickly from the defeat in Dallas.
Ridiculously Cool Football Card of the Week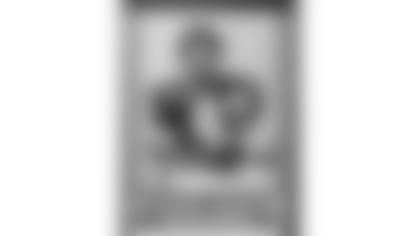 I know last week I rhetorically asked if there's ever been a better football name than Dick Butkus, but in a category all his own is former Browns receiver Fair Hooker, who is shown here on his 1974 Topps card looking as if he might be in a foul mood. Hooker played his entire six-year NFL career in Cleveland, after being drafted out of Arizona State in the fifth round in 1969.
But his main claim to fame is that Hooker inspired one of the classic lines that Monday Night Football color analyst Don Meredith is best remembered for, even if there does seem to be some dispute about whether or not he actually ever said it. In the debut telecast of MNF, in September 1970, Meredith watched Hooker make a catch against the visiting Jets and then asked his two ABC colleagues in the booth: "Isn't Fair Hooker a great name?''
Most accounts have Howard Cosell and Keith Jackson staying largely silent and letting the question go unanswered, at which point Meredith added: "Fair Hooker — I haven't met one yet.'' The quip even made it into his New York Times obituary when Meredith died in December 2010 at age 72.
But a copy of that historic telecast at some point found its way to YouTube and Meredith apparently didn't follow up his observation about Hooker's name with the "I haven't met one yet'' zinger. If he said it, it somehow didn't make the copy that exists today, or perhaps it was an apocryphal aside to begin with. Either way, it's a Hall of Fame line and Meredith has been credited with it for decades now. And let's be real, when it comes to the memorably named Fair Hooker, someone needed to say it.