Musings, observations and the occasional insight as we try to sort out and make sense of a drama-filled Week 16 in the NFL…..
* There was pressure everywhere you looked in Week 16, and for the most part the teams that had to win to keep their playoff hopes alive and thriving, did so. It wasn't always easy, or remotely pretty in some cases, but Tennessee, Baltimore, Dallas, New England and Minnesota all logged under-the-gun victories in the season's penultimate week, as did the "don't-forget-about-us'' defending Super Bowl champion Eagles.
Philadelphia (8-7) ensured it can keep wearing that honorific with meaningful pride for at least another week, after gutting out a 32-30 comeback win over Houston that wasn't settled until kicker Jake Elliott converted a 35-yard field goal as the game ended. With Dallas (9-6) winning at home against the Bucs to clinch the NFC East, and Minnesota (8-6-1) notching a road victory at Detroit to stay in the lead for the NFC's No. 6 playoff seed, there was no wiggle room for Doug Pederson's resilient team.
The Eagles had to win, and they at least now have something to play for in Week 17 at Washington, even though their playoff chances reportedly shrunk from 32 percent to 28 percent in victory, thanks to the Dallas and Minnesota wins. As has been their whole season, Sunday was a rollercoaster ride for the Eagles and their fans. They started well, then sputtered, then surged and then found a way to lose a 29-16 fourth-quarter lead, with Houston going up 30-29 with 2:04 remaining.
But their backs to the wall suits this Eagles club, and super-sub quarterback Nick Foles was in full St. Nick mode, rescuing Philadelphia's season once more with an 11-play, 72-yard drive to set up Elliott's game winner. In what could be his final home game at Lincoln Financial Field, Foles was fantastic in the clutch again, throwing for a franchise-record 471 yards and four touchdowns with only one interception, completing 35 of a whopping 49 passes in the process.
The Eagles' late playoff drive needs help and may well come up short, but at least the intrigue will last the entire regular season, thanks to Sunday's heroics. Philadelphia needs a win at Washington and a Vikings loss (or tie) at home to the Bears next week, and the worst part is No. 3 seeded Chicago may opt to rest some starters, given that the Bears can't move up to the No. 2 seed and earn a first-round bye unless the Rams lose at home to the 3-12 Cardinals, an unlikely scenario. A more far-fetched clinching scenario would entail an Eagles win and two losses by Seattle, currently the NFC's No. 5 seed.
Last year at this point, the Eagles and Vikings were both headed for 13-win seasons, the NFC's top two seeds and eventually a showdown in the NFC title game, won in a rout by Philadelphia, 38-7. But not this time around. The road back to that lofty vantage point has been far rockier for both the Eagles and Vikings, who in 2018 are merely a pair of eight-win teams vying to knock the other one out of the playoffs and claim a wild-card spot. In all likelihood, one of them will succeed next week and one of them will fail. But in Week 16, they both met the pressure of the moment and won the game they had to win, guaranteeing them another week left in the fight.
* The other team that showed the most nerve on Sunday was the Colts, who looked to be sleep-walking through huge portions of their game against the visiting and nothing-to-play-for Giants. New York built an early 14-point lead, and Indianapolis played with little or no urgency until the fourth quarter.
Then Andrew Luck — everybody's Comeback Player of the Year winner — took charge, erasing New York's lead and willing the Colts to an absolutely essential 28-27 victory over the Giants. The game-winner was a one-yard touchdown pass to receiver Chester Rodgers with 55 seconds remaining, and it was first time all day Indianapolis led.
Five days shy of the 60th anniversary of the "Greatest Game Ever Played'' — the famed Colts-Giants overtime duel in the 1958 NFL championship game — it wasn't exactly a repeat of that epic affair, but the same team did win and it was plenty dramatic. You could say Luck did a decent Johnny Unitas impersonation, throwing for 357 yards and two touchdowns on 31 of 47 passing.
And now we get the winner-take-all Week 17 Colts (9-6) at Titans (9-6) showdown that has been building for weeks. Luck is a ridiculous 12-0 in his career against the Titans, who may have to play without their starting quarterback, Marcus Mariota, who suffered a shoulder stinger late in the first half of Tennessee's win at home against Washington on Saturday.
* The Patriots as a team this year are a lot like Julian Edelman on that 32-yard touchdown catch and run in the third quarter against Buffalo: They looked down, but they kept going and something good came out of all the angst created by those back-to-back losses at Miami and Pittsburgh. There's something to be said for keeping your legs moving at all times.
Nobody's trying to intimate there's nothing to worry about in Foxboro, not with Tom Brady throwing for a modest 126 yards in the 24-12 win over visiting Buffalo. But looking up at the end of the day to see New England (10-5) clinch its record 10th consecutive AFC East title, and again be in position to earn a first-round bye as the AFC's No. 2 seed should ease some of the concern generated in the last several weeks.
The Patriots had such good karma in Week 16 that they even got a huge boost of help from Super Bowl nemesis Nick Foles, whose comeback magic this time helped New England, with the Eagles rallying past Houston 32-30 to leap-frog the Texans in the AFC playoff bracket. All that stands in the way of the Patriots receiving a record ninth straight first-round bye is a home win against the last-place Jets (4-11) in Week 17.
With no Josh Gordon to assist the passing game, the Patriots stole a page out of the Ravens and Seahawks playbooks and went to an old-school running game with great results. New England gained 273 rushing yards, its highest total ever in a game Brady started, averaging 5.8 yards per attempt on its 47 carries.
The Patriots clearly aren't peaking as the postseason approaches, but no team does a better job of re-inventing itself from week to week, and not having to play in the first round of the playoffs could wind up being huge for New England's fortunes in January. They may not be the Patriots we're used to, or a vintage version of themselves, but there's still probably no one in the AFC playoff field who will be eager to see them still standing come next month.
* For a franchise that has never won more than one playoff game in any year, earned a first-round bye or escaped the AFC divisional round, Houston letting the No. 2 seed slip from its grasp with Sunday's loss in Philadelphia could be of massive consequence to it season.
Houston second-year quarterback Deshuan Watson certainly did all he could to make sure the Texans stayed in line to take the first round off, but even his spectacular play wasn't enough in the excruciating 32-30 loss. Bill O'Brien's team is never out of a game when Watson has the ball in his hands, and the young passer rallied his teammates from a 13-point deficit to a one-point lead with about two minutes remaining.
But then the Texans' vaunted defense turned a bit soft, and made some key mistakes that helped offset Watson's 339 yards passing, with two touchdowns through the air and another two on the ground. Houston's injury situation is another cause for worry, with veteran receiver Demaryius Thomas going down with an Achilles injury Sunday. After their league-best nine-game winning streak vaulted them to the ranks of Super Bowl contenders in the AFC, the Texans have dropped a pair of close games to the Colts and Eagles in the past three weeks, and now must regroup with the AFC South remaining un-clinched and a home game with Jacksonville remaining in Week 17.
* The Steelers started their ever-so-streaky season back in September with that unsightly tie at Cleveland, and now ironically it's the Browns who they need to come through for them, with an upset win at Baltimore next week. Pittsburgh, one of the most talented teams in the AFC, will miss the playoffs for the first time since 2013 if it doesn't beat Cincinnati at home and get the necessary Cleveland victory against the Ravens.
That's the upshot of the Steelers' 31-28 loss at New Orleans on Sunday, combined with Baltimore's upset win at the Chargers Saturday night. The Steelers are now on the precipice and need help from a division rival they have long beat up on and owned. True, these are not the same old Browns. But the Steelers (8-6-1) should have never put themselves in this position to begin with.
They're in this precarious position because they didn't take care of business in winnable games like Week 1 in Cleveland, Week 12 in Denver and Week 14 in Oakland. Those two losses and the tie will possibly define their underachievement this season, and leave Steelers fans pondering what-might-have-beens if they had made the playoffs.
* The Saints (12-3) have no such regrets or reflections to work through. New Orleans clinched the NFC's top seed with the victory and now doesn't have to play outside the rest of the season, and only has to leave home in order to make the short jaunt to Atlanta for the neutral site Super Bowl LIII. Who can possibly beat these Saints in the Superdome? The Steelers played with boldness, creativity and the required sense of urgency and still came up just short against New Orleans.
And remember, the Saints in the Sean Payton coaching era are 5-0 at home in the playoffs, using the dome to its full advantage. Lately, of course, earning the No. 1 seed has been like punching a ticket to the Super Bowl. Nine of the 10 teams in the last five Super Bowls were top-seeded, and 12 of 18 dating to the 2009 season, when New Orleans won its only NFL title. Being No. 1 has had its obvious advantages in the postseason of late.
* You know we've come a long way in this 2018 NFL season when the Cleveland Browns can start playing the bullies. The team that went winless last season and won once in two years is now pushing people around and taking delight in doing so. The Browns beat up on the Bengals again, even though the 26-18 final score makes it sound competitive, and the snapshot we take from this game is the long and meaningful stare that Cleveland rookie quarterback Baker Mayfield gave his former head coach, Hue Jackson, while jogging up the Cincinnati sideline.
Cleveland, after starting the season 2-5-1 under Jackson, is 7-7-1 and the Browns are feeling it. They can shoot for their first winning season since 2007 next week at Baltimore, and even if the Browns don't pull that off, it's still been joyride of a second half in Cleveland, with five wins in the past six games and a growing supply of swagger.
The looming question, of course, is what the Browns do with their coaching search? Given the team's current mojo, you'd have to give the tandem of interim coach Gregg Williams and offensive coordinator Freddie Kitchens some serious consideration, right? It'd be unforgivable, after all the coaching hires the Browns have blown through in the past two decades, for Cleveland to let Williams and Kitchens escape if there's any chance that for once the status quo is the best route to take. Even if it meant keeping just Kitchens around for Mayfield's development, that might be the smart move.
As for Cincinnati (6-9), the Bengals face a coaching question themselves. Owner Mike Brown loves the status quo so much he brought Marvin Lewis back this season in the face of no evidence that he should have. Will he do it again, after the Bengals started 4-1, but have since lost eight of 10 games? And what about poor Hue Jackson, who just lost one more game in Cleveland for old time's sake? Will he be back, given that Cincinnati is 1-5 since he joined Lewis's staff?
* The Cowboys got hot and won six out of seven in the second half to claim an undeniably weak NFC East this year. But they deserve credit for digging themselves out of a 3-5 midseason hole, the largest and latest deficit record-wise the franchise has ever overcome to make the playoffs. Their 27-20 conquest of visiting Tampa Bay Sunday got the job done, but it wasn't very confidence inspiring. Coming off last week's shutout loss at Indianapolis, Dallas gained just 232 yards and scored only two offensive touchdowns, and one of those came on a 4-yard march set up by defensive takeaway.
But the playoffs are the thing for these Cowboys (9-6), and everyone knows coach Jason Garrett has to add to his one career playoff victory or his job could still be in jeopardy. Dallas has won three of the past five NFC East titles, but it has squandered its playoff opportunities in recent years, and hasn't gotten past the divisional round since winning its most recent Super Bowl after the 1995 season.
Here's one piece of good news for Garrett and Dallas fans: Famed Cowboys killer Aaron Rodgers and his Packers didn't make the playoffs this season. That's almost like automatically advancing to the next round if you're Dallas. Then again, Seattle's Russell Wilson would be the opposing quarterback in the likely Seahawks-Cowboys first-round playoff matchup, and not only is he a dangerous foe, he played collegiately at Wisconsin. So there's that.
* Figures a guy named Rudolph would lead the way for the Vikings two days before Christmas. (Sorry. Had to do it). As bad as things looked for Minnesota when it trailed 9-0 in the first half at Detroit, you knew the Vikings were going to win once tight end Kyle Rudolph rather easily came down with a 44-yard Hail Mary pass from Kirk Cousins, putting them up 14-9 on the final play of the first half. The Lions (5-10) were literally caught flat-footed on the play, and that's not a good development for rookie Detroit coach Matt Patricia, he of the defensive acumen in his background.
Minnesota's 27-9 victory sets up next week win-and-you're-in home game against the NFC North champion Chicago Bears, who may not have all their starters in the lineup (at least for long) if they don't like their chances of improving their seed by winning. The Vikings (8-6-1) can also qualify as the No. 6 seed even with a loss to Chicago, but it would take Philadelphia losing at Washington.
I could be wrong about Mike Zimmer's club, but I don't see it making much noise in January if it does reach the playoffs. Too inconsistent, from week to week and even during the parameters of a single game. Maybe the Vikings could go into Dallas and give the NFC East champion Cowboys a four-quarter battle, but I wouldn't like their chances against any other NFC playoff qualifier. I don't see Minnesota winning in Chicago or New Orleans, and I'd still take the previously struggling Rams at home against the Vikings.
* The Dolphins remained an enigma until the very end this season, being eliminated from playoff contention by virtue of their 17-7 loss at home to Jacksonville. The same Miami (7-8) team that beat New England at home two weeks ago falls to the mostly life-less Jaguars, who have been playing out the string since early November. Go figure.
What do you do if you're Dolphins owner Stephen Ross? I'd probably be inclined to keep coach Adam Gase around for a fourth season, unless I had a definite slam-dunk successful candidate lined up and ready to hire. As for quarterback Ryan Tannehill, Miami has to have other options than him going into 2019, if he even returns at all. His inconsistent story is not going to suddenly change at this point.
As for the Jaguars, there was a report from NFL media that they plan on retaining coach Doug Marrone in 2019, which frankly surprises me. At 5-10, they have been perhaps the league's biggest disappointment this season, and Marrone seemed to struggle to control his team, with its penchant for undisciplined play. At quarterback, Blake Bortles and Cody Kessler both played against Miami, but change seems imminent and necessary at that vital position.
* On another coaching front, an NFL media report said Carolina head coach Ron Rivera will be back in 2019, and that's the call I expected new Panthers owner David Tepper to make. Rivera is a respected and well-liked coach and Tepper lavishly praised him when he took control of the franchise earlier this year.
Even Carolina's ghastly and season-ruining seven-game losing streak, which includes Atlanta's 24-10 win in Charlotte on Sunday, shouldn't be enough to change Tepper's mind that quickly. Rivera deserves to be retained and given the shot to return the Panthers to the playoffs for a fifth time since being hired in 2011. With a young star like running back Christian McCaffrey to build around, Carolina is not facing a major rebuild. McCaffrey against Atlanta broke Matt Forte's league record for most receptions by a running back in one season (102), and Steve Smith's single-season catch team mark of 103.
* It's a good thing Aaron Rodgers decided he wanted to keep playing this week. If only the Jets defense had made a similar decision when New York led Green Bay 35-20 in the second half. The Packers finally won their first road game of the season, and they waited as long as possible before pulling out a 44-38 overtime win in the Meadowlands, perhaps summarizing the Jets' lost season and a Todd Bowles coaching tenure that will mercifully end soon.
Green Bay already has a coaching vacancy and New York will too after its Week 17 finale at New England. Their game Sunday didn't mean much in the standings, but Rodgers and Jets rookie quarterback Sam Darnold put on an entertaining show. Rodgers threw for 442 yards and a pair of scores, and Darnold did his part with 341 yards and three touchdowns, but New York's defense wasted his strong effort.
* Under the heading of the last shall be first, Ravens rookie quarterback Lamar Jackson was the final pick of the 2018 draft's first round, and the last of the five quarterbacks taken in the opening round. And now it looks like he'll be the only rookie passer to make the playoffs, a significant milestone the top 10 foursome of Cleveland's Baker Mayfield (picked No. 1), the Jets' Sam Darnold (No. 3), Buffalo's Josh Allen (No. 7) and Arizona's Josh Rosen (No. 10) weren't able to accomplish in year one.
Baltimore traded back into the bottom of the first round to select Jackson and the Ravens (9-6) now look very shrewd for making that move, winning five of their six games since the rookie entered the lineup in place of the injured and struggling Joe Flacco. Baltimore's 22-10 upset of the Chargers in Carson Saturday night puts it on the cusp of returning to the playoffs for the first time since 2014, and was the kind of statement win the Ravens narrowly missed making two weeks ago, when they lost in overtime at Kansas City. Jackson's career-best 204 yards passing shows that part of his game continues to improve, making the Ravens offense even more dangerous.
Ravens safety Eric Weddle is right. Baltimore, with its rugged running game and No. 1 ranked defense, isn't a team anyone wants to see in the AFC playoffs. And guess what? It could be the Chargers' fate to run into the Ravens again, in the first round of the postseason. If Los Angeles is the No. 5 seed, as is all but assured, and the Ravens win the AFC North as the No. 4 seed, the two will meet in Baltimore this time, on Jan. 5 or 6.
* No matter how you interpret the curiously-timed statement the Ravens put out early Friday evening, it means Baltimore coach John Harbaugh won't be fired at season's end and immediately become the most sought-after candidate on the market. And credit the Ravens for figuring out they weren't going to upgrade at the coaching position if they let Harbaugh go, even though the urge to make a change for the sake of change had been building in Baltimore this season.
Harbaugh has actually done some of his best work in his 11th year on the job with the Ravens, re-making the offense at midseason to better suit Jackson's skill set, and weathering a streak in which Baltimore lost four out of five to fall to 4-5 in early November. Ravens players still respect and relish Harbaugh's leadership and they've responded to reports of his job being in jeopardy the best way possible: by winning. Baltimore won't be searching for a new coach next month, because it wisely realized it already had the right guy for the job, and he's getting results.
* I've said and written it before and I'll repeat myself: Philip Rivers is a great quarterback, and he's had a remarkable renaissance season. But in a marquee matchup game that would have really elevated these Chargers to the level of something special, he and his team came up ridiculously small in their home loss to Baltimore.
The Ravens' superb defense obviously had a ton to do with how bad the Chargers offense looked, but this is the NFL, and great quarterbacks are supposed to be the difference-makers in big games. Legitimate question: How many truly big games has Rivers won in 15 NFL seasons? Not that many, I contend. He has struggled at times when the stakes are the highest, and I'm not forgetting the Chargers just won in Pittsburgh and Kansas City earlier this month, in games that he rallied them from double-digit second-half deficits to victory.
But because of those significant road wins, Saturday night's game was monstrously meaningful for the Chargers. And with everything in their favor, playing at home, with plenty of rest, against an opponent making a long trip on a short week, the Chargers posted their worst offensive showing of the season in a game they had to have to put their best possible foot forward in the playoffs. With a Los Angeles win, all the pressure would have been on Kansas City, and the Chargers (11-4) could have been looking at potentially winning the AFC West and perhaps even earning the No. 1 seed and home-field advantage.
Now they're almost certainly the No. 5 seed, meaning it'll probably take winning three road games to get to the Super Bowl. Granted, Los Angeles has been great on the road this season, but the Bolts left a lot on the table with that ill-timed loss to the Ravens, and Rivers was very much in the middle of the missed opportunity. He threw for just 181 yards, with two interceptions, no touchdowns, a 51.7 passer rating and only 4.89 yards per attempt.
Rivers took four sacks, was hit twice that many times, and saw his streak of 27 games in a row with a touchdown pass end. The Chargers offense produced a mere 198 yards despite having running back Melvin Gordon and receiver Keenan Allen in the lineup, and the game was clinched on a crushing fumble by veteran tight end Antonio Gates, which turned into a 62-yard return touchdown by Ravens cornerback Tavon Young.
The Chargers and Rivers are still going to the playoffs, and maybe there's more magic to come from them this season. But they could have been in the driver's seat in the AFC with a win, and they took their foot off the gas when it mattered most. It's far from the first time we've seen that from the Chargers or their accomplished quarterback over the years.
* Titans backup quarterback Blaine Gabbert did a very credible job of keeping Tennessee's season alive with its 25-16 win over visiting Washington on Saturday. But whatever chance Mike Vrabel's club has of beating the Colts next week and making the playoffs heavily depends on starter Marcus Mariota being healthy enough to return from the shoulder stinger he suffered late in the first half against Washington. Gabbert versus Andrew Luck is a sizable quarterback mismatch and the Titans would probably respond to it by giving lead running back Derrick Henry about 40 carries in an effort to stay in the game.
Mariota's injury problems continue, and this was the seventh time in his four-season career that he was forced to leave a game he started — and the first Titans win in that situation. Gabbert got away with throwing for 101 yards in a little more than a half against Washington, but he won't beat Indianapolis with modest production. A second consecutive wild-card playoff berth is there for the taking for Tennessee in what amounts to a win-and-you're-in showdown with the Colts, but it's hard to see it happening if Mariota is missing once again.
Ridiculously Cool Football Card of the Week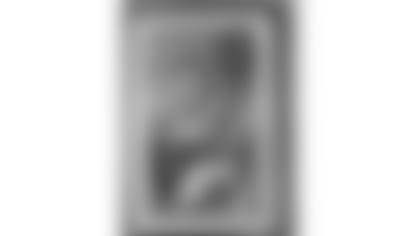 HBO has a new documentary coming out in February 2019 that I can't wait to see: "The Many Lives of Nick Buoniconti.'' The former Boston Patriots and Miami Dolphins great is 77 now and in declining health, with limited mobility and severe neurological problems that HBO's press release says "include warning signs of CTE.''
His unique story will be told and touch upon all his many different accomplishments: As a Hall of Fame-bound middle linebacker in the AFL and NFL, his noted work as a lawyer, sports agent, broadcaster, executive and philanthropist in the fight against his son's paralysis, and finally his own physical battle, which has inspired him to establish a research fund and opt to donate his brain for scientific study upon his death.
The Springfield, Mass. native and former Notre Dame star has lived a full and interesting life, and his stellar play for the Don Shula-era Dolphins in the early '70s are among some of my earliest and fondest NFL memories. Here's Buoniconti in his play-making prime, on his 1971 Kellogg's 3-D card, wearing the No. 85 he made famous in both Boston and Miami.