Musings, observations and the occasional insight as we digest an eventful Week 5 in the NFL….
* When the undefeated Kansas City Chiefs march into Gillette Stadium to take on the Patriots next Sunday night in the NFL's latest game of the year, they'll wear the label of being the best overall team in the AFC.
At 5-0, the Chiefs have certainly earned that distinction, for what it's worth in early October. On Sunday at rainy Arrowhead Stadium, Kansas City easily throttled Jacksonville 30-14, dominating a Jaguars team that entered 3-1 and had dominated New England just three weeks ago in their AFC title game rematch.
Next week's glamor matchup will be a good measuring stick game for both the Chiefs and Patriots, who last met in Week 1 last season, when visiting Kansas City ruined New England's Super Bowl-banner hanging party with a 41-27 upper cut to the solar plexus.
But before we get to next week's showdown, Kansas City against Jacksonville showed itself to be more versatile than we had all presumed. This time it wasn't the Chiefs' top-scoring and top-ranked Patrick Mahomes-paced offense that led the way to victory, it was their much-maligned defense. Who'd a thunk it?
Entering Sunday, the Chiefs defense ranked 25th in points allowed (28.8 per game) and dead last in yardage surrendered (451.8 per game). The conventional wisdom had already formed that Kansas City would only go as far as Mahomes could take it, and the defense was a liability that had to be accounted for and worked around.
The Jaguars would beg to differ. Kansas City intercepted Jacksonville quarterback Blake Bortles four times, forced him to fumble, and sacked him four times. For Bortles, it was a flashback performance to the bad old days, when his name was an NFL punchline and his penchant for costly turnovers defined him. Three of his turnovers came in the first half, including a pick-6 by defensive lineman Chris Jones, who grabbed a poor screen pass attempt and rumbled 20 yards for a touchdown to help Kansas City build a 20-0 at the break.
Though the Chiefs had the disturbing development of having both Jones and linebacker Dee Ford later ejected from the game for unsportsmanlike conduct, it can only help their confidence to discover they can win a game with their defense, on a day when Mahomes was a mortal 22 of 38 for 313 yards, with no touchdowns and his first two interceptions of the season. The Jaguars' elite defense had a lot to do with Kansas City's so-so offensive showing, but when you can have that kind of day and still score 30 points and beat a team that went to last season's final four, both sides of the ball deserve respect.
We have seen the Chiefs start fast so many times before, but fail to follow it up with playoff success. Last year's 5-0 start comes to mind, with Kansas City finishing 10-6 and going one-and-done in the postseason. It was the same story in 2013, coach Andy Reid's first year on the job in K.C. The Chiefs got off to a 9-0 start, then cooled off dramatically to go 11-5 and one and done in the playoffs. So you can't jump to conclusions when it comes to Kansas City's ability to go the distance.
But if the Chiefs can win with both offense and defense this season? At least some of the time? That's a combination that could take them places they haven't been in a very, very long time. We saw it in Week 5 for the first time, and Kansas City's latest winning formula will get another test next week in Foxboro.
* If you declared the Dolphins first-place frauds after last week's blowout 38-7 loss to the Patriots, that call got utterly confirmed Sunday when the Dolphins threw away a 17-0 second-half lead to lose 27-17 at Cincinnati. And back to earth comes Adam Gase's team, which was gunning for the franchise's first 4-1 start since 2003 — the last full season of the Dave Wannstedt coaching era.
The Dolphins both blocked a Bengals field goal and returned a punt for a touchdown (70 yards by Jakeem Grant), two special teams staples that usually portend victory. But not when two Ryan Tannehill turnovers get returned for touchdowns they don't, with Cincinnati scoring on both a pick-6 and a fumble return for a touchdown in the fourth quarter. That means Miami's offense produced more points for the Bengals (14) than they did for itself (seven), and that's a proven recipe for defeat. Tannehill had three turnovers overall in the final quarter and that's not good news with the turnover-happy Bears defense headed to South Florida next week.
So Miami falls back to 3-2 with its second consecutive ugly loss, and is now officially in second place in the AFC East, with New England (3-2) holding the tiebreaking advantage for the time being by virtue of last week's head-to-head win. It took five weeks, but the status quo has re-asserted itself in the NFL's most predictable division. To no one's great surprise.
* Break up the Browns. All they do is win (or at least not lose) at home, improving to 2-0-1 in the stadium previously known as The Factory of Sadness with that 12-9 overtime defeat of Baltimore.
Cleveland keeps both teams in the game at all times, and never makes things easy on itself. But you can see these Browns making progress, and it's far from implausible to claim they could be 5-0 this season with capable kicking and better officiating.
In beating the Ravens (3-2), the Browns won their first game in the AFC North since Oct. 11, 2015 — almost exactly three years ago. Cleveland had an 18-game winless streak in the division, and hadn't won a Sunday game since Week 15 of 2015, so those are all good trends to be done with.
With Baker Mayfield at quarterback (25 of 43 for 342 yards, with one touchdown and one interception) and the play-making Denzel Ward in the secondary (an interception and a blocked field goal), the Browns finally have some play-makers who show up every week. Cleveland's games are all a heart attack waiting to happen (three overtimes so far) but they're pretty entertaining, and the Browns are relevant again at .500 through the season's first five weeks.
Baltimore played some uninspired offensive football all game long, and has now lost at Cincinnati and Cleveland, while winning at Pittsburgh, finishing their three division road games by Week 5. That's not the expected scenario, but everything about the AFC North seems a little different this year.
The Ravens have long owned the Browns, this time it was Baltimore who made the key mistake and cost itself the game. Receiver Michael Crabtree dropped a touchdown late in regulation, and now the entire AFC North is separated by just 1 1/2 games from top (4-1 Bengals) to bottom (Browns and Steelers at 2-2-1).
* Remember when the Bengals were the team that didn't know how to close out games? They've re-invented themselves on that front, registering yet another win that came together late in the action. Cincinnati (4-1) is all alone in first place in the AFC North, and while I'm not yet convinced the Bengals will stay there all season, give them credit for hanging around in games until the tide turns their way.
They have beaten the Colts, Ravens, Falcons and now the Dolphins, and on Sunday it was a 24-0 fourth-quarter scoring edge that did in Miami — only the second time in franchise history they've had that big of a final-quarter bulge, according to ESPN. Before this comeback win, the Bengals were 3-128 when trailing by 14 or more points entering the fourth quarter.
Let Cincinnati win next week's home game against Pittsburgh and this 2018 season will really start taking on a promising tone in the Queen City.
* If Denver football czar John Elway thought coach Vance Joseph's Broncos team was "soft'' last season, what's he thinking about now? Denver just dropped its third game in a row, and this time the Broncos (2-3) got steamrolled by the previously 1-3 Jets, to the tune of 34-16. But that doesn't begin to tell the whole story.
New York pulverized the once-proud Denver defense, racking up 512 total yards, including a jaw-dropping 323 of them on the ground. Jets running back Isaiah Crowell set a franchise one-game record for 219 yards rushing, on just 15 carries, and receiver Robby Anderson had a mere three catches for 123 yards. Be it on offense or special teams, New York had plays of 77, 76, 54, 51, 38, 36 and 35 in the game.
The Broncos are a hot mess about now, and somehow have to try and figure out how to stop the Rams' high-octane offense next week at home in Denver. This season is starting to look entirely too familiar for Broncos fans. It was a Week 5 home loss to the other New York team (the Giants) that sent things spiraling downward last year, with a 3-1 start dissolving into an eight-game losing streak. This time, the defeats are already piling up and you can bet the chatter about Joseph being on the coaching hot seat will intensify in the days ahead.
Rookie quarterback Sam Darnold threw for three touchdowns despite having just 10 completions in the game, and all this a week after the Jets amassed 178 yards in a loss at Jacksonville.
The Jets opened a three-game home-stand Sunday and entertain the banged up Colts (1-4) next week, followed by Minnesota into the Meadowlands. If New York can build on Sunday's offensive fireworks, the Jets might just be relevant this season after all.
* As gut punches go, the Giants might not recover from this one. After the game produced a series of frustrations for visiting New York, Pat Shurmur's embattled team finally looked to in position to win, up 31-30 with 1:08 remaining at Carolina. Then the Panthers delivered the stunning final highlight, a 63-yard Graham Gano field goal as time expired, to win it and send the dazed Giants back to New Jersey with another demoralizing defeat.
Remember that 61-yard Jake Elliott field goal that beat the Giants in Philadelphia in Week 3 of last year, setting the tone for the entire lost season in New York? This one was worse, way worse. The Giants were so close to wiping away all the negatives produced by their shoddy play throughout the game and the controversial ESPN interview Odell Beckham Jr. gave the network that aired Sunday morning. And then the loss brought all the questions about this team back.
Beckham had an eventful and inconsistent game, but wound up with a very healthy eight catches for 131 yards and a 33-yard scoring grab, his first of the season. He even threw a pretty 57-yard touchdown pass to rookie running back Saquon Barkley, a play that jump-started the Giants offense and helped New York top 30-points for the first time since the 2015 season finale — a 37-game drought. All of that made Beckham the first player in the Super Bowl era to log at least 130 yards receiving, with a touchdown catch, and at least 50 yards passing and a touchdown throw.
The last-place Giants (1-4) can't wallow for long, because they get a visit from the defending Super Bowl champion Eagles Thursday night. Despite making big changes last offseason, New York's mojo still stinks, and 2018 is in danger of swirling down the drain any week now.
* Gano's cannon shot from 63 yards, which tied the league record for the longest game-winner ever, had plenty of distance and slipped just inside the right upright. A team can never count on making a kick in that situation, but when it happens, the emotional lift in provides can make a huge difference in the outcome of the season (see previous reference to the 2017 Eagles and kicker Jake Elliott's heroics in Week 3 against the Giants).
Carolina at 3-1 needed this win to stay close to New Orleans (3-1) in the NFC South. The Saints and Panthers appear to be the class of the division, but they don't meet until Weeks 15 and 17, and Carolina now faces four of its next six games on the road, including trips to Washington, Philadelphia, Pittsburgh and Detroit.
* The Titans had been winning ugly this season, but Sunday's result was just plain ugly. Having won some games it probably should have lost, Tennessee tried life in the other lane, losing a game it probably should have won — 13-12 in Buffalo.
The story could have been a winning one once again if Titans receiver Nick Williams had been able to hold onto the easiest touchdown pass he'll ever have a chance to make, but this time Tennessee's penchant for making the key plays at key moments deserted it.
And to think some Titans were worried last week about not getting enough respect at 3-1, with a three-game winning streak. That's not a problem now. Tennessee played down to the level of the Bills, and paid for it. With Jacksonville and the Titans both losing on the road in Week 5, maybe the AFC South isn't going to be quite as strong as we presumed.
Thanks to a Bills defense that forced three Tennessee turnovers, Buffalo won despite getting only 82 yards passing from rookie quarterback Josh Allen, who was 10 of 19, with an interception. Allen did have a 14-yard scoring run, his third rushing touchdown of the season to help Buffalo (2-3) win for the second time in three weeks.
* It felt like the Desperation Bowl was played in Pittsburgh, with the one-win Falcons taking on the one-win Steelers, just to see who's season survived another week. That would be Pittsburgh, who drilled the fading Falcons 41-17, to avoid its first 0-3 home start since 1986.
The Steelers at 2-2-1 can rightfully claim to have regained their equilibrium, especially with Baltimore (3-2) losing at Cleveland and a Week 6 road date against the first-place Bengals offering another opportunity to make up ground.
Pittsburgh's offense was back in form and looks just fine with the rugged James Connor as its lead running back. He gained 110 yards on 21 carries, caught four passes for 75 yards, and chipped in with a pair of touchdowns. And for at least one week, chirpy receiver Antonio Brown will be happy, since he caught six passes for 101 yards and a touchdown.
As for Atlanta, the Falcons have made two trips to Pennsylvania in the season's first five weeks and come away losers both times. But after the Week 1 hard-fought defeat at the hands of Philadelphia, there was still the belief that Atlanta was elite. I'm not so sure you can make the same case any more, with the Falcons losing by 24 to the Steelers and slipping to 1-4 with their third consecutive loss.
* My preseason pick to win the Super Bowl isn't looking too savvy about now. Green Bay is a hang-on-for-dear-life ride on a rollercoaster this year, and the ups and downs continued Sunday in Detroit, where the Packers lost 31-23 despite producing 521 yards offense.
Packers kicker Mason Crosby, one of the game's most reliable legs, was the easy culprit in this eight-point defeat. He somehow missed four field goals for the first time in his career, and also clanked an extra point off the left upright, missing it. That's 13 points Green Bay didn't score, plus the Packers punt return team also had a turnover (maybe), setting up a short Lions touchdown drive.
According to ESPN, Crosby was the first kicker to miss four field goals and an extra point in the same game since San Diego's Rolf Benirschke in 1980. That's a big reason Detroit was able to build a 24-0 halftime lead, but the Green Bay loss was also contributed to by quarterback Aaron Rodgers, who suffered a pair of strip sacks.
As for the Lions (2-3), I think I've figured them out. When Detroit rookie head coach Matt Patricia goes head-to-head with a Super Bowl-winning head coach this season, he wins (Bill Belichick and Mike McCarthy). When he doesn't, he loses (to the Jets' Todd Bowles, the 49ers' Kyle Shanahan, and the Cowboys' Jason Garrett). To put it another way, the Lions defense has beaten Tom Brady and Rodgers, and lost to Sam Darnold, Jimmy Garoppolo and Dak Prescott. Go figure.
* On a day when so many defenses made huge plays to help their teams win, none were bigger — or more entertaining — than Vikings defensive tackle Linval Joseph returning a fumble 64 yards to spark Minnesota's 23-21 win at Philadelphia in a rematch of last January's NFC title game. For a big guy, Joseph runs like a little guy, reaching 18.2 miles per hour on his second-quarter return.
The Eagles and Viking combined had just six regular-season losses last year, and they've already nearly matched that, with Minnesota at 2-2-1 and Philadelphia 2-3. But both clubs have quickly learned that getting to the top and staying at the top are two different things. This much we know already in 2018: Kirk Cousins was a great signing for Minnesota. He was 30 of 37 for 301 yards and a touchdown against the Eagles, and that's a far cry than Case Keenum managed in the NFC Championship.
If the Vikings continue to steady themselves and go on to win the NFC North again, they may look back on their statement win in Week 5 as the moment the bleeding stopped. As for the Eagles, nobody's going to run away with the NFC East this season, so there's still time for Philadelphia's edge in talent to become the deciding factory in the division race. But for a team that won 16 out of the 19 times it took the field last season, to have three losses in early October probably feels like a crisis.
* Sunday felt like the last chance for anyone to truly challenge the Rams for supremacy in the NFC West this season, but the Seahawks couldn't quite get it done, losing at home 33-31 to Los Angles. The Rams at 5-0 now lead the rest the rest of the division by three and four games, respectively, and that's a pretty mean feat to accomplish after just five weeks of the season.
Seattle (2-3) is a game ahead of Arizona and San Francisco (1-4), but having already lost their home game against the Rams, it's hard to imagine the Seahawks being anywhere near in position to catch L.A. when the rematch occurs in Week 10 in the Coliseum. The Rams are playing for the No. 1 seed in the NFC and home-field advantage in the playoffs, and at the moment no one else in the NFC even owns four wins, let alone five.
* That's more like the Chargers defense we expected to see this season. Los Angeles (3-2) limited Oakland to just 289 yards and 10 points, moving into sole possession of second place in the AFC West in the process. Before Week 5, the Chargers were surrendering 30 points per game on average, but the Raiders couldn't do much of anything in their 26-10 loss to Los Angeles, which forced a pair of Oakland turnovers.
As expected, Raiders fans made the Chargers' home stadium feel like a road game once again, but Los Angeles got the last laugh in pulling two full games ahead of Oakland — the team they once proposed sharing a stadium with in Los Angeles.
Not only is Jon Gruden's club pretty bad at 1-4, it's also pretty boring through five games. And things are going to get worse in Oakland before they get better.
* Congrats to Arizona and head coach Steve Wilks for notching that pressure-easing first victory, but how ugly could things get in San Francisco this season after the visiting Cardinals beat the 49ers 28-18 in a game that wasn't as close as the score indicates? The NFL is going to flex some San Francisco games out of prime time and into the afternoon, you can count on that. With no Jimmy Garoppolo in the lineup, the 49ers are left with quarterback C.J. Beathard, who did not look ready for nationally televised games in throwing two interceptions, with two fumbles lost and four sacks.
The Arizona defense accounted for most of the heavy lifting, but at least Cardinals rookie quarterback Josh Rosen took care of the ball, going without a turnover and taking just a single sack. His 10 of 25 passing performance for 170 yards won't be good enough to beat many teams, but it rendered him the best quarterback on the field Sunday in Santa Clara.
* Coming off their Thursday-night home win over the Colts, look for the suddenly revitalized Patriots (3-2) to make good use of their mini-bye weekend, because it means Bill Belichick and his staff will have 10 days to prepare for a showdown with Kansas City and its potent Patrick Mahomes-led offense next Sunday night at Gillette Stadium. As for Indianapolis, the Colts just need the extra time to get healthy, after playing in New England with a roster that featured only about 40 functioning bodies by late in the game. Indy has a stretch of at the Jets, home against Buffalo and at Oakland coming up in their next three weeks, before its Week 9 bye. Entering Sunday, the Jets, Bills and Raiders were all 1-3 teams, so opportunity knocks for the 1-4 Colts to get their season back on track.
Ridiculously Cool Football Card of the Week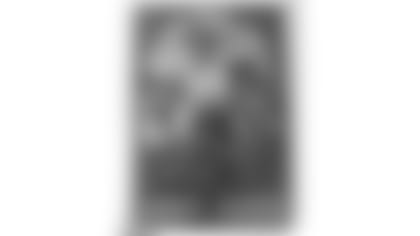 Okay, Josh Rosen, how's your form on the old jump pass? This is a 1958 Topps of Chicago Cardinals quarterback Lamar McHan, and suffice to say they don't make 'em like this any more. The picture of McHan airborne, with his passing arm cocked and ready to deliver, while being protected from imaginary pass rushers by two unnamed Cardinals offensive linemen belongs in the Old-School Hall of Fame. Maybe for the face masks alone. On the back of the card, the copy reads: "McHan owns one of the most talented pitching arms in the NFL. Last season, he ranked fifth in the league in forward passing.'' (Is there any other kind?)
I had never heard of McHan before seeing this card, but it turns out after five mostly mediocre years with the Cardinals, he spent 1959-60 playing for Vince Lombardi's first two Green Bay Packers teams, starting 11 games over those two seasons and sharing playing time with Bart Starr. But McHan went to Baltimore in 1961, missing out on Green Bay's dynastic run, which started that season and continued through 1967. This card's photo is classic in a time-capsule sort of way, showing us a little slice of what the NFL looked like 60 years ago.