DB Shawn Springs. Photo by David Silverman


To carve out a long career in the NFL, you need to have more than athletic ability, because after a while, even the best players lose a step.
You've also got to be a committed student of the game.
Like cornerback Shawn Springs, now in his 13th professional season.
After Thursday's mini-camp practice, he was asked about facing a familiar foe again this season – Bills WR Terrell Owens, who has been a division rival of Springs' in the NFC West and NFC East.
"I could bring a notebook this thick on him," Springs said, demonstrating by separating the thumb and index finger of his left hand several inches apart. He explained that he has kept such notebooks on all the top receivers in the game throughout his career.
Springs said he got the idea from a former coach, but that it is a common practice among professional players.
"Man, these guys are too good to go out there and not know them," he continued. "So, when I played Randy [Moss], I had a game plan against him. Whether it's Marvin Harrison, or going way back to Jimmy Smith, or Chad Johnson. I'm a big note taker."
He's even gotten to the point where he's friendly enough with some of his foes that they compare notes.
"I have a relationship with guys like [Larry] Fitzgerald in Arizona who will call me and ask me different things."
Though he relies heavily on his notebooks, Springs insists they are no replacement for good old fashioned film study. And much of his knowledge is stored in his memory banks.
One reporter wondered if Springs might be willing to share his notebooks with the media.
"You can't take my notes, man. You might eBay my notes or give it to some of these guys," he replied with a smile. But with a little friendly coaxing, he agreeing to share a few secrets.
"It looks like this one right here," he said, taking another reporter's notepad. And what might he write inside it?
"'Joey Galloway … he's fast,'" Springs roared with laughter along with the reporters. "'Randy Moss … don't turn your back. He'll dunk on you.'"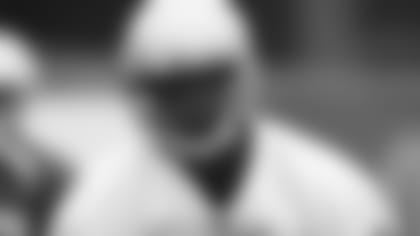 The battle for tight end jobs this summer expects to be intriguing, to say the least. With veterans Benjamin Watson, David Thomas, and Tyson DeVree already on the roster, the Patriots added veterans Chris Baker (free agent) from the Jets and Alex Smith (trade) from Tampa Bay.
Smith said Thursday that he welcomes the competition.
"Competition brings out the best in everybody. You never want to be scared of competition. When you see everybody else making plays, you want to step your game up as well. It makes it tough, but it makes me want to stay out here even more."
Both newcomers say they're still working to get a firm handle on the Patriots offense and developing a rhythm with Tom Brady and the other QBs.
"Working on it," said Baker, "trying to get a feel for what he's thinking, but it takes time. We've gotten off to a good start so far. I pride myself on knowing everything that's going on, as far as what each receiver is doing, what the running backs and line are doing. I'm not to that point yet, but I think I'll be there soon."
Smith added that there are some similarities between the New England offense and the one he ran for Jon Gruden with the Bucs.
"Gruden had that very complex offense as well … lots of formations, lots of personnel groupings. You see a lot of similarities here. There's a lot of volume here, though," he said with a knowing smile, a reference to the high number of plays the Pats employ.
"Definitely some different wrinkles, too. You've got to pay a lot of attention to defenses and your assignments, what everybody else around you is doing."
… With the exception of RB Sammy Morris, who made his first appearance at practice this spring, the same players who were absent Wednesday were out again Thursday: WRs Tyree Barnes, Shun White, and Brandon Tate; DB Brandon Meriweather; CB Mike Richardson; WR/DB Ray Ventrone; safety Brandon McGowan; LBs Jerod Mayo and Tyrone McKenzie; OL Mark LeVoir; DLs Ty Warren and Jarvis Green. RB Patrick Pass joined the list of absentees after spending the past two days on the field.
… Moss appeared to be in very high spirits Thursday, laughing it up with teammates throughout practice, and it showed in his play. Moss had several spectacular catches in both individual drills and team exercises. He made a particularly impressive play on a pass that appeared to be thrown wide of him toward the sideline. But he extended his arm and tipped the ball with his left hand, then secured it with the same hand without having to bring the ball back to his body.
… Watson made a summersaulting TD catch during 7-on-7 play.
… Second-year corner Jonathan Wilhite had a rough day. He was burnt twice on long touchdown passes, once by Moss from about 40 yards out on a pass from Brady, and again by WR Greg Lewis on a similar deep ball from Kevin O'Connell.
… RB Fred Taylor also struggled Thursday to catch passes out of the backfield.
… Springs made a nice play to intercept a pass from O'Connell at one point in 11-on-11 action. He read the play perfectly and cut in front of the intended receiver at the last second.
… After drilling a 60-yard kick during the 2-minute drill on Wednesday, kicker Stephen Gostkowski had another impressive outing today, hitting last-second kicks from 56, 52, and 50 yards in an extended 2-minute session. He did have one miss later from around 38 yards that sailed wide right.