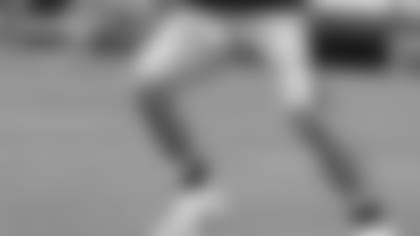 ]()Bill Belichick's** players often laud their coach for the amount of situations they cover in practice in preparation for not only a single game but for the season. Day 3 of training camp featured work on some of the more common situations, particularly red zone passing and the two-minute drill.
Belichick called his team together early in practice and while it's not known what message he delivered, the team had a physical, spirited two-hour morning session. One-on-one work is always a highlight of watching camp practices because there is a winner and a loser, and seeing wideouts and corners do battle in red zone passing work was entertaining. Of course, the cornerbacks are at somewhat of a disadvantage in those situations because game coverages can often depend on the entire defensive alignment and where help may be in coverage.
Wide receiver David Terrell was particularly strong during that segment, twice beating Hank Poteat for scores and also catching a TD over Asante Samuel. David Givens made a nifty double move to blow past rookie Ellis Hobbs for a touchdown and later beat Duane Starks for a score while Tom Brady made the best throw of the segment when he threw behind Tyrone Poole to an undercutting Deion Branch, who caught the ball in stride and trotted into the end zone. Randall Gay broke up a pass in the end zone intended for Branch. Brady also hit Givens in the corner of the end zone with the receiver tapping his toes in bounds to make the tough, out-stretched catch. It was an excellent throw and catch, but it looked as though Rosevelt Colvin would have sacked Brady on the play. He had a nice rush along with Jarvis Green.
Brady continued what, for the most part, was a solid day later in practice when he made a nice throw to Branch on a slant after faking a throw to the front side of the play and turning and firing to Branch who made the catch in stride and sprinted free down the middle of the field for a long gain.
]()During two-minute work, the Patriots defense featured defensive backs Rodney Harrison, Eugene Wilson, Guss Scott, Poole, Samuel and Starks. Brady's hurry-up offense ended quickly. After a couple of shorter completions, he threw deep down the middle of the field to a well-covered Troy Brown. The ball was slightly underthrown and Poole made the easy interception to end the segment.
Doug Flutie was up next with the second unit. After an incompletion to start things off, Flutie scrambled on second down for a short gain, but his run drew a loud applause from the crowd supporting the Natick, Mass., native. He then hit tight end Jed Weaver on several consecutive passes to move close to field goal range with 11 seconds left on the clock. But his work also ended in an interception when he fired a pass right at Hobbs, who made the pick. It looked like Flutie wanted to go to Weaver again, but the quarterback and receiver weren't on the same page in terms of the route.
Flutie never threw to the wideouts during the two-minute drill, but there was still a nice battle on the outside between Poteat and Terrell with Poteat playing physically and jamming Terrell off the line to lock him up. The two engaged in a small skirmish after the whistle following one play, but was quickly broken up with some of the defensive backs standing on the sideline protesting that Terrell was the root of the problem.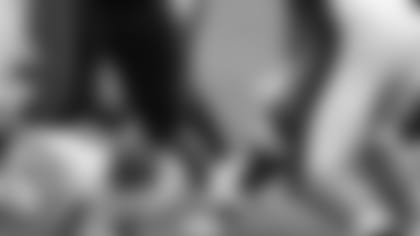 ]()Other notes: The weather was overcast and cool, prompting Belichick to wish for some more hot weather to practice in. … The team signed wide receiver Jason Anderson out of Wake Forest. He wore No. 7 in his first practice with the team. … Wide receivers Cedric James and Jake Schifino were not at practice and while Belichick doesn't speak specifically about any player's injury situation, he did say that some players were out with bumps and bruises. "Nothing serious" is how he termed it. …Other players out of action included linebacker Monty Beisel, wide receivers P.K. Sam, Bethel Johnson and Ricky Bryant, defensive lineman Ethan Kelly, tight end Daniel Graham, linebacker Willie McGinest and running back Chad Morton. … Belichick noted that Guss Scott has picked up where he left off last year when he was enjoying a strong rookie training camp before a knee injury ended his season. "He's smart. He had a good offseason. He's responded well physically. He's further ahead and knows the system better," Belichick said. … Belichick on preseason games: "Those games only don't count to those who don't play in them. They count as far as preparing for the season." … Belichick also took a shot at Boston Herald reporter Michael Felger who began a question, "Correct me if I'm wrong …" to which Belichick interrupted, "I can't wait." He then answered a question about how many full-pads practices the team has head early in camp as opposed to last year. Belichick said it was right about the same amount. Three of the first four practices have been in full pads while last year, Belichick said six of the first eight were in full pads. … Troy Brown continues to work exclusively on offense and Belichick said that a lot more would have to happen this year for him to play on defense. He noted that last season the team was thin on players who could cover slot receivers and Brown became an emergency backup that ended up playing half the season as a defensive back. … A reporter from a Japanese television station asked Belichick about the most important quality of a good coach. "Hiring a good staff," Belichick said. "Not just coaches, but all the people that work with the players on a daily basis – the trainers, the strength coach, all those people. You need a lot of people that can represent what you stand for."