At approximately 7:45 PM, Arizona Time, on Super Bowl Sunday, the lights went out in the Vine Tavern, the home of the New England Patriots Fan Club Of Arizona.
Not literally, but it felt like it. Actually, to the more than a thousand Pats fans at the Vine, watching the game, it felt like someone had just kicked them all in the stomach, and as the air went out from between their lips, the force of the wind blew out the light.
The euphoric feeling of, just minutes before, as Randy Moss scored an apparent winning touchdown, was wiped out when Eli Manning put the finishing touches on the game winning drive to complete one of the biggest upsets in Super Bowl history.
So, in the end, it was sadness, it was depression, in fact, it was one of the most horrific feelings that I, for example, had ever felt from a Patriot's defeat.
And I knew that it would take time, a lot of time, for the feeling to wear off. It was, for all intents and purposes, going to be a long off season.
The morning after was even worse, as time had allowed it all to sink in, even further, and as my eyes will with tears, they also began to remember the week leading up to Super Bowl XLII. Things that happened during the week came back to me, and suddenly, those tears changed to smiles, to the joy of knowing that those six days, they were magnificent, they were fantastic, in fact, they were six days that I will never forget.
It was Super Bowl week for the New England Patriots Fan Club Of Arizona. The Super Bowl was right here, in our backyard, and the Patriots, the team that we love with all of our passion, the Patriots were to play in the game, they would be a part of the greatest week, ever, for Patriot fans in Arizona.
We had that dream, from the moment that the Valley of the Sun was awarded the 2008 Super Bowl, numbered at XLII, and we really couldn't believe that our dream became reality. They were coming here, to Arizona, to play in the Super Bowl, and we were ready, we were ready to give Patriot fans from all across Patriot Nation, a week of events that they would, hopefully, always remember.
We sat at the Vine Tavern, from the pre season and on into the regular season. We watched with joy as the Pats won the opener, in NY, destroying the Jets.
We sat and watched things we had never seen before in Patriot's blue, the likes of a Randy Moss, a Wes Welker, and a Tom Brady who seemed invigorated with his new found "toys."
One win, then two, and so it went on, six, seven, eight, and onto twelve, thirteen, and more.
The thought of the Patriots coming to Arizona to play in the Super bowl became real, and with each passing game, even more so.
They completed the unbeaten regular season, went into the playoffs, and when they defeated the Chargers in the AFCCG in Foxboro, we knew it had happened. It was bedlam at the Vine, it was euphoric.
The Patriots were coming, they would be in the Super Bowl, and we were right here, in the middle of it.
And now, now it was time to plan. We wanted to entire of Patriot Nation to know that we, the New England Patriots Fan Club Of Arizona, that we were here, and we were here to recognize and to do whatever we could to make Patriot fans from all around the world comfortable, and know that they had the opportunity to join large numbers of other Patriot fans, in the greatest fan events of Super Bowl XLII, of Patriot fans, by Patriot Fans, and for Patriot fans.
The Patriots arrived in Phoenix on a dark, cold and rainy afternoon, weather very much unlike what the Valley of the Sun is noted for. We watched on TV, some went to the airport, some went and stood in the rain outside of their hotel, just to see the busses go by .
They could not see the players, they couldn't even get close, as security was very tight in, and around the Westin Kierland Resort, where they stayed.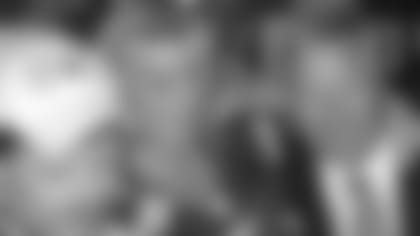 But the fans were there, and they were overjoyed to be a part of the welcoming for their team.
And then, then the weeklong series of events began, events that we called "the Patriot Fans Blue Collar Super Bowl Events," blue collar because there were no big name Hollywood, TV or movie celebrities there, there would be PATRIOTFANS, and more PATRIOT FANS, and even MORE PATRIOT FANS, all joined in celebration and anticipation.
So, the first even started the week off, and on Tuesday, hundreds upon hundreds of Pats fans made their way to the Vine for an even that was put together just 24 hours earlier.
They came, they enjoyed and they waited, and soon their wait was rewarded as A stretch Limo rolled up outside the Vine, and stepping out to waiting fans were Patriot's CEO and Team President, Mister Robert Kraft, his son and Team Vice President, Jonathan Kraft and, at that time, Hall Of Fame nominee Andre Tippett.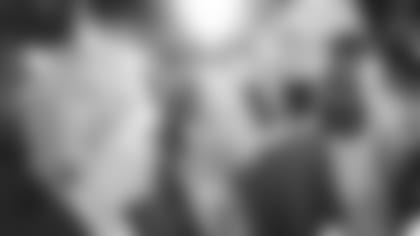 As he had done during his previous visit to the Vine, Mr. Kraft mingled with the fans. He signed autographs, posed for pictures and literally, became what he has always been, not the team owner, but a fan, as was Jonathan Kraft and Andre Tippett.
They stayed for quite a while, talking signing, posing, and before they left, Mr. Kraft took the microphone, said some wonderful words, and closed with this, "This is my favorite fan club in America."
I, for one, will never forget those words from Mr. Kraft. They brought tears to my eyes.
Mr. Kraft, also, brought two tickets to the Super Bow, which he gave to the club to give away as a prize in a drawing.
Nearly 1,000 Pats fans had a night that they never thought could ever happen, that they would have the opportunity to actually mingle with Robert Kraft, Jonathan Kraft and Andre Tippett, and be just a fan, as Mr. Kraft was, and still is. It was a night to remember.
I would be remiss if I didn't mention the person who was responsible for setting it all up, Mr. Fred Kirsch, publisher, and editor, of Patriots Football Weekly.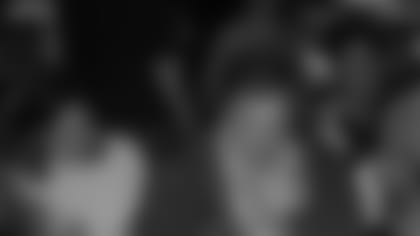 Thank you Fred. We will, forever, be grateful.
That was Tuesday, next on the schedule was the 'BIG PATS FAN BLUE COLLAR SUPER BOWL BASH, PART II"
Thursday brought even more Patriot fans to the Vine. By then, Pats fans were pouring into Sky Harbor Airport, and they were ready for a good time. Many knew about the Vine, from the internet message boards, and from the club's web site and they came, and they came, and they came.
An estimated 1,500 Pats fans came in, and out, and back in during the evening and were being entertained by a local disc jockey who I had given some special songs to play.
The crowd really got into it when they hear "Go Pats" or the Pats touchdown song, of the Dropkick Murphys doing "Shipping Up to Boston" (The Papelbon Dance song) or "For Boston" and of course, the 1812 Overture, song played at Gillette Stadium when the Pats score a touchdown.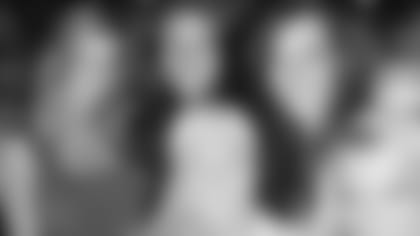 And what would be complete without a thousand, or so, Pats fans chiming in together to "Sweet Caroline" or "Dirty Water."
But, the best was yet to come.
Around 7:45PM, a bus pulled up in front of the Vine, and Pat Patriot, the team Mascot, led a bevy of beauties into the Vine, All 24 of the New England Patriot Cheerleaders.
It was absolutely bedlam, again, as the girls came in, became a part of the crowd, and posed, signed, took pictures, and gave us a great cheer before leaving.
And just before they left, after staying well beyond their anticipated time, their leader, Tracy Sormanti, said that she has been with the Patriot's organization for 20 years, and never experienced anything like what she saw that night at the Vine.
Once again, Patriot fans from all of Patriot Nation, had been treated to a tremendous event, and it was such a happy night, another one that I, and all of those in attendance, will long remember.
There were fans there from all of the New England States, many other states, and fans from Germany, Australia, Asia, Hong Kong, the UK and more. This truly was a showing of the "PATRIOT NATION OF THE WORLD."
And so, Thursday came to an end. But, there was yet, one more pre Super Bowl event to come, on Saturday night, Mr. Brad Darr of New Orleans, Louisiana and his famous Super Bowl Voodoo Ceremony.
I, for one, could hardly wait for Saturday night to come.
And, it did. Once again, Patriot fans poured into the Vine. Patriot Nation was ever present again.
The music blared, fans were singing Sweet Caroline, the were dancing "The Papelbon" and it was another night for Patriot fans to rejoice. And then, as 9PM approached, the crowd moved outside, where Mr. Darr was preparing his ceremony.
He climbed to the top of a ladder, as hundreds upon hundred gathered round him. He read, and spoke the ceremonial words pertaining to Super Bowl XLII.
And then, as his words came to a close, he held up high, for all to see, the number 10 Jersey of Eli Manning, Giants quarterback. And as a flame was held beneath it, it burned, the flames soaring high into the Arizona sky, the jersey burned in effigy.
But, there was more, as a likeness of Eli Manning was displayed, and in a way that I choose not to describe, the ceremony was completed. Patriot fans cheered, TV cameras whirred as they taped the event.
It was a fitting finish to the Pep Rally and the Voodoo Ceremony. Pats fans, once again, had come to the Vine to celebrate, and they did.
Only one event remained, and that was the next day, Sunday, February 3rd, 2008, Super Bowl Sunday.
Several fans camped out, in their RV's, overnight at the Vine. They knew that the crowd of Pats fans in attendance would, more than likely, represent the largest Patriot fan crowd in the Nation outside of New England, and maybe even the largest of all, anywhere in the world.
And, by mid day, it appeared to be true, as once again, the Vine was the magnet for all of Patriot nation that did not have tickets to the game.
The level of excitement was at fever pitch. And it remained that way for most of the game. When the Giants went ahead, in the 4th quarter, it hushed, but we all know that the Pats would come back, that they would do what had to be done, and that they would take the lead back, and they did.
With 2:45 remaining in the 4th quarter, when Randy Moss took the pass from Tom Brady, in the end zone, mass euphoria, mass celebration took hold. It was, again, an unbelievable site.
For me, it was sheer joy. Even when the member we call "Crazy Harry" who stands about six foot eight came by and put me in one of his hard bear hugs, and slapped me on the back a few times, I didn't mind, even though when Crazy Harry slaps you on the back you better be wearing pads.
Well, as we now know, that euphoria, that joy was short lived, and the outcome of the game was not what we expected, but it happened, and that can never be changed.
But, also, what can never be changed are the six days leading up to the game. The events that took place here, in our back yard, at our headquarters in Phoenix, the Vine Tavern, those are days, nights and moments that will never, ever, fade from my mind.
The Pats fans that I met, not just at the Vine, but everywhere throughout this valley, at malls, in restaurants, out on the street, and at the NFL experience, those meetings with other Pats fans, those are the moments that brought me the most joy. And, I will never forget them, ever.
It will always be one of the most astounding weeks of my life. And, it will never fade from my mind.
Oh yeah, I met a family of Giant fans, who own a pizza Parlor in Glendale, AZ. My wife and I have been there three times already, Best pizza in Arizona, and great, great people. And, when I go there to eat, I make sure I am wearing one of my Patriot shirts, and Patriot hats.
Win, or lose, they are MY team, and I am proud of them, and always will be.
And now, Super Bowl XLIII, in Tampa Bay, awaits. And, I will see you all there in 2009. I have no doubt at all that the Patriots will be playing in it. And, I hope that the Giants will be, too, because I and my Giant friends plan on going there, together.