When a team wins 45-7, including a 28-7 halftime lead and 45 unanswered points, it's hard to find key plays on which the blowout game may have hinged. That's clearly the case with New England's impressive Sunday victory at Wembley Stadium in London.
But there was a point early on in the international domination that the game was actually competitive. St. Louis actually scored first on a 50-yard touchdown throw (What else!?) from Sam Bradford to rookie big-play receiver Chris Givens. Givens' catch notched his fifth-straight game with a reception of 50 yards or longer.
After the Patriots matched the score on a 78-yard march to a 19-yard Brandon Lloyd touchdown reception, the Rams got the ball back and started to move again. It looked like St. Louis would go into New England territory on a 17-yard completion to Austin Pettis, but the receiver was ruled to have gone out of bounds before the reception and was flagged for illegal touching. That seemed to kill the drive and led to an eventual punt.
After the possession the Patriots marched yet again. A 20-yard run by Stevan Ridley and a pair of Tom Brady 25-yard completions to Rob Gronkowski helped push things all the way down to the Rams 1-yard line.
But things got tough from there. Ridley lost a yard before a throw to Gronk was batted away by Cortland Finnegan. Danny Woodhead then gained a yard on his third-down attempt.
Brady looked to the sideline and made a motion showing that it was less than a yard to go on fourth-and-goal, clearly showing his desire to forgo the chip-shot field goal and go for the end zone. Bill Belichick decided to oblige in front of his UK Patriots fans.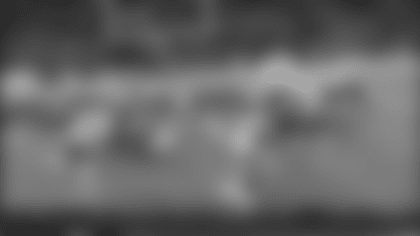 New England came out of the huddle for the fourth-down play in a heavy package that included essentially four tight ends. Nate Solder actually lined up as the tight end on the right side next to right tackle Sebastian Vollmer. Marcus Cannon entered the game to take over at left tackle. Gronkowski was lined up at left tight end and Daniel Fells was too his left, before motioning across the formation to the right prior to the snap. Michael Hoomanawanui was lined up in the backfield at fullback in front of Shane Vereen, as he he'd been on a pass play on second down.
At the snap Brady handed off to Vereen going to the right, following his huge wall of blockers while right guard Dan Connolly pancaked a Rams defensive lineman who attempted to make an arm tackle in the backfield. Vereen follows Vollmer, Solder, Fells (kick-out block) and Hoomanawanui to the 1-yard touchdown, not even really being touched until his well into the end zone.
It was a big goal line run for a guy not thought of as a goal line runner. It was a big power running play for a team not thought of as a power running team.
It was also a big play in the way the game played out. New England took the 14-7 lead early in the second quarter and then turned it on offensively from there. Had the Patriots been stopped, a Rams team that had been moving the ball reasonably well through two drives may have driven to a score. Maybe the game would have remained competitive longer. Maybe it would have been a dogfight. Maybe the Patriots wouldn't feel as good as they do leading into the bye week.
But Vereen followed his convoy to pay dirt and the rest is blowout history.
It was only a 1-yard run. It was very early in the second quarter of a long game. But it was a key play from New England's developing second-year running back.
And it was the perfect example of a play that's worthy of a second look on Take Two-sday.