Granted, it's mini-camp now.
That fact alone lends a little more seriousness to the padless practices that have been taking place behind Gillette Stadium this spring. So, you might expect to see a few more media members than usual.
There was a reporter from New Hampshire who normally covers politics, TV news reporters from local affiliates, on-air talent from ESPN's NFL Live program, and many more cameras along the sidelines than you might even see during training camp.
So, why all the excitement?
New England officially signed the free agent quarterback this morning, though word of the transaction broke late Monday afternoon, which precipitated the avalanche of media at Gillette Stadium Tuesday when the team took the field.
The three-time Heisman Trophy finalist (he won it in 2007) wore a red QB jersey and a helmet with the number 5 on the back, and took all his reps in the huddle, under center, and in individual drills with counterparts Tom Brady and Ryan Mallett during the midday practice.
Tebow showed a strong arm, with good velocity and tight spirals on most of his throws, although his delivery looked much slower compared to Brady's and Mallett's.
When the Patriots gathered for team period 11-on-11 work, Tebow mostly watched the other two QBs and discussed the plays with offensive coordinator Josh McDaniels, who, as head coach of the Denver Broncos, selected Tebow in the first round of the 2010 NFL Draft. Very late in practice, Tebow took reps during what is known as the "opportunity" portion of practice for the younger and newer players. Brady, Mallett, and the regular offensive players were on another field running plays against a full defense at the same time.
Afterward, when players were available for media interviews, a huge swarm gathered along the sideline, and a stampede nearly occurred as Tebow approached the microphones and cameras. Reporters and photographers were literally pushing and climbing over one another to get as close to Tebow as possible.
The player himself seemed somewhat embarrassed by the spectacle as he began to speak. "Relax, it's all good. I'll speak loud enough for everyone to hear," he said with a sheepish smile.
"First and foremost, I just want to thank the Patriots for giving me an opportunity. I'm very thankful," he continued.
"You know, it's such an honor to be a Patriot and play for Coach [Bill] Belichick and for Coach [Josh] McDaniels, learn under Tom, and be a part of this great franchise – a very successful franchise. I found that out first hand… lost to them several times," he said, laughing.
"So, it's going to be a lot of fun. I'm looking forward to working hard every single day and getting a lot better and learning under some great people. That's all I got, but thank you all so much and God bless. I'm sure we'll be talking more soon."
And with that, Tebow ducked out of the mass of bodies and headed for the locker room. It appeared he was under strict orders from the team's decision-makers not to entertain questions today.
Before practice, Belichick held his customary press conference and was bombarded with questions about Tebow, to the point that he began to get visibly aggravated by the incessant line of questioning. His answers were, by and large, brief and vague.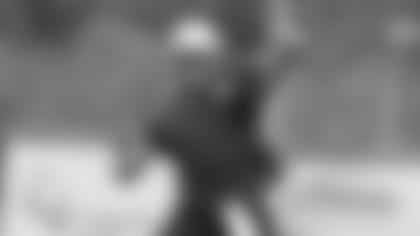 "Anything we do is what we feel is in the best interests of the team," said Belichick in response to the first query. "Tim is a talented player that is smart and works hard. We'll see how it goes."
Could Tebow play a position other than quarterback here in New England?
"We'll see, I don't know," he said flatly. "He's a talented guy, he's smart, he works hard. We've all seen him play. He can do a lot of things – we've seen that."
Much was made of Belichick's high-profile courting of Tebow in the days before the 2010 Draft, when the two were seen dining in Boston's North End. Today, though, Belichick downplayed any close relationship with the player as a factor in signing him.
"I've never coached him before so I wouldn't…I'm certainly closer with a lot of the players that I've coached through my career."
Belichick also spoke in generalities when asked about the impact McDaniels may have had in convincing the club to sign Tebow.
"I don't know," he claimed. "There are a lot of people in the organization that contributed in all decisions, like there usually are. I couldn't put a percentage on it, if that's what you're looking for."
The bottom line is that Tebow and all that comes with his cultural phenomenon are now part of the Patriots. The frenzy, it seems, has only just begun.