The Patriots wrapped up their fourth training camp practice on Sunday as the team prepares to don their pads this coming week, with the summer intensity building toward a first preseason game on August 10 against the Texans. The first-team offense had some of their best production of the summer during team portions in the mid-day practice, but the defense continued to make life difficult, especially during the final team period. With the ball placed at the nine-yard line, the Pats D did not allow a touchdown during the last six reps of ones vs. ones.
It shouldn't be surprising that the defense has prevailed early on in most team portions. That usually the case in football, plus they're a veteran group with veteran coaches and they've been going up against the offense entirely in the red zone, where time and space are compressed and mistakes magnified. However, select newcomers are showing up more often with each passing day, possibly setting a new ceiling for what is traditionally already one of the best units in the NFL.
Here are 10 thoughts on the state of the defense before the pads come on!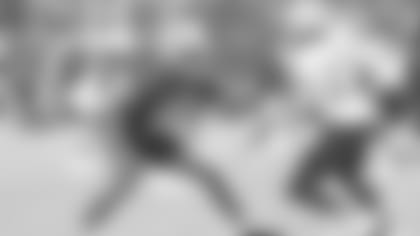 1. Gonzo right in the mix
Since the first days of OTAs, rookie Christian Gonzalez has been in and around the mix with the first-team defense, playing a valuable outside role. Some growing pains were apparent on the first two days of training camp, on one particular play the rookie lost track of veteran Hunter Henry and allowed him a touchdown catch. But Gonzalez had two pass breakups in the third session and then had a near interception on Sunday when he closed on a quick slant thrown by Mac Jones to Juju Smith-Schuster. Gonzalez couldn't secure his first pick of camp but it was still a standout play by the 17th-overall selection, especially coming against two veterans at a spot on the field where space is tight and decisions must happen quickly. So far, it looks like the rookie will play an immediate and sizable role on defense this season.
2. Keion White back to the line
After trying out some different roles as a stand-up linebacker during the spring, White has been back to a more familiar spot in training camp as a hand-down defensive end and sub-package pass rusher. This seems like an ideal role for the Georgia Tech product, but it's been tough to give much of an evaluation of his play without pads on. On Sunday, he saw some reps with the first team defense during team drills as his role seems to be expanding.
This week will be a big one for White, where he'll get the pads on and show what he can do in one-on-ones as well as live pass-rushing drills. With limited additions to the veteran defensive front, White is one wild card who could garner some new snaps and offer a different twist. White was looking forward to Monday's padded session, "It's football, we don't play 7-on-7 ball, I never really had that growing up so you're excited to get to play football and just see what it's like physically because I've been in OTAs for so long, the last four days of camp we've been no pads. It's an opportunity to see how physical the NFL is."
3. Mapu emerging
Similar to White, the team did some experimenting with rookie Marte Mapu during the spring, but here in the summer, he's landed with the safeties where there are a number of veterans, including cornerback transfer Jalen Mills, now in the mix. Sunday was a good day for Mapu, as he received some of his best reps yet with the top defense in what appeared to be a two-minute drill. After being buried on the depth chart for the start of camp, Sunday provided some positive feedback on Mapu's development. Mapu continues to wear a red jersey as he recovers from offseason pec surgery, a big next step for him will be getting into a blue jersey with the rest of the defense and then showing the hard-hitting ability he had a Sacramento State.
4. Bentley-Tavai-Wilson are the core LBs
With Mapu seemingly out of the mix for now at off-the-ball linebacker, it seems apparent that Ja'Whaun Bentley, Jahlani Tavai and Mack Wilson will form the main nucleus of the second level. Of course, the safeties will be heavily involved alongside them, but for early downs, this trio is big, physical and experienced and should turn some heads when the pads come on. Bentley and Tavai's ability to play on the edge is a growing development for the defense and one that provides some valuable depth. Chris Board has also been in the mix with the ones and can be expected to contribute more than just his elite special teams play.
5. Thin depth at OLB
While the depth on the inside appears well insulated, things are less uncertain for the outside linebacker group. Matthew Judon has been ramping up over the last two practices and there's little question what he brings to the defense, while Josh Uche continues to flash the speed and suddenness that helped him reach double-digit sacks last year. But beyond those two depth is thin and relatively unproven. Anfernee Jennings and Ronnie Perkins make up the remaining backups, while DeMarcus Mitchell upped his participation on Sunday, participating in some defensive team drills for the first time this summer. If Judon and Uche stay healthy the defense will be fine, but things will get interesting quickly if one of them suffers an injury and has to miss time. Again, Bentley and Tavai can help alleviate some of those depth concerns with their versatility.
6. Marcus Jones audition inside/outside
Marcus Jones has gotten plenty of looks with the top defense through initial sessions, getting work both inside and outside as the team searches for their best combinations. Jones had some issues with the size of DeVante Parker but also showed his knack for sticking with receivers on another rep on Friday against Parker, forcing him out of bounds before securing the catch. On Sunday, Jones was beaten on one team rep by shifty rookie Pop Douglas, who escaped his coverage to make a nice catch.
Jones is a lot more of a factor on defense than we saw last summer and has continued to take plenty of punt return reps. We'll see if anything develops for him on offense as camp progresses.
7. Peppers-Dugger-Phillips
The defense's flexibility has been on display with their top trio of safeties rotating all over the place from play to play. Dugger had interceptions on the first two days of camp to get things started. Jabrill Peppers looks even more comfortable in his second season, while Adrian Phillips continues to do it all. Add Jalen Mills into the mix and the team seems comfortable with any of their safeties in any spot on the defense. The experience on the roster should help overcome the lack of a true free safety, but with all the snaps coming from the red zone, we have yet to see the defense have to defend 20-plus yards down the field.
"It's an adjustment again for sure, the defense is very complex, a lot of communication that has to go on, safety has to make a lot of checks, so it's a lot of studying," said Mills of the position shift this season. "As far as just being back there and taking command when I have to, I'm getting comfortable." Mills capped off the final snap of 11s by intercepting Bailey Zappe, who had earlier thrown impressive touchdown strikes to Jalen Hurd, Tre Nixon and Tyquan Thornton (two).
8. Veteran continuity on DL
For the third year in a row, the defensive line looks largely the same behind Davon Godchaux, Lawrence Guy, Deatrich Wise and Carl Davis. It's a big and tough group that has proven themselves on the game fields but will still be interesting to watch once the physicality ramps up this coming week. Godchaux had a would-be sack during the defense's last stand on Sunday. Health is paramount for these vets and that's why it's likely that Keion White works his way into this rotation.
9. Bolden rising?
With uncertainty surrounding Jack Jones' availability for the full season, one name that has been rising is rookie seventh-rounder Isaiah Bolden. Bolden has spent the last two practices taking second-team reps outside, across from Jack Jones. A standout kickoff returner in college, Bolden is one to keep an eye on as he could provide secondary depth while making special teams contributions. Despite allowing a catch to Pop Dougles on Sunday after Douglas shook him on a whip route, Bolden is the defensive dark horse candidate to emerge.
10. Competitors show up early
Devin McCourty was a major loss for the defense this offseason, but he was the only significant one from last year's group and that continuity has paid dividends through the first four practices. They've been stingy in the red zone and have made the offense work for every successful play they've gotten. While Mac and the offense punched back on Sunday, the defense continues to look like it won't be long before they're ready for the regular season. With some rookie reinforcements already getting involved the arrow is certainly pointing up for the D but they'll be further put to the test in joint practices with the Packers and Titans. Those practices will be most telling of how good this defense can be.