During the first three days of training camp the Patriots offense had few reasons to celebrate. Operating entirely in the red zone where decisions are quick and the space is tight, Bill O'Brien's troops struggled to put it lightly.
But Sunday afternoon saw some signs of life, and the enthusiasm quickly followed. Perhaps the summer's first day off was all the group needed because there were two periods of red zone work that exceeded anything we've seen to this point.
Mac Jones was at the controls for the first set of plays, and while his throws weren't what impressed it was the overall execution and attention to detail that stood out. Jones perfectly read a safety blitz from Jalen Mills and calmly flipped a swing pass to Kevin Harris for the touchdown from just inside the 10. Jones identified Harris as his hot receiver and the second-year back took advantage of a coverage breakdown and walked in for the touchdown.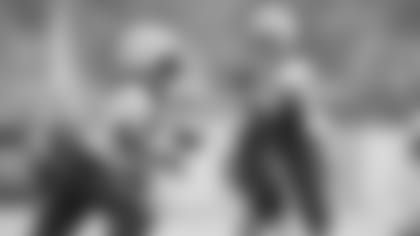 After Jones was forced to scramble on the next play, he once again was on point with his decision-making, motioning Rhamondre Stevenson out of the backfield into the left flat and tossed another swing pass to a wide-open target. The plays seemed to ignite the offensive players as the enthusiasm picked up from there.
Bailey Zappe continued that momentum with some of the best throws of camp. After getting started with a short throw to Demario Douglas, he connected on touchdowns a pair of throws in a three-play stretch coming from just inside the 20.
The first went to Jalen Hurd and the second to Tre Nixon. Hurd did a nice job of high-pointing the ball behind double coverage as he got his feet in bounds, and Nixon did a great job of beating Marcus Jones. Shortly thereafter Zappe hit Douglas down the seam for a short touchdown with Marcus Jones again in coverage.
"I was able to put it out there in the back corner to the outside and we were able to make some plays," Zappe said of the Hurd and Nixon touchdowns after practice. "In the red zone the decision making has to be much faster and I feel like we've been getting better every day. We just have to continue to work on our stuff and today was a product of the last three or four days."
Unfortunately, there were some bumps in the road for both Jones and Zappe on their last sets of snaps. Jones was forced to take a couple of sacks and then was fortunate to avoid a pick-six on the goal line when Christian Gonzalez (he continues to impress) cut underneath JuJu Smith-Schuster but dropped the would-be interception.
Zappe connected with Tyquan Thornton for a pair of touchdowns, the second coming on a perfectly thrown fade over the wideout's outside shoulder. But things quickly changed when he finished the set with a pick to Jalen Mills, who jumped an out route near the sideline.
Despite the tough finish, the offense enjoyed its best day of the summer.
"I feel like we were flowing," Kendrick Bourne said. "We are in a good rhythm right now. I feel like we are on an upward trajectory."
Beyond the offensive resurgence, here are one man's observations from Day 4 of camp.
*There were a couple of additions to the attendance list on Sunday as rookies Kayshon Boutte and Jake Andrews joined Ty Montgomery, who missed his second straight practice. Otherwise, Cody Davis (knee) and Mike Onwenu (ankle) remain on PUP while Calvin Anderson remains out on NFI.
*Jonathan Kraft made his first appearance during training camp, spending some time watching practice from in between the fields.
*Bill Belichick wouldn't quite confirm the fact that the Patriots will be in full pads on Monday (he said probably) but based on much of the work it would appear that will be the case. The offense spent more time running the football than they did previously, which is likely a sign that some physicality will be on tap soon.
*The offense also worked a lot of combination routes near the goal line with slot and outside receivers crossing to create rubs of the defensive backs. Variations of that work were later seen on Stevenson's touchdown as Hunter Henry was outside forming interference that allowed the running back the open space necessary for the touchdown.
*The offense began in the middle of the field for the first time, using tempo as it moved the ball downfield into the red zone where once again most of the work took place. There were some down-and-distance elements to those periods and rookie Chad Ryland completed those sets with field goals ranging from roughly 30 to 45 yards. He went 5-for-6, pushing one wide right on his third attempt.
*Mac Jones finished one of his scrambles by dancing into the end zone for a touchdown on a play that certainly looked like it would have been stopped by the defense several times under live conditions. Jones celebrated once he reached the end zone and spun the ball as he continued to dance away. This didn't seem to sit well with the defense at the time, and on an ensuing series of plays the results were different. Jones tried to scramble again only Jabrill Peppers stood him up at the goal line on a more physical than normal play for camp, and on the next snap the quarterback continued to run even after Belichick blew the play dead for what would have been a Deatrich Wise sack. Ja'Whaun Bentley then came over and made sure to wrap up Jones to prevent any further celebrations.
*There were a couple of mishaps related to snaps on the final series of the day. Center Kody Russey appeared to forget the snap count and was forced to run a lap and was replaced by veteran James Ferentz. Later, Russey was back at center and it looked like a similar situation unfolded but guard Bill Murray was sent running. Incidentally, Murray ran one of the fastest laps we've ever seen from an offensive lineman.
*At the end of practice the majority of the team went to the hill for some conditioning work while some of the younger players stayed and did some punting work. Joe Cardona snapped the ball to both Bryce Baringer and Corliss Waitman, and a handful of players did up-downs before racing downfield to cover the kicks. Both punters were impressive at times but Baringer seemed to be more consistent, especially when kicking during that final period. According to the czar of Patriots coverage Mike Reiss of ESPN, one of the rookie's more majestic kicks registered a 5.08 hang time, slightly topping Waitman's best of 4.93.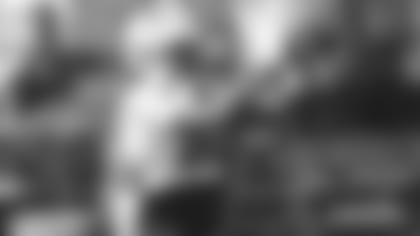 *Douglas joined Marcus Jones and Myles Bryant handling punts at various points and showed excellent hands. He raced up about 20 yards and caught one short kick on the dead run on the kind of play that can save a lot of yards in field position.
*Zappe, Bourne, Douglas, Mills, Ryland, Keion White and Trace McSorley were among those who spent time chatting with the media.
*The Patriots will be back at it Monday morning for what is expected to be their first practice in full pads. Gates open to the public at 8:30 a.m. and practice is set to get underway at 9:45 a.m. As always, please check with Patriots.com for the latest changes to the training camp schedule.
DISCLAIMER: The views and thoughts expressed in this article are those of the writer and don't necessarily reflect those of the organization. Read Full Disclaimer