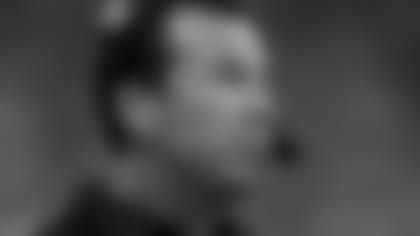 (on the defensive play from the first half to the second half)
"We're playing against a great player (QB Tom Brady). We know he's not going to stay that way all day long. We needed to right the ship at some point. Obviously, we struggled big time in the second half. We answered the bell offensively with two big scores, and then I think we had a couple of drops in that one series and I think we could have answered again. You know when you play them they're going to make plays; you just have to keep going. We had a lot of opportunities to make plays ourselves, we just didn't make enough."
(on injuries, specifically S D.J. Swearinger)
"We've got some guys nicked up. We had some problems in the secondary with him (D.J. Swearinger), and Brice (McCain) got a little nicked up and Eddie (Pleasant). At one point we didn't have enough guys to go in there when we called the timeout. That's part of it right now. Just beat up and we have to turn around and play real quick on Thursday."
(on the play of the running game)
"We were pretty consistent today moving the football. We stayed on course and made some third downs. I thought Ben (Tate) played extremely well. I knew he would; I knew he'd come back and play well. We protected I thought pretty well all day. We go down once, if I'm right. We were pretty consistent and just needed to find some more juice in those last two drives and we didn't do it."
(on playing better today and finding signs of encouragement from the loss today)
"It's hard right now, regardless, with what's going on. But I've always stood right here and told you guys that we're playing hard, we're not always playing good. We've got guys playing hard. We've got some young guys having to step in and play a lot of football. If you're asking me if there is a moral victory because we played a great franchise today, and a great football team, in our business we work all week to win. We had our opportunities in this football game to win, so we're very disappointed. But we can't be disappointed for long, because we have to play pretty quick."
(on what QB Case Keenum showed him today)
"I thought he rallied. In the first half, he made some mistakes, he had some plays to make that we could have really been explosive, but he never really got down. He kept going and made some big plays in the second half. Moved it around and bought himself some time. He did it against a good team. I'd like to get this kid to where he is throwing the ball with a 65 percent clip. That's the one thing that I'm really concerned about, trying to work with, because I think that's what you have to do in this league. It's hard when you're 50 percent and making big plays. You have to be kind of consistent. That's what I'm really trying to work with him on and I think I can improve."
(on the decision to call the timeout before the two-minute warning with fourth-and-long)
"Trying to figure out how to get fourth and 16 yards and come up with something. We sat there and talked about a couple things we could do to try to get some people down the field and buy us some time with what they were doing. I thought it was more important to try and do that than try to go fast and not feel good about what we were doing. We got some people down the field, we just didn't hold up."
(on the play of WR DeAndre Hopkins)
"He obviously had the huge play in the game. I have to find a way to get him some balls more. Of course, Andre (Johnson) had a big day. The kid has been working hard. We got him matched up on that one play because of some things they were doing to Andre and he makes a huge play. We were trying to get him a couple more there at the end, we just couldn't get him the ball."
(on if the play of the first half was as well as they could played)
"We were playing great defense and moving the ball extremely well. We did throw away some points; Case (Keenum) took a sack and turned the ball over down there, which you've got to learn from. We can always be better. But against that group, we were in pretty good position at halftime. I think they came out and scored in like four plays, or something. We have one three-and-out and miss a third down, and then all of a sudden they score 14 points, but we did rally as a team. We did bounce back and score two big touchdowns back to back and right the ship a little bit and have ourselves in position."
(on losing the last six games in a row by 6 or less and having the ball on the last possession with a chance to win the game at the end)
"That's our job, to find a way to get that done, as coaches. The quarterbacks got to get everybody in position and find a way to make those plays. What happens when you don't do it? As a coach, you say, 'I have to find some better calls here, or do something better.' You've got to coach your guys to do something special in those situations. That's what wins and loses in this league."
(on playing more nickel defense today than dime)
"Kind of healthy-wise, where we are at. Plus, they were pretty committed to running the ball."
(on the different look the offense had with Ben Tate and Case Keenum playing well)
"Yeah I mean that's what our offense is based off of is having a successful and effective running game. You know all week that was a point of emphasis. Being able to run the ball effectively. We knew we found some things on film that we knew we could exploit, and also we wanted to keep their offense off the field as much as possible. So up front we knew we had to go. You know, we did a great job of doing that consistently. You know, that set up a lot of things in our passing game."
(on the level of respect there is for RB Ben Tate doing what he does with cracked ribs)
"I have a huge amount of respect for Ben. I mean, I already respected him, but you know it's gone to another level. When you have that kind of injury, that doesn't just heal as you're playing every week. You know he's been toughing it out week in and week out, and today he just put on a heck of a performance. You know just gutting it out. That's all you can ask for."
(on how tough it is to get that kind of performance and still lose)
"It's devastating man. You know, we knew what kind of game we were going to be in. We knew it was going to come down to a couple of plays. We just came one play short. You know that's what it comes down to, but I'm proud of the guy's effort. We were out there battling man; fighting. Just wasn't quite enough today."
(on if anything QB Case Keenum did today sticks out to show that he has learned from the past few games)
"A couple things. I mean, he made some big plays for us. I thought he did a great job with his pocket presence today. Being able to sit in there, and trust us up front, and still extend plays a little bit longer and make some big plays down the field. He was great all day. You know, besides that I think the leadership ability you know showed up for us. Just conversing with us, and just being very enthusiastic and very positive throughout the whole game, that kind of stuff is contagious, and I think it was part of the reason why we came out and kept our foot on the gas the whole game."
(on if the team felt more trust this week since QB Case Keenum said that was the word of the week)
"Absolutely. He absolutely trusted us. They were bringing a lot of different looks: a lot of different blitzes. He didn't panic at all. He set in there stayed very poised, very calm and delivered it."
(on if Case Keenum looked like a starting NFL quarterback today)
"Absolutely. He has a lot of talent man. A lot of ability, and he has fun out there. That's the main thing that you want from a young quarterback, but he has fun out there and he tries to rally y'all together. But going against a (Bill) Belichick defense and performing the way he did with the kind of players they have over there is big time. I'm always encouraged every week by the stuff that he's done, but he's continued to progress very well."
(on the mindset when you realize that a game is turning into a shootout)
"Just got to go man. You got to keep making plays. You know, you can't worry about what they're doing on their side of the ball. You know, once we got out there we're taking it one play at a time. You know we made some big plays in the running game and the passing game, and you just got to try to keep your foot on the gas. You know not try to let up. You know not trying to have any lack of focus. We did a pretty good job for the most part of that today."
(on what they did differently to protect the quarterback better in the first half)
"Just better execution. You know, we didn't change too much. That was just the mindset we had. You know, just come out, and we knew we would have to block for a little bit longer than the usual, and we were committed to it."
(on how they are able to set aside disappointment and go out and playing hard)
"We love what we do. You know, this is our job. You know, this is our passion. We're all competitors. We've lost ten straight now, but that's not going to stop us from going out and competing and battling and trying to be the best we can be. You know, that's not how we operate. We're a very mentally tough team. A young team for the most part, but very mentally tough, and we have a lot of pride. That's what we go out and play with every week."
(on if the team talks about staying focused)
"Certain things are said throughout the week, but you don't have to say it too much. That's the great thing about this team. Our record doesn't show how much we fight, or how talented we are, but guys don't pay attention to it. We just go out every week and try to put our best effort out there."
(on WR Andre Johnson becoming the second fastest receiver to 900 catches)
"He's amazing man. He's been amazing for a long time. The guy has been around this organization through a lot of ups and downs, but he's never wavered. He's never slowed down a bit. He's been playing this game a long time, and he's still in his prime. Just watching him work is a great thing to see, and we're all inspired by it."
(on if the disappointing season I a little harder on him (Andre Johnson) from all he's been through)
"I can imagine. I can imagine it is. You get up there in years in the league, and coming off of two seasons where we went into the playoffs you don't expect this to happen. But like I said, he's still giving us his all, and that's a show of respect and a show of being a great teammate, and we appreciate it."
WIDE RECEIVER DEANDRE HOPKINS
(on his mindset during the game when realizing it was going to be high-scoring)
"Just try to get a win. It is especially on everybody's mind in this organization. Get a win."
(on the frustration as a rookie with preseason expectations to have season as it is)
"In the NFL, you can't really get frustrated. You have to keep going. You have to keep your head up and try and get a win."
(on if there was any difference in QB Case Keenum in the huddle this week than other weeks)
"No. Case has the same presence in the huddle. He is always confident. If we're at the 1 yard line, he is saying, 'Let's go 99 (yards).' He keeps a level head the whole game."
(on if there is anything to take away from today's team performance)
"No, not really. You really can't do that. They don't look at the stats. It's if you win or lose."
(on current state of the team, losing to a less than average team last week and then hanging with an above average team)
"We have the talent to get things done. We are just not making the extra play, the one play we need to make to overcome and get over that hump. It is not like we are getting blown out every week. We are right there."
(on what the Patriots did differently defensively in the second half)
"They went to man-to-man coverage in the second half. In the first half they were playing more two-man coverage with a safety on top of me and Dre (Andre Johnson). Second half, they played man-to-man on us. We had shots to make plays."
(on WR Andre Johnson reaching 900 career receptions)
"That is unbelievable man. You don't have words for that. He comes out and makes plays, week in and week out."
(on what he has learned from Andre Johnson, especially with his locker being right next to his)
"I couldn't pick just one thing I have learned from him. The guy is a true leader on and off the field. I look up to him. Even when I wasn't playing for the Texans, he was my favorite player. So it is an honor to be right next to him."
(on the long pass he caught right after New England took the lead in the game)
"We knew they were going to change it up and go man-to-man in the second half because we were beating them with the zone in the first half. It was a good call by Kub (Gary Kubiak), and we made the play happen."
CORNERBACK KAREEM JACKSON
(on if the loss is tougher because of the great team effort)
"Yeah, it was definitely tough today. Like you said, we just came up short. It is kind of the same old song, to be honest, a couple of plays here and there. A couple drives we stopped and they got field goals. But early on during the couple of drives were we did stop them, there were a couple plays we could have made. But definitely a tough one for us. I think as a team we fought hard. I think we played well on both sides of the ball. But it was hard the way the game ended for us."
(on if loss is different with the game being so close)
"It is definitely different. I am one of those people that to lose by three and five like that, it is definitely upsetting and frustrating, knowing that we are so close to getting a win. That has been the case pretty much the majority of the year for us. And every time it is the case where a couple plays here and there could have determined the whole outcome of the game. Like I said, as a team we fought hard all the way to the end. Again, we just came up short."
(on what was different in the second half of today's game)
"I think there were some situations where they (the Patriots) found the mismatch. That is the thing with their offense. They are definitely looking for the mismatches to exploit. A couple of times with a couple of calls, we knew what we were going to get and we weren't able to prevent it. So they had a couple of big plays. Defensively, I think we played rather well, especially against a guy like this (Tom Brady). We definitely fought. It is tough to come up on the short end of the stick. Like I said, same old song."
(on if loss stings any more because Patriots came here and won) "Yeah, but regardless of who the opponent is, any time you lose by three it is definitely tough. Being so close and coming out on the losing end is definitely tough, regardless of whom the opponent is."
(on how he feels physically after the game)
"I feel pretty good. It (his rib) is a little sore. But I was expecting to be a little sore at the end of the game. But I definitely feel a lot better. I feel pretty good."
(on if he will be alright with a quick turnaround to play Thursday, physically)
"Yeah. It is nothing a little ice can't cure, especially soreness. But I will definitely be fine for the quick turnaround."
(on QB Tom Brady's performance, especially in the second half)
"He is Tom Brady. Coming in we were expect him to make adjustments as the game went on. We knew he would get the ball out quick, it is what he does. That is why he is so good at what he does. Like I said, a couple of times he caught us in mismatches and was able to go to it. That was the couple of big plays he had coming right out of halftime. That kind of hurt a little bit, but that is Brady for you."
WIDE RECEIVER ANDRE JOHNSON
(on the similarities between this year and the final year under Dom Capers)
"I wouldn't say it feels the same. Back then, I don't think we had a good football team like we have now as far as talent-wise. I think this season has been disappointing for everybody. There's been a lot of frustration. It is what it is. We are 2-10 now so we just have to live with it and move on."
(on how the Texans offense was able to respond to the defensive coverage)
"They came out and played a lot of zone coverage. We thought we would get more man coverage and thought they would probably try to come after us with (QB) Case (Keenum). But they didn't. We were able to find spots in the zone and make some plays. We just came up one play short." (on if the Patriots stayed in the same coverage the entire game)
"No. They did a good job of just mixing things up. They have a good head coach who is good at mixing things up so they never stayed the same. They did a good job of mixing things up. At times we caught them in the right coverage, at times we didn't. That's the thing about this game, you have to try to catch them and make those big plays when you can. We were able to make some plays, but we weren't able to make enough."
(on being the second fastest player in the NFL to make 900 catches)
"It's big. You play this game and have a childhood dream of just making it to the NFL. I never came into the NFL saying that I wanted to have 900 catches. I just said that I wanted to be a good football player. It's humbling. It just shows that the work you put into the game is paying off."
(on his thoughts that of all other players, only one other receiver in the NFL got to 900 catches before him)
"I don't think it's really hit me yet. To hear that, in my mind, Jerry Rice is the greatest receiver to ever play. So to do something faster than he's done is a tremendous honor."
(on being in a class alone with Marvin Harrison)
"It's great. Like I said, I'm humbled by it. I was able to get to see Marvin a lot because we played in the same division. He's one of my favorite guys to watch play. To be in a class with him is a great feeling."
(on his play today with QB Case Keenum)
"I think when you look at all the young quarterbacks around the league; it is hit or miss every week. Sometimes they go out there and play great. Sometimes go out and they struggle. With Case, he's really just getting into it. I think it's been four or five games. He's going to have good days; he's going to have bad days. It's all about how you respond to it. Everything is not going to be perfect. We struggled last week as an offense. Today we were able to go out and move the ball down the field and put some points on the board and make some big plays. Like I said, we just didn't make enough."
(on what goes on inside the huddle with Case Keenum as the quarterback)
"To be honest, if he was struggling you would never think he was. His attitude, his approach to the game is great. It's not the mentality of a young player. When things are going bad, he's in the huddle saying things to keep everybody up, he's not just thinking about himself. He's a fiery guy, he loves the game and I think that the great thing about him, he loves the game, winning or losing he's on everybody trying to get everybody going."
(on being a "vet" and how hard these next four games will be with a record of 2-10)
"It's not hard, you know. I love playing the game of football so anytime I get a chance to go out and play a game I am going to go out and compete and play my hardest. Football is a game. It's a lot of fun, I enjoy doing it. Anytime you can play under the bright lights, I don't think it is hard to get up and play."
(on having possession late in the game for the past six games with the ability to score or extend the game and if he still has confidence during such a situation)
"Yeah, we didn't go on the field with any doubt that we couldn't go down the field and score and win the game. I don't think there has ever been doubt no matter who is the quarterback. Like I said we just needed another play today and we didn't get it."
(on what it is going to take for the Texans to win)
"We have to make more plays than the other team. I think when we had that one drive in the fourth quarter, I think we went three and out and they went down and got three, they took advantage of their drive and we didn't, even though we had a chance at the end. Like I said we just didn't make the plays to get it done."
(on how he has changed as a receiver over the years)
"I think I am just playing smarter. A lot of things you just learn over time. I think of all the times when things are drawn a certain way, coaches want you to do it a certain way, but I think over time as you learn things sometimes you can learn to break things up, do things a little different. They might get upset at you in the beginning, but you know sometimes it works out. At the same time as you go and play 10, 11 seasons like I have over time you just learn and play smarter as a player."
CORNERBACK JOHNATHAN JOSEPH
(on his interception early in the game)
"We changed up the coverage. I was out on (Rob) Gronkowski. I just made a play on the ball. Nothing spectacular about it. Just one of the plays the team expects me to make."
(on what New England did differently in the second half that allowed receivers to get open)
"They just did a better job of spreading the ball out. (Tom) Brady doesn't have a specific guy where the ball goes to a certain guy the majority of the time. He gets the ball out to everyone. I think going into this game the leading receiver was a running back. So he makes you defend the whole field."
(on how tough it was to have a great team effort and still come up short)
"We are still searching. Any time you play like that you expect to get something out of it. But in this business it is hard to get a win, and today was a prime example of that."
(on if this week is any worse after last week's performance, where he said the team was at 'rock bottom')
"We are at rock bottom from the standpoint that we aren't a 2-10 team. The organization knows that. But guys are still fighting, guys aren't tanking. We are still playing at try to make (our record) respectable. But at the end of the day, it is about wins and losses."
(on how painful it is to lose to a team so close when there were two 50-plus yard field goals)
"It is all the same. Every loss to me is a loss. I feel just as bad as if it were the first game of the season. Obviously, it was good to see a lot of young guys make plays today, to step up and play in a big game like this, against a team like the Patriots, a team that will be in the playoffs this year. It was good to see that."
(on adjustment made regarding second half)
"I thought they mixed it up with some pressures there in the second half. They made us hot a few times. I think we had a three-and-out on a coming out and then a three drive. Especially coming out of the second half, the three-and-out was big. We knew that they were going to respond coming out of half time and we needed to get a touchdown no matter what they did. That was not a good three-and-out for us."
(on dealing with trust issues and confidence this week)
"I don't know if I said I had trust issues. One thing that I said I was working on is continuing to trust all levels from a big picture to a small picture, even like trusting my pocket. I thought I did a better job at that today. I'm thinking of two plays that if I trust what I do, trust my reads, and make a play, then that's a difference in a ball game."
(on moving around well when the pocket collapses)
"That is always something that I have been pretty instinctive about but I am still learning in this league when to do that, and when not to do that. Like with the sack I took when we were in the red zone, and trying to move out of the pocket. I need to move up in the pocket. They did a good job covering. I went through my reads, and I just need to make sure that I don't lose ground, in the red zone especially, and put us out of the field goal range. In the next one, I tried to hit the first down. I just need to check it down like I did in our second drive, after the pick, to try to get a field goal. It was almost the exact same situation. I just need to check it down. We accumulated three points. That's huge in a game like this."
(on running game and difference it made in offense)
"I felt that the offensive line did a heck of a job protecting and running the ball, especially running the ball. That kind of set the tone for us, and Ben (Tate), obviously had a heck of a day today. I thought it was fun to be a part of that. Watching him run, making guys miss in the back field, turning bad plays into good plays, and good plays into great plays and touchdowns. Having Ben feel a lot better and back to his old self is definitely a spark for our offense."
(on touchdown on the keeper)
"It was a designed quarterback run. Our whole line did a great job blocking. We had two receivers over there that did a great job too, and I've been looking forward to spiking it for a while. That was a fun time. It was a great play call and a great execution. I just had to make sure that I didn't screw it up."
(on what made you comfortable to take deep shot to WR DeAndre Hopkins)
"That was actually a play that Kub (Gary Kubiak) drew up on the sideline. We saw something in their defense, and felt that DeAndre could make a play for us. Honestly, we just drew it up in the dirt and it turned out exactly how we wanted it to. Looking off to the safety and letting him make a play. We just need to work on after the catch, with his making moves to go score a touchdown. I don't know why he is trying to go run that guy over. He can go score a touchdown."
(on difference with having Gary Kubiak on field again)
"I think he definitely has a presence that everybody feels. I think we were operating as an offense better, and that gave us energy. I think combined with him being on the field calming people down, and coaching us up as we needed a coach, instead of relaying a message, he can tell me what he wants to tell me, when he wants to tell me. I thought it was really good. I enjoyed having him down there. It felt like normal again. So it was good having him back down there."
(on what the team could have done differently to QB Tom Brady)
"Just try to get more pressure on him. Try to be better in coverage and just try to be at the right place at the right time. He knew what we were doing and he was able to make some plays. They made some adjustments in the second half that worked for them and they got the win."
(on if he's still made because it was a close game)
"We're just disappointed, man. We know we had them. We thought we had them. We definitely had a good game plan against them and they were able to make more plays and we're just disappointed. We're really not sure what to say and what to think knowing we had a chance to win the game and we didn't. It's just disappointing, but what can you do? You have to keep on fighting, move forward and get ready for the Jaguars."
(on if the streak of losses are harder because they've been so close)
"It's tough either way. Guys hate losing; you hate to lose. Just to know that you were in it, you did what you could, you fought all the way through; you can't be too mad, but at the same time you can be disappointed because you did what you can, you fought, worked hard, you prepared hard, you did everything possible to get the win and you didn't. They played well; we felt like we played well, and they just made more plays than we did."
DEFENSIVE END ANTONIO SMITH
(on the adjustments New England made to get the tight ends open in the second half)
"It seemed like they made some changes. They made some calls that freed the tight end up a little bit, doing a lot to the tight end in the second half. They were just making plays in the second half. Without seeing the film I can't tell you how it happened or why, but that was they target in the second half and they found ways that they didn't find in the first half to get him open."
(on if it is frustrating to lose such a close game)
"It makes it more frustrating, but that's the game we knew we were going to be in. We knew they weren't going to come in here and rout us, and we knew we weren't going to rout them. We knew this was going to be a fight. That's exactly what it was, and we just didn't end up on top at the end of it."
(on the struggles of Houston's pass defense)
"Most of the time when a pass defense is struggling it's one of two things. You're not getting to the quarterback enough and kind of they're either scheming to get the guy open and every way it is somebody's open. It's one of those two things. I won't know until we watch film, but we've got to get him. We've got to put hats on (Tom) Brady. It just seemed like you're right there, but it's every time you right there to get him he just gets the ball off and makes a play."
(on the 10-game losing streak)
"Very humbling. Very humbling to go from truly visualizing you being in the Super Bowl to you being the worst team in the league. It's humbling, but it isn't going to stop our fight. It definitely isn't going to stop us being the man that we are. Humbling yet we still got a job to do."
(on if it is hard to fathom being the worst team in the league)
"It's hard for me to fathom. It still isn't reality to me. It might be to y'all, but it still ain't reality to me. I think I'm in a dream. I might wake up and change or something man. I don't know, but you couldn't have told me this at the beginning of the season. A nightmare."
(on what makes QB Tom Brady tougher to get to, him spreading out the field or his quick decision making)
"A little bit of both. He got real good pocket presence, and he gets rid of the ball fast. I think that in some way, shape or form, they've got it mapped out on the guy who most likely can get there, and he has that guy, and whenever he sees that guy come free he gets rid of the ball real fast, so that's what makes it hard. You've got to kind of beat him on the back side where he can't see you and kind of sack him you know. I think that's what he was kind of doing in that second half. He was moving around in that pocket barely escaping sacks, and just finding the open guy."
(on if this was the most complete game from a team effort standpoint)
"You know, all these games are beginning to be a blur through all the stress and stuff. I don't know if I can say that accurately, but it was a pretty complete game. You know, other than a few mistakes. Other than a few mistakes this would be a whole another game. Man, I've said that before too."
(on if he's surprised that their receivers were open in the second half)
"Yeah I was surprised because we were playing them pretty tough, and they start finding open guys, but I know that team you know, and that team has a scheme in everything. Every single thing all the way down to the defensive lineman they're blocking. How they block them. That team got a scheme, and you could tell that they changed they scheme in the second half."
(on how much fun the game was individually)
"It would have been great, if we would have won. Once again, we lost, so it takes that fun out of it a little bit."
(on game being a tougher loss because of better team performance)
"It is. We wanted this game. We haven't forgotten what they have done to us over the years, so it is definitely a game that we wanted. Everyone knows that we all have to step up and do our parts. We just didn't make enough plays to get that done."
(on frustration caused by the loss)
"It's tough. It's very tough, but we just have to keep fighting. I do think that we played pretty good today for the first time in a while, so I am excited about that. Hopefully we can build off of that. There are no moral victories, but at the same time at least we played a little bit better than we have in the last couple of weeks."
(on getting into the end zone three times)
"It was great. I think coming into the game we only had two rushing touchdowns for the year, so it was good to get that up a little bit."
(on doing RB Arian Foster's touchdown celebration)
"It was a salute to the big homey. He is finally back here with us, but he is out and I know how tough it is on him to watch us play out there. This is something that he loves doing and I miss having him around; the competition, somebody to talk to, and somebody to cut up with. It is different with him not being around. I told him that if I get three touchdowns; if I get one more, I was going to do that. I think that it meant a little bit to him, so it was a good thing."
(on the offensive performance)
"It's been a while, but the positive thing is we did get better as a team. As an offense we did get better. Last week was probably one of the worst games we played offensively. So it was a bright spot in us playing better, but like I said there are no moral victories."
(on losing to the New England Patriots)
"Yeah, it's frustrating. Another loss."
(on why QB Tom Brady and the Patriots offense was better in the second half)
"I'm not sure. I'll have to go back and watch the film. I can't tell you without watching the film."
(on how much the loss hurt)
"Every single loss hurts extremely bad."
(on how he would characterize the defense in the second half)
"Not good enough to win."
(on if the defense not being good enough frustrates him)
"We're on a 10 game losing streak. That frustrates me very, very much."
(on what head coach Gary Kubiak told the team after the game)
"That's more in the locker room stuff. We'll keep that in the locker room."
(on if he was pleased with the play of the team after the first half)
"Yeah, obviously at halftime we were feeling pretty good. We needed to come out in the second half and find a way to win and we didn't do that today. We got a little momentum going (in the first half) and made some plays. We didn't do that in the second half. We didn't make the plays we needed to make."
(on QB Tom Brady)
"He's a very good football player and he made the plays and we didn't today."