New England Patriots running backs coach Ivan Fears did not know until college that he was destined to patrol the sidelines on Sundays. Until his senior year at William & Mary business major and running back planned to work in the banking industry once he graduated. That plan changed when Fears incurred a severe knee injury that cut short his playing career – an injury that turned out to be a blessing in disguise.
Ivan Fears grew up in Suffolk, Va. rooting for the Washington Redskins and playing what Fears likes to call 'sandlot football' with his neighborhood friends. "There was no opportunity to play organized football until high school," Fears recalled. "We played pickup games – sandlot ball around the neighborhood. We got after each other pretty good."
Fears' love for football was born in the sandlot but his commitment to it was fostered during the long, hot high school practices that can make or break one's devotion to the sport. He discovered a passion he had not yet experienced until playing organized football in high school. It was then he decided to be involved in football for as long as possible. "You really had to hunker down and commit to it. Somewhere along the line I figured out that I loved it," Fears said. Hunker down and commit he did.
After a successful high school career where Fears earned all-state honors and was twice named the school's Outstanding Player of the Year, he enrolled at William & Mary to play running back and major in business studies. Fears was a three-year letterman as a running back until he succumbed to injury during his junior year. In an instant, his playing career was over. "It all happened suddenly. When I hurt my knee, I blew it out bad enough that the doctor told me that was the end of my career as a player," Fears remembered.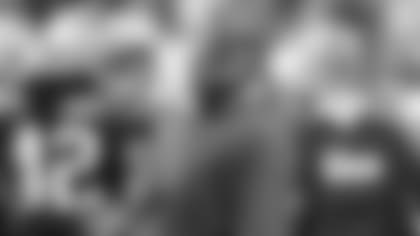 But as quickly as one door closed, another opened. The following season, the William & Mary coaches asked him to stay on his senior year to work with the running backs. To Fears, a senior who could no longer play, the chance to try coaching came at an opportune time when he, like many students in their final year of college, was deciding which professional path to take. "I got a chance to work into coaching slowly because I was a student then and got to see if I wanted to do it," Fears articulated. "I was headed to banking. I was headed to business. I hadn't thought about coaching until I got that opportunity. I loved it. It was fun." Fears was soon tendered a position to coach the William & Mary wide receivers full time and when the offer came he jumped on it. Fears coached at William & Mary for four seasons until he accepted a position at Syracuse in 1980. He spent 11 years in western New York before joining the professional ranks with the Patriots.
Fears, currently on his second tour of duty as a Patriots coach, came on New England's staff in 1991 as the wide receivers coach. He coached the likes of great Patriots pass catchers Irving Fryar and Marv Cook for two seasons. His first stint with the Patriots came at a very different time in this franchise's history under a different owner, a different coach, and a in a different stadium. "[Foxboro Stadium] was a piece of work. That locker room situation… we came in at the end of a game and the locker room was flooded with the sewer. The stink was unbelievable."
With the stench of Foxboro Stadium's locker room fresh in his mind, Fears accepted a position with the Chicago Bears in 1993 to coach wide receivers, where he remained for six seasons until his return in 1999. A year after he returned to the Patriots, Bill Belichick was brought in to take the Patriot reins and right the ship. Fears was immediately challenged once Belichick came through the doors. "Early on he had me swimming mentally. I was challenged by the way he did things and how hard he worked. He works the coaches as hard as he works the players."
Fears earned his first Super Bowl ring as the Patriots wide receivers coach in 2001 before moving to his current position supervising the running backs beginning in 2002. He has ascertained in his time with New England that small things can make a big difference. "I think I learned from [Bill Belichick] more important than anything else is that there is no end to what you can get done. The smallest thing can pay off at the end. Everything is important. I've been very fortunate to hang with him and see myself grow with him through the years."
Thirty-six seasons after Ivan Fears last buckled his chinstrap, he still brings the same fire and passion that he once used in the neighborhood sandlot games. Fears subscribes to a simple philosophy when it comes to reaching his players. "I always wanted to be very honest with my players," Fears said. "When they see me, I want them to hear what the truth is. I always thought that was important. I was fortunate to be around guys like that and I want to be the same with the guys I coach now."
It is clear that Coach Fears has carved himself a niche in New England since returning to Foxborough in 1999. He has earned three Super Bowl rings and shows no signs of slowing down. At work out at practice or on the field during the game, he looks comfortable. Even in his free time he knows how to wind down. "Give me a stogie [cigar] and a golf club and here we go," Fears opined. "I like to get out and play some golf. I'm not very good at it, but I like it. It doesn't matter where I'm hitting it as long as I'm out there." Patriots fans better hope he does not quit his day job.