Media Day at the Super Bowl. The biggest all-you-can-eat buffet of player availability the NFL has to offer. Today is the day and the media – TV stations, writers, radio personalities – from all over the world was on hand at the Superdome to interview players and coaches in a fairly relaxed atmosphere.
The way it works is the AFC and NFC teams are split into two sessions. This year, the AFC went first, I think because it is the home team, from 10-11am. The NFC went from 1-2pm. Booths are set up along one of the sidelines of the field and each one is occupied by a star player. The rest of the players kind of hang out nearby and wait to be interviewed which never takes too long since the media throng numbers around 3000.
Everyone started showing up around 9:30 and waited in the stands until 10. When the announcement came over the Superdome's sound system that Media Day was open for business, it reminded me of the scene at the Patriots Pro Shop the day before. People with cameras and tripods rushed down the steps to the field like a fire had just broken out. I love when grown-ups are in situations that bring out that "me-first" attitude.
All the familiar faces were there and some of them attracted as much attention as the players. Guys like Chris Berman and Joe Theisman had people interviewing them. Then there were the personalities who represented the lighter side of things. D'Marco Farr of "The Best Damn Sports Show Period" was yucking it up with the players. On behalf of his co-host Tom Arnold, he asked Bryan Cox "Are you going to spit on anyone Sunday?" I don't think Cox found it too funny. Then again, not too much of what Tom Arnold has to say is funny.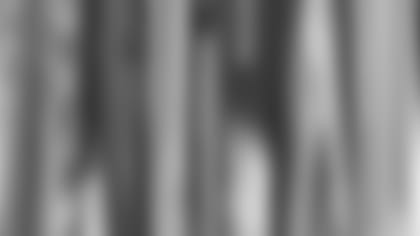 ]()
             Wanda Sykes was there from HBO's "Inside the NFL." If you've ever seen some of her bits you might agree with me she's the best reason to watch that show. She's hysterical. Sykes came over while I was at Cox's booth and as soon as he saw her, he was quick to point out he too was a fan. Sykes to Cox:  "I'm afraid to ask you a question. Can I get you anything, Bryan?" And then in her unique style, "I like you, I hope you win Sunday. Go out there and break somebody's neck."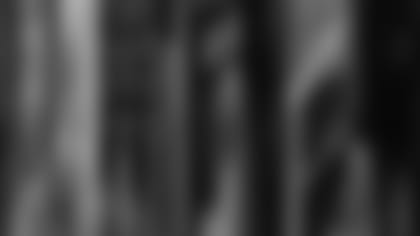 ]()
             Getting serious, Cox did have some issues he needed to discuss regarding minority hiring in the NFL. "We're good enough to play your game. Why aren't we good enough to coach your teams or pick your players." He's right and the NFL needs more Bryan Cox's speaking out and really pushing that issue.  

He also had a good message for anyone trying to get ahead in today's world without some of the comforts most of us take for granted. "Don't allow people to tell you what you are." Sounds simple but it's a trap into which people often fall. Hey, it even applies to the 2001 New England Patriots. If they listened to what the experts said they were when the season started, I'd be watching Media Day on ESPN instead of being there.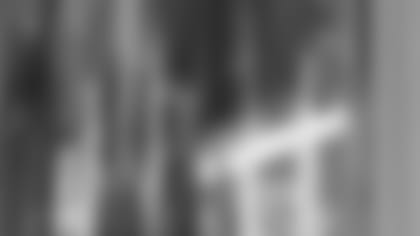 ]()
             Of course, the biggest crowds gathered around Tom Brady and Drew Bledsoe's booths. They were situated – perhaps strategically – on opposite ends. All the questions fired at them were ones we as Patriots fans have heard before with the exception of those dealing with who might play on Sunday. That answer is still up in the air and Bill Belichick has maintained he'll make the announcement after practice on Wednesday. Still, that information itself would never be enough to satisfy the media so both quarterbacks were bombarded.  

Brady admitted about his relationship with Bledsoe, "It's a little uncomfortable. I know he wants to play and he knows I want to play." I can tell you, however, that both guys are handling the situation professionally and when all is said and done, will remain good friends.
I loved Brady's answer to the question, "Are you a little disappointed that you got hurt in Pittsburgh?" Brady: "There's no disappointment – we're in the friggin' Super Bowl." That says it all.
Someone asked Bledsoe about his feelings after the Pittsburgh game and how it seemed he was crying. He admitted that "[his emotions] all piled up a little bit." From his injury to losing his starting job to Sept. 11, it was a tough year for him and finally getting in the game, in that situation, and coming out on top was like "a starving man finally getting a taste."
Belichick revealed some background on how he's been influenced over his career from a defensive coaching perspective. Since he spent so much time on Bill Parcells' staffs, the popular theory is that the two-time Super Bowl head coach was his biggest influence. Actually, says Belichick, the year he spent with Joe Collier and Rich McCabe in Denver in 1978 had the most affect on his preparation habits, understanding of offenses and his approach and thinking (Collier was the head coach and McCabe was the secondary coach). What Belichick credits Parcells for was naming him his defensive coordinator in 1983 with the Giants and basically letting him run the defense as he saw fit with "the latitude to be creative."
Once the Patriots session was done, lunch was served while the Superdome crew prepared for the Rams. I couldn't stay because it was off to the hotel to do Patriots.com Radio. I usually don't have a problem adjusting to time zone changes but for some reason I'm off here and by the time Bryan Morry, Paul Perillo and I got back, it was around 1pm Eastern. Luckily, there was enough sound from yesterday's press conferences for our producer, Gary Grodecki to fill the time. Will McDonough of the Boston Globe joined in while he waited for Patriots Monday to begin and the talk was spirited as we tried to figure out how the Patriots might stop the amazing offense of the Rams. It was good to get behind the microphone again. These are the best of times for us Patriots fans.
One ironic note. I'm having some of our wares sold down in the hotel lobby. Two of the items – the 2002 Cheerleader Swimsuit Calendar and Video – were deemed "inappropriate" by hotel management for sale in its lobby. You gotta be kidding me. We're a block away from a street that is the definition of decadence and I'm getting flack for some cheerleaders in bikinis? Please.
Tomorrow is the first official day of practice at the team's facility at Tulane University. Today was spent going over the game plan and watching film.