Each week throughout the season in this column, I will highlight key strategies and opinions for Patriots.com readers to consider as you vie for your fantasy football bragging rights.
Before getting underway I want to remind all fellow Patriots.com readers about three important items of note: 1) FFChamps.com is the only fantasy strategy website that provides its members personalized 1-on-1 expert advice and every week we'll choose lucky Patriots.com readers to receive that advice. To submit your question, just visit FFChamps.com and become a Member. When you submit your Expert Advice question start it off with "Your first name from Patriots.com." We will pick questions each week to answer and feature in this column on Patriots.com.
2) If you do become a member [https://www.ffchamps.com/subscribe/] by August 31, FFChamps will give you a Patriots.com $30 discount AND immediate access to our proprietary rankings, tools and 1-on-1 advice. Just go to https://www.ffchamps.com/subscribe/ today. I am biased, but before buying FFCHAMPS, I was a 10-year subscriber and I can flat-out say no strategy service does it better and no one else is available for Expert Advice the way they are.
3) Tune in to Patriots.com for our FFChamps radio programs every Tuesday and Thursday from 4pm-6pm.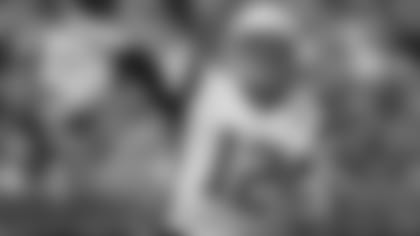 Last week in my first draft prep column we reviewed all the FFChamps Ten Commandments, focusing on two of the most important ones: Know Thy Scoring System and Draft Players from the Next Great Offense. All of the must-know Commandments can be reviewed here.
This week, I am going to focus exclusively on Tiering and FFChamps.com Commandment No. 2: Thou Shall Stick to Thy Tiers. If you are an FFChamps member, you clearly understand tiering, as it is the core component of our draft strategy. FFChamps builds our members deep teams at the draft using our Tiering strategy. If you take away one thing from this column, it should be "Stick to your Tiers."
It all starts with the Rankings that get broken down into Tiers; groups of players of a similar talent level categorized together. At QB for example, a grouping would be Drew Brees, Tom Brady and Aaron Rogers in the same tier. Every player in any particular tier becomes interchangeable, meaning we expect them to have similar production. In other words, we don't care if we have Brees or Brady, as either way we have a top level QB. That concept repeats itself at each position. The tiers on FFChamps.com's proprietary C3 Draft Rankings are designated by a line between players where a new tier begins. A new tier is made where there is a noticeable drop off in talent. The players in a tier will all put up similar numbers so it doesn't matter which one you take. Sometimes the tiers have a lot of players in them, meaning we expect a bunch of players to have similar numbers at the end of the day, and sometimes there are only a couple players in a tier.
I'm going to use an example to illustrate the strategy. In our first and second running back tiers (this is still changing based on performance, health and the fact that it is early August), FFChamps has Doug Martin and Adrian Peterson in its first tier, and then six running backs (Foster, Charles, Spiller, Lynch, McCoy) in our second tier. Let's assume you are picking 6th in a 10 team league, and in round 1 you chose Marshawn Lynch. It is now coming to your second round pick, the 15th pick overall, and you see that there are six WRs available in the same tier, and one RB left in tier 2. FFChamps tiering strategy would suggest you take the tier 2 RB, and wait on the WR for the 3rd round, as one of the six receivers will be there and they are interchangeable by being in the same tier. This brings me to one more point. At FFChamps, we have a draft tracker, [http://www.ffchamps.com/draft-tracker/?myteamid=84069] which shows the positions filled for each of the other teams in your league. Adding to this strategy, if you know three teams picking ahead of you have taken a WR already, then you have even more reason to grab that tier 2 RB and take him, as you can be certain one of the six WRs will be there for you in round 3.
It continues to be a strong, early camp for the Patriots rookie wide receivers. Kenbrell Thompkins, Aaron Dobson, and Josh Boyce have all looked great in camp, as has 6'7" undrafted tight end Zach Sudfeld. It is rare that a rookie WR makes a fantasy impact in season 1, and it is hard to pinpoint which one starts or even makes the roster, but with Tom Brady behind center, a rookie can emerge faster than normal, especially in this season of starting fresh at the WR position. However, the guy I am designating an early sleeper, and a MUST draft handcuff if you take a risk with Gronk, is Sudfeld. He has amazing patch catching skills, is a giant, and we know that Tom Terrific likes his tight ends in the red zone. I also continue to like Stevan Ridley's value at RB. He is at the top of our third tier at FFChamps and is a steal for your second running back, especially in a non points-per-reception league.
Patriots.com reader and FFChamps member Robert B. sent in the following 1-on-1 advice question this week:
Q: I am drafting from 10th position in a 10-team serpentine league. I have spoken with my fellow league-mates and they all want a running back in the first round. My initial plan was to take two top-10 RBs to make up for my loss of an early position. But obviously those top 10 RBs will be finished off with my first selection. Am I better off to take the No. 10 and 11 RB or the No. 1 WR and the No. 10 RB? If I decide to take another RB with my second round pick, who should that be?
FFChamps.com Analysis: In a smaller, non-PPR league with just 4 pts. for TD passes, going RB-RB with top two picks is good strategy. You may get LeSean McCoy and Alfred Morris, which is an excellent 1-2 combo. But lower-tiered guys like Forte are not as desirable as a stud WR like Megatron, Dez Bryant or Julio Jones. Take a RB at 10 and then either choose another RB, if a stud-level guy is there, or go for an ultra-stud WR like the players I mentioned. You should be aiming for two top-10 RBs, or one top-10 RB and one top-3 WR. That is the way to be thinking going into the draft. And you can wait on your QB until round 5-6.
Next week we will go deep with quarterbacks, and discuss FFChamps Commandment No. 5: Thou Shall Wait on Thy Quarterback.