Week 7 was the single most devastating fantasy football week of injuries I can recall in my 14 years playing the game. As a result, fantasy football GMs are scrambling, looking at waiver wires and trades. In one league, I started the season with Julio Jones, Reggie Wayne and James Jones at wide receiver. Julio and Reggie are out for the season and James missed Week 7 and is questionable for Week 8. Doug Martin, Reggie Wayne, Jay Cutler, Sam Bradford and Jermichael Finley are lost for an extended period or the season, while several other marquee players are banged up and will be game time decisions.
In some cases when the injury bug bites in fantasy football there is not much an owner can do to replace the player but every key RB should be handcuffed. If you had Doug Martin, you must have drafted or picked up Mike James. You may have stronger reserves on your bench than James, but he is a rookie, is unknown, and will likely carry the ball 20+ times in Week 8. If he emerges, it will be too hard to get him if you did not marry him to Martin in your draft. As injuries occur and bye weeks come into play, you will need to build your team with a trade and with strategic waiver wire moves. FFChamps waiver wire pick-ups and Trade, Bait, and Prey are must-reads in season, as you could pick up a player you didn't identify earlier that makes a difference.
I had Matt Ryan on all three of my teams. After Jones went down, and Roddy White was also injured, I decided that I needed to strengthen the QB position, trading for Phillip Rivers. On my bench in both leagues was Andy Dalton. Oh, if I only knew what I know now! Dalton has exploded onto the fantasy scene the past two weeks, putting up insane numbers. By sitting him it cost me two games. AJ Green is a big play threat at any moment and the No. 1 scoring receiver this season in most formats. Marvin Jones is suddenly gaining confidence, and rookie RB Giovanni Bernard can make a big play on a short pass at any point. Dalton is now a legitimate QB1 on a very good offense. With that said, if you have two solid QBs, this would also be a strategic time to explore trading Dalton at his peak, especially if you can secure a RB1 or WR1.
How good has Jamal Charles been? He is the top scoring RB, has 6 TDs, is the only top scoring fantasy player on the Chiefs roster with WRs Dwayne Bowe and Donnie Avery doing virtually nothing to date, and is on a 7-0 team. The Chiefs have a good schedule in playoff Weeks 14-16, vs. the Redskins, Raiders and Colts. As teams begin to overload and stack to stop Charles, the WR situation might open up. I would not be surprised if Bowe and Avery each have more success and they likely can be acquired for very cheap.
Andrew Luck looks very appealing right now. He is coming off an incredible 4 TD (3 passing, 1 rushing) performance on MNF and national TV vs. Peyton Manning, the man he replaced. He is the next great NFL star; his throwing mechanics are that good. However, Luck just got some bad "luck" losing Reggie Wayne for the season, and RB Trent Richardson has been a major disappointment in Indy. Most importantly, he has an absolutely brutal schedule. The Colts play the Texans twice, the Titans twice, and the Bengals, Texans, and No. 1 ranked Chiefs defense respectively in playoff weeks 14-16. Following his monster performance in Week 7, coupled with the injuries to other teams key QBs, it is the perfect time to trade Luck. His value is sky high and if you have a back-up QB who is overachieving, like Ryan, Dalton or Rivers, you may be able to get a Stud positional player plus a RB or WR2 for Luck. Winning in fantasy requires not being in love with any one player and making bold moves.
The flip side of the trade-Andrew-Luck approach is to trade for Adrian Peterson. His value is as low as it has been in years. He is dealing with the off field issues surrounding the loss of his son. The Vikings are the worst team in the NFC and they have rotating QBs leading to a disappointing season for wide receiver Greg Jennings. Their schedule is also not great. However, Peterson is still the best offensive weapon in fantasy football and if he remains healthy will get the ball over and over and likely finish the season strong. Despite the perception he has been a bust, he is a top 5 scoring RB to date in most formats. AD may be able to be acquired cheaper than at any point, and single handedly could win you a championship. This is a moment of weakness for AD's owner, and an opportunity for the readers of this column. Try an offer and see what happens.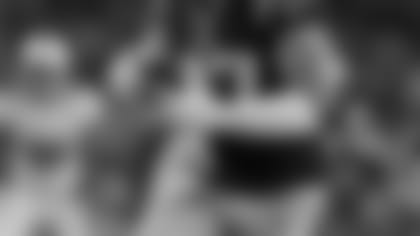 At FFChamps, we have a weekly tool called Target Analysis, where we examine the number of targets a WR gets on a weekly basis. In Week 7, Tampa's Vincent was at the top of the list with 22 targets. In the prior week, he was third with 14 targets. Jackson hauled in 2 TDs on 138 receiving yards. Eric Decker had 13 targets in Week 7, continuing to see the rock as much as Wes Welker and more than Stud Demaryius Thomas, who is being double covered, leaving Decker often open. At TE, Rob Gronkowski's return elevated him to the top of the TE target list, with 17 targets, 8 receptions, 114 yards. If Tom Brady had been more accurate, Gronk would have had a massively successful fantasy day. Falcons RB Jacquizz Rogers was targeted 9 times out of the backfield. With the Falcons missing their top 2 wide receivers, Rodgers will continue to get the ball and once he does, he has big play potential each time. Study the Target Analysis, especially wide receivers that are getting heavily targeted from the best offenses.
On waivers this week, there are a handful of players worth targeting. If you have a Stud RB and his back-up is available on waivers, pick up that back-up player. If you had Doug Martin, get Mike James; if you have Marshawn Lynch, get Christine Michael. Both of these back-up RBs should be on waivers this week. At TE, the Lions 6-7 Joseph Fauria will continue to draw Matthew Stafford's eyes in the Red Zone. Stafford is having a huge season statistically and Fauria could catch 10+ TDs before the season is over. Sometimes at TE, even just one touchdown can be considered a winning week, especially if you don't have a TE named Gronk, Jimmy or Vernon. The other TE that looked strong was the Jets Jeff Cumberland, who appeared to have synergy with QB Geno Smith. At RB, the wires have slim pickings but Saints rookie Khiry Robinson or the Jets Chris Ivory are worth a flyer on your bench to see if they emerge. At WR, Sidney Rice remains a puzzling waiver guy, largely due to his inconsistency. Seattle's offense is humming and Rice is a massive red zone target who can score multiple TDs in any given game.
Okay, the Patriots offense can be described as struggling, learning, young and inconsistent. At times, Brady has looked like he couldn't hit a wide open receiver in someone's backyard. The rotating running backs are impossible to manage in fantasy football. So is it all doom and gloom? I am a believer. I applaud the patience with the young wide receivers, all of whom are getting better. It beats seeing late 30 year old guys like Deion Branch catching 7 yard outs. The rookies will emerge, and I believe at least one of them, probably Thompkins, will end up with 8-10 TDs and several big plays before the season ends. Gronk is back and this alone will turn the offense in the right direction quickly. The running game will also remain strong and effective in the red zone. While there has not been much sign of Ridley becoming a factor week in week out, I do expect that he will and when he does, he will score often.