It looked about the same – Patriots players in helmets, t-shirts, and shorts – but there was something a little different about mini-camp today compared to organized team activity (OTA) practices the past few weeks.
The intensity level was raised a notch.
That was evident during a team scrimmaging portion of Tuesday's practice, when linebacker Rob Ninkovich and guard Ryan Wendell got into a brief scuffle. The two were forced to run a penalty lap around the Patriots practice fields.
"You know," Ninkovich told reporters later with a grin, "sometimes out there you get a little heated, so, had to take a couple of laps. No big deal."
For the most part, though, this mini-camp, which runs through Thursday, is, as head coach Bill Belichick described it today, an extension of OTAs.
"No, the drills are the same. The daily schedule is a little bit different," he explained. "OTAs are voluntary, mini-camp is required… You're allowed to have the players for a little bit longer in mini-camp than in OTAs. There are some other technicalities."
The same group of players who hadn't been taking part in OTAs were not on the field with the rest of the team for the start of mini-camp. Most of them – like tight end Rob Gronkowski, guard Logan Mankins, tackle Sebastian Vollmer, et al – are rehabbing injuries and are doing exercises off to the side of the field or in the team's nearby indoor practice facility.
However, one absentee, right guard Brian Waters, is being excused from mini-camp, according to Belichick, who volunteered the information. "Personal reasons" was all the coach would divulge, though it's believed that the 13-year veteran could be back at some point this year.
After today's nearly two-hour workout, several players stopped to talk with reporters, and many of the questions were about the mega-million-dollar contract extension signed last week by Gronkowski.
Wide receiver Wes Welker, currently playing under the one-year, $9.5 million franchise tag tender, insisted he held no hard feelings about the team giving Gronk a new deal before him.
"No, not at all… I'm always pulling for the players, especially a guy like Gronk, who does such a great job for us and works hard and deserves every bit of that contract,"
League rules stipulate, though, that teams have only until July 16 to sign their franchise players to long-term deals. If that deadline is not met, the player and team must wait until the offseason to continue negotiating.
"I'm not worried about that at all," Welker added. "Right now I'm here, I'm happy. I'm just here and try to help our team win in 2012. I don't really expect anything. I expect for me to go out there and do my job to the best of my ability.
"I think I've said everything I've needed to say as far as anything about my contract," Welker concluded.
Tight end Aaron Hernandez echoed Welker's sentiments about Gronkowski, his fellow third-year teammate, getting an early raise.
"Well, I don't know who could be mad about that. I'm happy for him. He deserves it."
Hernandez admitted, however, that he would be happy with some extra financial security of his own.
"Yeah, but I'll leave that up to my agents," said Hernandez. "And that's that."
For others, like second-year tailback Stevan Ridley, the questions focused purely on on-the-field matters. Form him specifically, his productive 2011 season was marred by some costly fumbles late in the year.
"You look back and you learn from your mistakes," he conceded. "Two fumbles on the ground you can't have, but this is a new year, you can't live in the past, but you should have to remember what you did that took away that plan. For me it's just coming in trying to start new, start fresh and just come out here and work hard.
"For me, it's just going to be holding onto the football high and tight, focusing on that and just keep doing what I'm doing. Just playing this game the way I do, the way I know how to do it."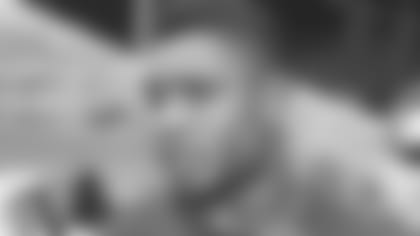 Competition at running back will be particularly intriguing this year, with the departure of veteran BenJarvus Green-Ellis (free agent, signed with Cincinnati). Ridley and fellow second-year man Shane Vereen are thought by many observers to have the inside track to take over the bulk of the responsibilities, but veterans Danny Woodhead and Joseph Addai, along with rookie Brandon Bolden, may force the Patriots to stick to their preferred "by-committee" approach to the running game.
"Everybody wants to be that guy, but nobody knows who that guy's gonna be," Ridley acknowledged. "The way we're going to approach it, prove it out there and be the best we can be as a unit. I think that's how Coach Bill wants us to do, is play as a team. It's not going to be our call who starts, it's going to be our job to go out there and do what he asks us to do, and he says to do our job, and that's what we're going to do as a unit."
There will be plenty of time to sort that all out, once training camp begins in late July and the players are allowed to practice in full pads. In the meantime, the next couple of days will be all about laying the foundation for the intensity yet to come at the end of summer.
"It's kind of, everyone out there trying to work together, guys playing all over the place, just to get that team going together so everyone is communicating and on the same page," Ninkovich noted.
Patriots mini-camp resumes Wednesday afternoon.