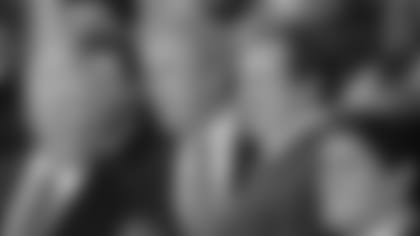 ]()WASHINGTON, D.C. -- President George Bush and the three-time Super Bowl champion Patriots made good on a deal made almost a year ago by getting together for a congratulatory meeting in the Rose Garden outside the White House Wednesday afternoon.
"I think I said last time there was a chance you would be back but that I wasn't sure about me," Bush said referring to a world championship ceremony honoring the Patriots last May that took place prior to the President's eventual reelection victory over Massachusetts Senator John Kerry. "I am confident I will be back next year and the way you have been playing there is a good chance you will be too. Congratulations."
Bush opened his short comments by praising the leadership behind New England's recent run of success that earned the team its third trip to 1600 Pennsylvania Ave. in four seasons.
"I want to welcome the Krafts. Bob, congratulations once again. Obviously this club has fine ownership and you know how to run a business," Bush said before turning an envious eye of praise to Patriots Head Coach Bill Belichick. "Obviously you know how to coach. I am pretty impressed with the way that you handle yourself. I think some of us involved in the political arena could spend a little time getting tutelage on how to handle the mike like you do."
Bush also gave the Patriots some of the credit for the resurgence of success in all professional sports in New England, referencing a similar meeting he held with the Red Sox not long ago to celebrate that team's World Series title.
"I appreciate the inspiration you've shown the region," Bush said. "It inspired the Red Sox. I think the Patriots have also inspired the Celtics. Whatever is happening in New England it's a pretty strong sports record, anchored by the great New England Patriots. Champs in three out of four years. So welcome back. We are glad you are here."
"[We] are honoring a team that showed a lot of heart. The commentators would say, 'Well they are not the flashiest bunch. They are not the fanciest bunch.' They just happen to be the best team. They are the team that showed that when you play together, when you serve something greater than yourself, that you win."
Twenty eight Patriots made the trip to the White House for Wednesday afternoon's sun-soaked ceremony that included such powerful political observers as Kerry, Massachusetts Senator Ted Kennedy and Massachusetts Representative Marty Meehan. The party of Patriots honored included New England owner Robert Kraft, his two sons Jonathan and Dan, Belichick and such notable players as Tom Brady, Tedy Bruschi, Ty Warren, Daniel Graham and Christian Fauria.
Kraft presented Bush with a No. 1 white Patriots jersey bearing a Super Bowl XXXIX logo and the President's name stitched across the back. The owner said he hoped the President would wear the jersey with pride. Bush jokingly responded that, "It won't be on Ebay, that's for sure."
After Kraft's presentation Belichick then gave the President a Super Bowl game ball and a gray hooded Patriots sweatshirt, the same type the head coach has made so fashionable on the Gillette Stadium sidelines during the chilly fall game days.
"As the leader of our country and a world leader, we want you to be out in front in fashion," Belichick said with a smile while handing Bush the sweatshirt.
The gift was an appropriate one as Bush had actually referenced Belichick's now notable attire earlier in his opening remarks.
"I was thinking that coach Belichick was so comfortable coming to the Rose Garden that he might just wear one of those designer sweatshirts," Bush said with a smirk before telling the coach he was, "glad to see you own a tie."
Bush recognized a few Patriots individually during his speech, giving a kicker Adam Vinatieri an "excused absence" to deal with the birth of his second child and praising Bruschi who is still recovering from a mild stroke suffered last February.
"Teddy Bruschi it's good to see you," Bush said. "I congratulate you on showing courage on the field and off the field. There were a lot of people that were praying for you. I am glad you are feeling better."
Just before making the trip to the White House a group of New England players including Larry Izzo, Brady, Bruschi, Graham, Matt Light, Dan Koppen, former quarterback Jim Miller and the Kraft family made visits to two D.C. area military hospitals. The gesture certainly didn't go unnoticed by the man residing in the Oval Office.
"I want to thank you all for going by Walter Reed and the National Naval Medical Center here in Washington," Bush said. "I think you saw firsthand the definition of courage when you saw those young soldiers who had been wounded that are working hard to overcome their injuries. I can assure you that your visit helped lift their spirits. There's nothing better than a Super Bowl champ encouraging somebody to continue to work hard to recover. And I want to, again, thank you for that. Thank you for your example."
Bush also praised the Patriots for their charitable works in New England and Izzo for his recent trip to the Pat Tillman USO in Afghanistan. And Bush's pronunciation of Izzo's last name led to one of the more humorous moments during the ceremony.
"Is it Izzo or 'Eyezo?' Well, if you're from Texas, you say 'Eyezo,' and if you're from Massachusetts, it's Izzo. At least I got Rice right," said the former Texas governor referring to Izzo's college football home.
After the short speech and gift presentations Bush took time to chat and pose for photos with seemingly each New England player. That intimate interaction with the President left its mark with the players.
"Today is just surreal," Light said. "I mean this is everybody's dream, to have a few seconds with the President. Then he sat there and shook every guy's hand, looked him in the eye, asked him where he was from. He genuinely wants to get to know people. It was neat."
And despite the fact that this was the third such trip to Washington in the last four years it's a feeling, much like winning the Super Bowl itself, that just doesn't seem to get old.
"This is awesome," Russ Hochstein said. "This is my third time here and every time I come back it gets better and better. This year we got to speak with the President and shake hands and take pictures with him personally which was really neat. There is a lot of history here and we were talking to probably the most important man in the free world. It's a great honor that we could come here and we are all very humbled by it."
For video coverage of Wednesday's White House visit as well as reactionary interviews with a number of Patriots players check out Thursday's edition of Patriots Video News right here on Patriots.com.