In the summer of 2016, Joe Thuney, Jonathan Jones, Elandon Roberts and Ted Karras were NFL rookies, learning the ropes and living their childhood dreams. In their three years in the league, they have been a part of something extraordinary.
Countless kids grow up dreaming of going to the Super Bowl. Few get there. Even fewer still return to football's biggest stage, and yet in Joe, Jonathan, Elandon and Ted's first years in the league, it's all they've ever known.
Three years, three Super Bowls.
"It's crazy even when you ask the question," Joe said. "I'm just trying to cherish this time and soak it all in, but also realize we do have a game on Sunday."
With Houston and Minneapolis behind them, the guys are preparing for the next game, their third run at a championship.
"It's been crazy. Just to be in it all three years and competing and having a chance to win a championship, it's a rarity. It doesn't happen much," Jonathan said. "This class has been fortunate enough to come in under a lot of older guys both years, and we made it to the championship. The goal is to make it to the championship, so three in a row is completely crazy."
With a start in Super Bowl LIII, Joe will become the first NFL player in history to start in three Super Bowls in his first three seasons. Though he said he learned about the record on Twitter and it's not something he is actively thinking about, his teammate, friend and former roommate was happy to talk on his behalf.
"That's one of my best friends ever, a guy can't say enough good about, both as his consistency and his availability as a player and his loyalty as a friend," Ted said. "He is an awesome person and an amazing man, and I am really looking forward to seeing him on Sunday."
Record aside, they are treating Sunday like any another game. The weeks leading into the Super Bowl are different however. There is a bye week, Opening Night chaos and getting adjusted to new practice facilities, but having done this before comes with an obvious upside.
"It's kind of crazy to say this, but you kind of get comfortable with the routine of how you go about it because of the consecutive years," Elandon said.
The achievement that is back-to-back-to-back Super Bowl appearances isn't lost on them either. It is hard to make it to the championship game, and it's even harder to repeat the feat.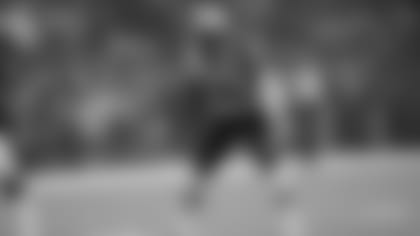 "I think every year it gives you an appreciation to know how hard it is to make it and then every year how hard it is to make it back," Jonathan said. "A lot of teams make it and won't make it back, so to go three years consecutively is crazy."
And the craziness isn't limited to the feat itself. It surrounds the two weeks leading up to the game.
At media availability on Wednesday, reporters swarmed around players seated at tables. They had cameras, recorders and silly games. It can be a lot, Ted admitted, but it's also one of the best parts about the experience.
"It can be overwhelming," he said. "I guess with the amount of attention you get and there's countries from all over the world, which is I think, one of the coolest, most unique parts about the week. You know, experience is great, but it's all going to come down to what we do Sunday evening."
With a win over the Falcons in Super Bowl LI and a loss to the Eagles in Super Bowl LII, this class knows the highest highs and lowest lows of making it to this stage. Obviously, the goal is to leave the host city with a Lombardi trophy, but Jonathan said he learned a great deal from both experiences.
"They make you appreciate it. Winning gives you that feeling of what it is to go out a champion, and losing makes you appreciate winning," he said. "It makes you understand that nothing matters. No game is more important than the last one. You can win all season, and if you lose the last one then it doesn't count."
As they brace themselves for another Super Bowl appearance, some of their teammates are gearing up for their first. Across the board, they all had the same advice: enjoy it and take every moment in.
"This is what you work for," Elandon said. "But at the same time, you know what you're here for."