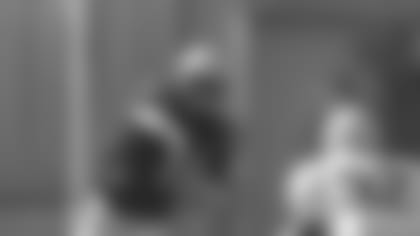 ]()Opportunity knocked for many of the younger players on the Patriots roster Thursday morning, and several took advantage of their time in the spotlight. With the regulars taking part in a walk-through in preparation for tonight's practice inside Gillette Stadium, the youngsters went at it in full gear and produced one of the most entertaining performances thus far in camp.
The focus was on situational work with down and distance, red zone and goal line all getting some attention. Rookie Matt Cassel was the lone quarterback dressed and he relished the chance to operate under the watchful eye of the Bill Belichick and rest of the coaching staff.
"I think it's great feedback and the coaches really emphasize coaching us up during that point," Cassel said. "Making the adjustments and critiquing what we do. Coach Belichick will offer things that will help me in certain situations – knowing the situation, the down and distance and stuff like that, stuff you lose track of sometimes when you're caught up in the game. It's a great day to impress those guys and a great day for them to focus on us and look at what we have to offer."
Cassel ran an offense that included Cedric Cobbs, Kory Chapman and Kyle Eckel at running back with Bam Childress, Jason Anderson and Eugene Baker at receiver. That group accounted for several plays throughout the morning, highlighted by a picturesque completion from Cassel to Anderson deep down the left hash marks.
But not everything went great for the young quarterback. He fumbled a snap at one point, got crossed up with Cobbs as the two collided on a handoff and had a couple of errant tosses mixed in as well. Overall, he's shown promise and the ability to make tough throws in traffic, and the positives have outweighed the negatives – both yesterday and throughout camp.
"It's great for the young guys that get an opportunity to play in these practices. That's why they call them 'opportunity practices,'" Cassel said. "You get to come out and run the team and get put in game-like situations you might not otherwise get as many reps in practice and really run the show. We're going to be in a game in a week and for us to get these needed reps is very beneficial."
Childress is another offensive player who's managed to stick out despite his relative unknown status. The former Ohio State wideout has caught everything in sight during his first week, and even among the Patriots deep corps of receivers has managed to make his presence felt.
"I know I'm going to get opportunities and I just have to make the most of them," Childress said. "I feel like I'm doing OK, but you can't ever think that way because you can have one good day and then have a horrible one and that cancels out all the good. So even if I go out and catch every pass, I'm still going to hit the Juggs machine after practice."
The defense made its share of plays during the morning as well. Operating with a unit consisting of Mike Wright and Tom Sverchek around nose tackle Mario Monds up front, inside linebackers Grant Steen and Eric Alexander with Andre Torrey and Ryan Claridge outside and corners Hank Poteat and Ellis Hobbs with safeties Guss Scott and Dexter Reid, the defense proved to be physical.
]()James Sanders and Raymond Ventrone subbed it at safety while Scott and Reid moved to corner, and both threw their weight around. Sanders stuck Eckel during the goal line drill with a tough shoulder tackle after a 1-yard gain. Ventrone made a terrific diving pass deflection while covering Childress over the middle earlier.
Both offense and defense stood out on one play when Cassel hit Childress on a crossing route that turned into a big gain. Childress turned a 10-yard pickup into a 25-yarder with a terrific cut through traffic, but Scott's ability shown brightly when he shed a downfield block and made a very difficult open field tackle look easy when he wrapped up the wideout to prevent a touchdown.
While this action was taking place, the regulars operated on the adjacent field wearing shorts and helmets. The walk-through included goal line and red zone work, which will likely be part of the evening practice, which is not open to the public.
Childress, who's given name is Brandon, was asked where his nickname –Bam – came from and predictably referenced one of the characters from the classic '60s cartoon "The Flintstones."
"When I was little, maybe in the fourth or fifth grade, I used to watch them all the time. Every time I watched I would be bad right after. I would try to do everything Bam Bam did like beat up my brother and mess up the house. Eventually my parents caught on and started calling me Bam from then on."
Defensive lineman Ty Warren missed his second straight day of practice, but Belichick indicated that he and the remainder of the injured players are in day-to-day mode. Willie McGinest, Benjamin Watson, Santonio Thomas, Bethel Johnson, P.K. Sam, Ricky Bryant andDaniel Graham would all fall into that category.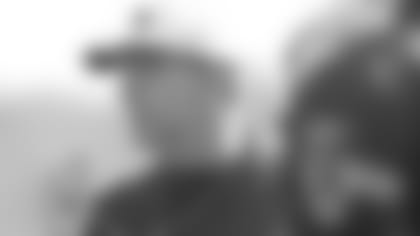 Special teams coach Brad Seely ran an interesting drill designed to work on blocking on kick returns. With a blocking dummy situated at the 20-yard line, players went one-on-one with one player acting as the cover man with the other trying to block him. The players began at the opposite 30 and the blocker's goal was to keep the cover man away from the dummy. Kory Chapman, James Sanders, Grant Steen and Raymond Ventroneseemed to stand out in this drill, which gave viewers an opportunity to gauge the speed and athleticism of several of the younger players. … The offensive line featured Jeff Roehl at left tackle, Ryan Krug at left guard, Billy Yates and Gene Mruczkowski alternating at center, Victor Leyva at right guard and Nick Kaczur at right tackle. The group had a tough time creating space for the running backs but seemed to do a decent job of giving Cassel time to locate his receivers. … Andre Torrey made a nice play coming off the edge and knocked down a Cassel pass. … It was somewhat interesting to see Ryan Claridge getting some reps at outside linebacker since most of his work thus far has been on the inside. But given Belichick's penchant for versatility, and Claridge's experience playing both inside and outside in the 3-4 at UNLV, the switch certainly shouldn't be considered surprising.