INDIANAPOLIS – Despite the fact that Bill Belichickhas taken a tight end in the first round twice in his previous nine drafts in New England the position has never developed into one of consistent strength for the team.
Former first-round picks Daniel Graham (21st overall in 2002) and Benjamin Watson (32nd overall in 2004) never fully lived up to their draft status as injuries and recurring problems holding onto the football limited their contributions to the offense. Graham left via free agency two years ago to take a lucrative deal in Denver, while Watson heads into the final season of his rookie contract with a seemingly uncertain long-term future in New England.
Combine that with last season's lack of a true blocking tight end and it seems likely Belichick could once again look to the tight end position at some point on draft weekend. Over the years, Belichick has drafted eight tight ends in nine draft classes. Watson and 2006 third-round pick David Thomasremain with the team, while the likes of Andy Stokes (seventh round, 2005), Spencer Nead (seventh round, 2003), Jabari Holloway (fourth round, 2001), Arther Love(sixth round, 2001) and Dave Stachelski (fifth round, 2000) are long forgotten.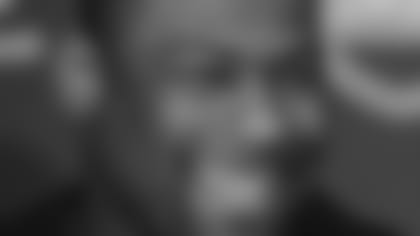 By most accounts the top talent in this year's tight end crop is Oklahoma State's Brandon Pettigrew(6-5, 263). Considered an all-around prospect with the ability to make plays in the passing game in addition to impressive skills as a blocker, Pettigrew's work in the spread offense for the Cowboys could make him an intriguing first-round option. Although he's quick to point out he's not simply an option as a receiver.
"I think that does set me apart," Pettigrew said of his blocking ability. "I try to be the most complete tight end that I can. I try to be able to do both."
Pettigrew remains happy with his decision to return to Oklahoma State for his senior season despite the fact that he didn't catch a single touchdown ("I'm a team guy. it didn't bother me much. I'm about getting the wins.") and also battled a high ankle sprain. He hopes that by taking part fully in the dills at the Combine, including the 40, he'll be able to answer any questions scouts might have about him, including his top-end speed.
"I'm a lot faster than what they think I am. I'm guessing I'm gonna need to run a great 40 here to show them," Pettigrew said before going on to say with a wide, joking smile that he's hoping to get in the 4.4s. "I'm telling myself I'm going to run a 4.4. So we'll see what happens."
Pettigrew is the first of a large group of college tight ends coming from spread offenses who are far more adept and experienced at splitting out wide and making plays down the field than putting their hand in the dirt and serving as in-line blockers. All need to convince pro scouts that their at least capable of blocking on occasion and fitting into a more pro-style offense.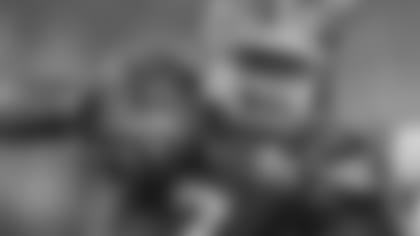 While Pettigrew is the only tight end getting a first-round projection at this point by such services as NFLDraftScout.com, the list of talent that may be available shortly thereafter in the second and third rounds is impressive. Missouri's Chase Coffman (6-6, 245), Rice's James Casey (6-4, 235), South Carolina's Jared Cook(6-5, 240), Florida's Cornelius Ingram (6-4, 245) and Southern Miss' Shawn Nelson (6-5, 238) could all go in that range according to NFLDraftScout.com.
Coffman is just six weeks removed from surgery to repair a broken foot suffered in his team's bowl game and isn't able to work out at the Combine. He hopes to be ready to display his skills at Missouri's pro day on March 19. The son of Green Bay great tight end and Packers Hall of Famer Paul Coffman, the younger Coffman will also have to prove his blocking abilities after a collegiate career spent mostly spread wide and making impressive, one-handed catches.
"I haven't done it that much, being in the spread offense at Missouri, but I think I'll get the hang of it real soon, once I start practicing it more and more," said the self-proclaimed Tony Gonzalezfan. "They're definitely wondering about it. A lot of them have seen me on film doing open-field blocking and see that can possibly transition well to being aggressive and blocking on the line of scrimmage.
"Very rarely did we get in a three-point stance, but I'm definitely willing to learn, willing to do whatever it takes to be the best in-line blocker down with my hand in the dirt, doing whatever I can."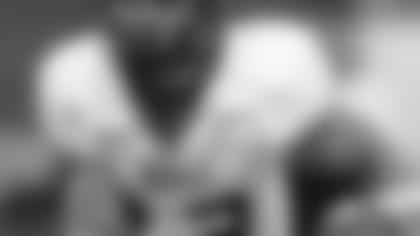 Casey may be one of the more interesting overall prospects at the Combine, both on and off the field. A 24-year-old true sophomore who spent a few years playing rookie ball as a 95-mile-per-hour pitcher, Casey turned football when a lack of control ended his baseball aspirations.
"I had a lot of control issues was the main reason why it didn't work out. I walked too many guys and ended up giving up too many runs," Casey said honestly of his pitching problems. "It was one of those things that happened in my life where I thought it was the worse thing that could happen, getting released from the White Sox. But it ended up being one of the best things to happen. I wouldn't be in the situation I'm at if it wasn't for that.''
Self promoting his way into the Rice program by earning a scholarship to play linebacker, Casey spent time working at defensive end, quarterback, wide receiver and H-back before settling in as a jack-of-all-trades tight end. His two-years of versatile play included a special "Thor package" on offense which served as Rice's version of the Wildcat and used Casey (whose nickname is Thor) as the option quarterback. He also recorded 12 punt returns this past season and served as the team's backup long snapper..
"I don't really know for sure," Casey responded when queried on how his versatility might transfer to the pro level. "The only thing I really know is that I'm at the Combine as a tight end. I'm very open to any position. Whatever team that wants to draft me, I'm more than willing to play any position. Whatever the team thinks is best, I'd be more than willing to do.''
But Casey's unique on-field skills and athletic background are only part of his tale. The now-married, driven and mature adult dealt with some very difficult adversities earlier in life when he lost his mother, Susan Casey, to a fire in their home during his sophomore year of high school.
"Growing up I didn't have much money. I was kind of poor," Casey recalled. "When I was a sophomore in high school, I went to school one day. My mom worked nights and she came home in the morning. And she went to sleep throughout the day. We had a heater, an electrical appliance, that malfunctioned, and caught fire and it burned the trailer that we were living in in Dallas. It was a real rough moment in my life."
But also one Casey used as a foundation to become who he is today.
"It was do I feel sorry for myself and just quit or do I realize that my mom would have wanted me to pick myself up and to succeed and make her proud and do something with my life?" Casey said. "That was a big turning point in my life. It made me be very driven, very motivated with a very, very good work ethic. You can ask my coaches. It made me work extremely hard to try to be successful."
While Casey's versatility and work ethic might be alluring to the Patriots, Ingram already has a connection to New England. The Gators tight end, who's doing his best to prove he's fully healed from a torn ACL that cost him the entire fall schedule, has met with Belichick in the past when the coach made his annual trips to the Sunshine State and stopped by the Florida campus to do a little scouting while catching up with friend Urban Meyer.
"We kind of spoke and shook hands. I haven't really talked to him a whole lot. But he and Coach Meyer are definitely close," Ingram said before doing a little lobbying to land with Belichick in New England. "He's been out numerous times to talk to us during the offseason and I know they're pretty good friends. And I know they like Florida athletes so hopefully something will work out."
If he did get the call from the Patriots on draft weekend, Ingram would be headed to a team he's heard a lot about over his time with the Gators.
"Every time [Coach Meyer] gives us a pep talk or anything before a game he makes sure he lets us know, 'This is the way the Patriots do it.' And you have to be for real about the situation because they've won numerous championships," Ingram said. "It's definitely not a bad team to copy and use slogans or stuff like that. So he uses them all the time and it definitely works for our program."
A few other so-called pipeline prospects (players from schools to which Belichick has some type of connection, generally with coaches like Fresno State's Pat Hill or Virginia's Al Groh) fill out the draft board if the Patriots look for a tight end in the later rounds of the draft including Fresno State's Bear Pascoe (6-5, 257) and Virginia's John Phillips(6-6, 251). The latter prides himself as a well-rounded, more traditional tight end and thinks his time working in the professional atmosphere of Groh's program has him ready for the next level.
"With Coach Groh being an NFL coach we run everything NFL-based," Phillips said. "NFL-style practices. NFL-style play calling. At Virginia we kind of hold ourselves at a professional level in everything we do."
In terms of what he can do on the field Phillips, who's had contact with the Patriots at this point in the process, is confident he can be a well-rounded contributor at the next level.
"You always have to have those guys on the end of the line of scrimmage for point-of-attack guys. And if you have somebody that can be versatile enough to be point-of-attack and leak out and catch passes I think that should be treasured," Phillips said. "I feel like I can do that."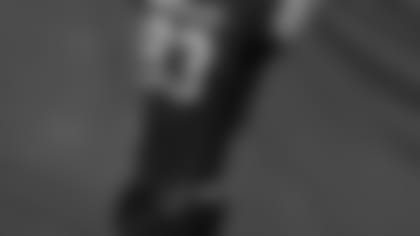 A couple interesting mid- to late-round prospects to keep an eye with local ties to the New England area are Northeastern's Brian Mandeville(6-6, 255) and Boston College's Ryan Purvis (6-4, 255). Despite coming from a lower level of football Mandeville has risen up the prospect lists this year, including an impressive week at the Senior Bowl. Growing up in Walpole, Mass., Mandeville has always been a Patriots fan and even compares his game to the balanced skills that Watson brings to the field.
"I just put my maximum effort into the things I do: blocking, receiving. I grew up three minutes from [Gillette Stadium]. I could see Ben Watson, and those guys. He was a great guy to watch because he has a great all-around game, blocking, receiving. He puts a lot of work into it.
"I'd say, I try to do the same. I don't think I excel more at receiving than blocking. I think my game is more balanced. Strong on both ends. I put a lot of work into that."
Likewise the Patriots will put a lot of work in evaluating Mandeville and the rest of the tight end class between now and draft weekend. Whether it's an early assault on one of the many available pass-catching products coming from college spread offenses or a late-round grab for a blocking-based developmental product there is certainly a variety of talent at the tight end position for the Patriots to pull from come late April. Hey, Belichick hasn't called the name of a tight end in each of the last two drafts so he's more than due. The only questions may be how early he makes the call and what type of prospect he goes for. Stay tuned.