Tom Brady ist der erfolgreichste NFL-Spieler aller Zeiten – das ist unbestritten. Neun Super-Bowl-Teilnahmen und sechs Titel kann sonst niemand vorweisen. Aber ist Brady auch der größte Quarterback aller Zeiten? Diese Frage beschäftigt Fans und Experten seit Jahren gleichermaßen.
Es gibt definitiv ein paar gute Argumente, warum Tom Brady nicht als "GOAT" (Greatest of all Time) durchgeht. Der Schnellste ist Tom Brady mit Sicherheit nicht. Bei den Themen Geschwindigkeit und Athletik schneidet er im Vergleich zu anderen Spielern sogar ziemlich schlecht ab. Auch gibt es andere Quarterbacks mit einem stärkeren Wurfarm, höherer Genauigkeit und besseren Einzelstatistiken. Und hart arbeiten tun sowieso alle, die es in die NFL geschafft haben. Tom Brady ist kein Ausnahmetalent. Aber ein Ausnahmesportler.
Zurück zu den Anfängen.
Thomas Edward Patrick Brady wird am 3. August im kalifornischen San Mateo geboren, wo er auch aufwächst. Die Stadt mit rund 100.000 Einwohnern liegt in der Nähe von San Francisco und so ist es kein Wunder, dass Tom als waschechter 49ers-Fan groß wird. Sogar den legendären Touchdown-Pass von Joe Montana auf Dwight Clark, der nur als "The Catch" in die NFL-Geschichte eingehen soll, erlebt Tom Brady als Vierjähriger live im Stadion mit. Football ist von Beginn an DIE große Leidenschaft – und sie bleibt es. Brady entwickelt sich zu einem guten Highschool-Quarterback, kriegt mehrere Stipendien von hochrangigen Colleges angeboten und entscheidet sich letztlich, für die University of Michigan Football zu spielen. Auch hier stellt er sich gut an.
Dass aus ihm einmal der erfolgreichste Spieler aller Zeiten wird, kann aber noch längst keiner ahnen. Im 2000er Draft schlagen die New England Patriots dann bekanntlich auch erst in der sechsten Runde an 199. Stelle zu. Das Video von Tom Brady beim NFL Combine ist längst legendär. Da steht er ganz unbeholfen. Schlechte Haltung und keine Muskeln. Läuft scheinbar in Zeitlupe. Und dann auch noch dieses viel zu weite T-Shirt. So sieht kein zukünftiger GOAT aus.
Vom Nobody zum Super-Bowl-Champ
Aber Tom Brady nutzt seine Chance. Vom 4. Quarterback der Patriots schafft er es in seiner Rookie-Saison auf den Backup-Posten. Als sich Pats-Quarterback Drew Bledsoe während Toms zweiter Saison in New England verletzt, übernimmt er – und kann nach anfänglichen Schwierigkeiten liefern. Brady führt sein Team in die Playoffs, wo er verletzungsbedingt für ein Spiel aussetzen muss. Doch es reicht: Die New England Patriots spielen am 3. Februar 2002 gegen die Favoriten St. Louis Rams um den Titel. Und gewinnen. Mit dem wieder fitten Tom Brady als Quarterback. Gleich in seiner ersten Saison als Starter wird Tom zum Super-Bowl-MVP gewählt.
Dabei soll es bekanntlich nicht bleiben. Fünf weitere Male gewinnt Tom Brady mit den Pats das Spiel aller Spieler – keiner hat mehr Ringe auf dem Konto. Insgesamt viermal wird er zum Super-Bowl-MVP gekürt, ebenfalls NFL-Rekord. Und die Liste der Bestleistungen hört nicht auf: Brady hält Stand September 2019 die Rekorde über die meisten Siege eines Quarterbacks, die meisten Passing-Yards (insgesamt), die meisten Passing-Touchdowns (insgesamt), die meisten Division-Titel, die meisten Playoff-Starts und -Siege, die meisten Super-Bowl-Touchdown-Pässe, etc, pp. Dazu wird er dreimal zum NFL-MVP, 14 Mal in den Pro Bowl und fünf Mal zum All-Pro gewählt. Zahlen eines GOAT.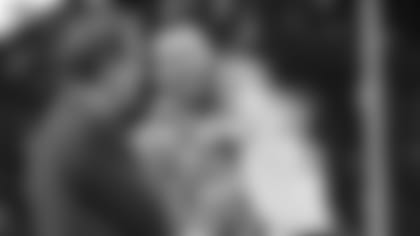 Doch wie ist dieser Erfolg zu erklären? Ausgerechnet der langsame, unsportliche Tom Brady? Vor allem die Kritiker sind sich einig: Es liegt am System und Coach Bill Belichick, Brady ist ein reiner "System-Quarterback". Das heißt, er ist kein außergewöhnlich talentierter Spieler, passt aber perfekt in das Offense-System seiner Coaches, blüht dort förmlich auf. In einem anderen System würde er untergehen, sein individuelles Können würde nicht ausreichen. Ein bisschen was könnte da schon dran sein. Es ist die Kombination aus Belichick und Brady, die für den Erfolg steht. Ob Tom Brady auch mit einem anderen Team und einem anderen Coach solche Erfolge feiern könnte?
Die größte Liebe seines Lebens
Tom Brady trägt aber natürlich auch selbst dazu bei. Zum Beispiel, indem er auf Geld verzichtet. Im Ranking der bestbezahlten Quarterbacks der Liga ist er selbst in seiner 20. Saison und mit sechs Super-Bowl-Titeln auf dem Konto gerade mal auf Platz 7 der NFL. Zuvor bewegt er sich in Sachen Jahresgehalt sogar eher im Mittelfeld der Liga. Brady ist bewusst, dass die Patriots Geld für andere Spieler brauchen, damit sein Team gewinnen kann. Brady hat begriffen, dass Football ein Teamsport ist. Tom Brady liebt es zu gewinnen. Und er liebt Football. Mehr als jeder andere. Seine Frau – Supermodel Gisele Bündchen – sagt 2018 über ihren Mann: "Football ist seine erste große Liebe. Ehrlich gesagt ist es sogar die größte Liebe seines Lebens."
Aber Tom Brady liebt den Sport nicht nur mehr als jeder andere. Er hat auch einen Willen und eine Disziplin wie kein zweiter. Sein striktes Trainings- und Ernährungsprogramm ist längst berühmt – und umstritten. 25 Gläser Wasser am Tag versetzt mit Elektrolyte, nichts Süßes, Protein-Shakes, Trennkost und vieles mehr: Die Brady-Diät ist im wahrsten Sinne des Wortes kein Zuckerschlecken. Über seine Ernährung und sein Workout hat Brady schon zwei Bücher veröffentlicht, mittlerweile steckt ein ganzes Unternehmen hinter der "TB12"-Methode: Auch Normalsterbliche sollen dank des Programms dauerhaft fit bleiben und ihre Leistung steigern können.
Ist Tom Brady nun also "The Greatest of All Time"? Er selbst will davon nichts wissen. Im Interview mit ESPN sagt er einmal: "Da stimme ich nicht zu und ich sage dir auch warum. Ich kenne mich als Spieler. Ich bin ein Produkt meines Umfelds, der Leute, die mich trainieren, meiner Gegner und meiner Zeit. Ich glaube, dass viele Leute das an meiner Stelle auch erreichen könnten. Ich hatte einfach Glück."
Die kleinen Schwächen
Glück mag durchaus dabei gewesen sein und trotz allem Erfolg hat auch Tom Brady noch immer seine Probleme in der NFL. Zum Beispiel mit den Miami Dolphins. Ein Team, gegen das Brady bis August 2019 schon 33 mal gespielt hat. Seine Bilanz gegen den Divisionsrivalen liest sich eigentlich nicht schlecht: 22 Siege und 11 Niederlagen stehen auf seinem Konto gegen die Truppe aus Miami. Doch bei genauerem Hinsehen wird eine seiner größten Schwachstellen deutlich. Während die New England Patriots unter Tom Brady 15 von 16 bisherigen Heimspielen gewonnen haben, sieht das auswärts in Miami ganz anders aus. Hier schwächelt der Quarterback regelmäßig. Gerade mal sieben Siege gab es für ihn dort in 17 Spielen bisher.
Einmal im Jahr reisen die Pats nach Miami, ins heiße und feuchte Florida. Mit dem Wetter haben viele Spieler zu kämpfen. Aber Tom Brady will seine Auswärtsschwäche nicht darauf schieben: "Ich denke, das Klima spielt eine Rolle, aber die Dolphins sind einfach jedes Mal sehr gut, wenn sie zu Hause gegen uns spielen. Wir werden nicht von dem Wetter geschlagen, sondern von den Dolphins. Wir sind zu Hause sehr gut gegen sie. Und sie zu Hause gegen uns. Das ist eine dieser besonderen Serien."
Natürlich sind Dolphins nicht das einzige Team, gegen das Tom ab und an Schwierigkeiten hat. Allerdings hat er bisher nur gegen eine Mannschaft eine negative Bilanz: Gegen die Denver Broncos hat er acht mal gewonnen und neun mal verloren. Gegen die Seahawks, Panthers, Giants und Cardinals ist seine bisherige Bilanz ausgeglichen, ansonsten hat Tom Brady gegen jedes NFL-Team mehr Siege als Niederlagen geschafft. Und vielleicht kriegt er sie ja auch noch. Selbst mit 42 Jahren, wenn die meisten seiner Kollegen längst in Rente sind, ist er noch lange nicht müde. Mindestens bis Mitte 40 will er spielen, betont er immer wieder. Ein paar Bilanzen wollen noch gerade gebügelt, ein paar Super Bowls noch gewonnen werden.