FOXBOROUGH, Mass. – Tom Brady has been named AFC Offensive Player of the Week for his performance in the Patriots' come-from-behind 34-31 overtime victory against Denver last Sunday night. It is the 24th time in Brady's career that he has received the AFC Offensive Player of the Week honor.
Brady completed 34-of-50 passes for 344 yards, three touchdowns and no interceptions for a 107.4 passer rating against Denver. The 344 yards are Brady's second-highest total in 2013, trailing only his 432-yard performance against Pittsburgh on Nov. 3. Brady totaled 1,072 passing yards and eight touchdowns in his three November games, averaging 357 yards and 2.7 touchdowns per game.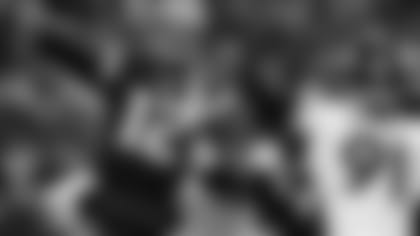 The comeback against the Broncos marked the 39th time that Brady has led the Patriots to victory following a fourth-quarter deficit or tie (including playoffs). It was the third time he achieved the feat in 2013, joining comeback performances at Buffalo (Sept. 8) and against New Orleans (Oct. 13). Against the Broncos, the Patriots trailed 24-21 heading into the fourth quarter, took a 31-24 lead with 7:37 remaining, and then saw Denver tie the game with 3:06 left in regulation before the Patriots won it with 1:56 remaining in overtime. Brady was 21-of-28 for 228 yards with three touchdowns in the second half.
The Patriots scored 34 points, marking the 11th consecutive time that a Brady-led Patriots offense has scored at least 30 points on Sunday Night Football.
The AFC Player of the Week honor is the first for Brady in 2013. He earned the award three times in 2012.