Tom Brady took the Gillette Stadium field on Tuesday morning like it was any other day. He completed passes, gave high fives and words of encouragement to his receivers, and onlookers cheered heartily with each catch.
But it wasn't an ordinary day – not for Tom and not for his receivers. Instead of his usual targets of Chris Hogan, Rob Gronkowski and Co., his receiving corps was made up of six young men whose mutual dream to meet their favorite Patriots player came true and then some.
Through Make-A-Wish Foundation of Massachusetts and Rhode Island, Devon Brown, Luke Dugan, Billy Frasco, Christopher Furtado, Isaac Massey and Kalvin Tragethon spent the morning playing catch with Tom and getting a behind-the-scenes look at Gillette Stadium.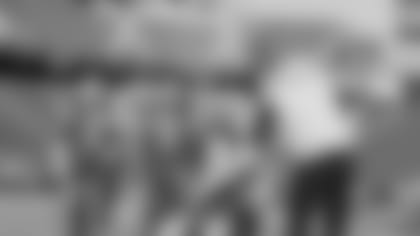 Their day started in the Revolution locker room, where they all received personalized jerseys and took photos with a Super Bowl ring. After running through the Patriots helmet and onto the field to the tune of "Crazy Train," the guys and their families were greeted by Robert Kraft and Dan Kraft. They played catch with Tom and were surprised with a visit from Julian Edelman before checking out the Patriots four Lombardi trophies.
Before the end of the day, the group stopped by the media workroom where they all have watched Patriots players and coaches address the media week after week. Each took a turn standing behind the podium, answering hard-hitting questions from reporters in the room and perfecting their Bill Belichick impressions. The day wrapped up with a visit The Hall at Patriot Place presented by Raytheon, where they dove even more into the history of the franchise.
"It's safe to say this has been the best day of my life," Billy Frasco of New Jersey said. "I got to meet my favorite athlete of all time, Tom Brady. Especially after the experiences all of us have gone through, it's just so gratifying."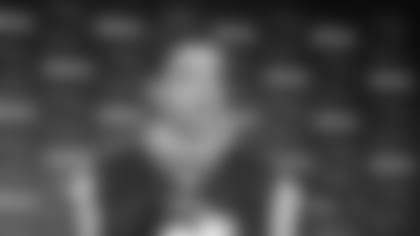 Chris Furtado was diagnosed with thyroid cancer when he was 13. Now at 15, he is in remission, though still receiving treatment at Boston Children's Hospital. His father, Chuck, said the day with the Patriots gave Chris incredible, happy memories for him to hold on to.
"He went through an awful time. It was a really hard, emotional time for Chris and our family ... Having this Make-A-Wish, coming to Gillette Stadium, meeting Tom Brady, Julian Edelman and Mr. Kraft, it gave him hope," Chuck said. "It gave him something to look forward to rather than just going back for his scans at the hospital or what have you. It just gave him so much happiness. You could see the joy in his eyes."
For more photos from the Make-A-Wish event, check out the gallery below.
Full gallery
The Patriots partnered with Make-A-Wish Foundation to make the dreams of six kids come true on Tuesday, Nov. 1, 2016. The kids met Robert Kraft, Dan Kraft, Tom Brady and Julian Edelman, and caught passes from Brady on the Gillette Stadium field in addition to receiving special gift bags.