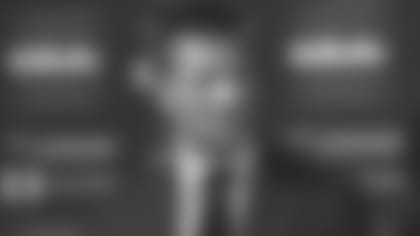 It's not my usual look (laughs). Actually that was the only good one I really took so — I think the offensive line played really well. It was a relatively clean game in terms of penalties and turnovers and so forth. It wasn't perfect by any stretch, but it's always fun winning so that was a good feeling.
(on missing WR Brandon Lloyd on the first drive of the game when he was behind the Titans' defense)
Yeah, we were close — when they're that open you don't want to miss those ones. He made some really nice plays on the ball. Everyone really contributed, so it was a fun game and a great way to start the year.
(on the team playing well as a whole today)
I tell you, they've been playing like that all preseason — the defense, and we see them in practice every day, so they are very competitive. They are competitive on the outside, they rush the quarterback, get turnovers, they do a good job covering the backside of the backfield, so there was a lot of team defense out there and I thought the special teams really complimented what we were doing. It was very much a team win.
(on RB Stevan Ridley running the ball successfully today)
It was great, he ran the ball extremely well. We have to continue to do that — it was very balanced in terms of running and passing and that's what makes it tough to defend. Situationally, obviously there are some things we could have done better, but at least it is something to build on.
(on if he was prepared to come back out on the field right after injuring his nose had the Patriots defense not scored a touchdown)
(on if his nose is broken)
(on if he's ever broken his nose before)
In my life? No. In a previous life? I'm not sure.
(on if his nose feels like it is broken)
I have no idea what a broken nose feels like—not good (laughs). It'll be fine. I need some of that anyway.
(on the commitment to the running game today)
I think it's something we've been doing all season long. All through mini-camp, training camp, regular season games, you know we've made a commitment to running the football and you saw it today. It's a lot of carries by the backs; they have a lot of opportunity. When you can control the tempo of the game, it really helps out the rest of the team — it helps special teams, it helps defense. I'm not sure what the time of possession was, but it obviously helps that as well. You just can't drop back and throw it 50 times a game, right around 30 passes a game is where you want to be.
(on if running the ball successfully is more significant than people sometimes realize)
Sure, and the toughness of your team is built around running the ball and stopping the run. The critical games and the critical situations — that's the foundation of your team and that's what you're built on and that's what you've got to be able to do. You've got to run it when they know you're going to run it, and I say that all the time. I think with what we do in the run game and play-action game and you spread them out and you run screens, you run draws, you run traps, you spread the ball to all the different receivers it really makes it hard for the defense to just key in on something and say this is what we need to do. You really have to defend everything.
(on the team being comfortable offensively)
Coach always talks about us going out there for one reason, and that is to score points. He doesn't expect us to go out there and punt the ball. I thought there were times when we did a good job of that, and there were times when we really didn't do a good job of that and we had an opportunity to do that. Getting off to a good start on first down and third down situations which are shorter which you're obviously going to do a better job at, so we sustained drives — I don't think we had any three-and-outs, if any. We have to do a better job of sustaining over the course of the drive which is what we need to be able to do. Unless, of course, you hit a long play and when you call those you have to hit those.
(on the play his tight ends Aaron Hernandez and Rob Gronkowski)
They complement each other and I think Mike (Hoomanawanui), you guys probably pronounce his name better than I can, but he did a nice job filling in at that tight end position for us. That's a strong position for us, receiver position is strong, running back position is strong and the offensive line continues to build and play well. Like I said, it wasn't all perfect but it's good enough and it's good enough to get a win on the road.
(on the improvement of the offensive line today from their play in the presason)
Yeah, it's something we've been working on all preseason. It hadn't really come together until this week with Logan (Mankins) being in there a lot, Seabass (Sebastian Vollmer) coming back, there is quite a bit of depth at that position. It was a very competitive training camp. The guys that are in there really earned that spot. Nate (Solder) has been out there all camp, so he continues to improve. I am extremely comfortable and confident in those guys and they work their butt off. I just have to stand there and make those throws because that's what this team really counts on me for.